This listing is no longer available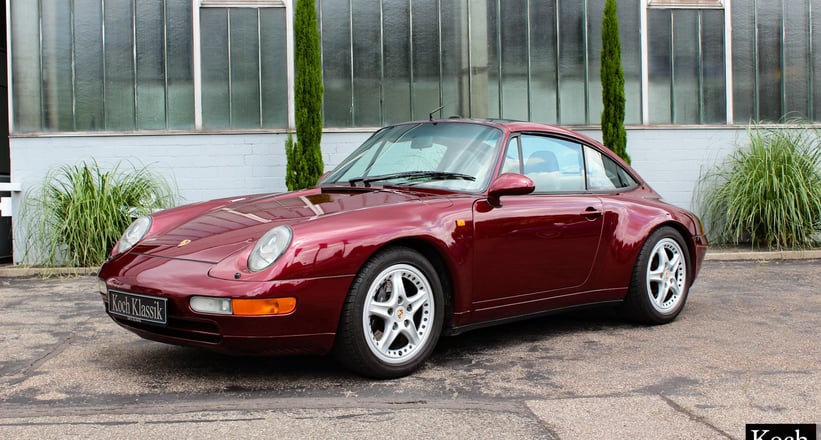 1996 Porsche 911 / 993 Carrera
Targa / Manuell / deut. EZ
Summary
Location

Performance

210 kW / 286 PS / 282 BHP
Description
YouTube Video about the car at our Channel "Koch Klassik": https://youtu.be/Uz2KfJSqfLw
Dieser Porsche 993 Targa Handschalter erstrahlt in einem edlen Arenarotmetallic.
Der Porsche 993 ist der Nachfolger der Baureihe Porsche 964. Es ist das letzte Modell des Porsche-Klassikers 911 mit luftgekühltem Boxermotor.
Die Motorenpalette des 1993 eingeführten 993 reicht von 200 kW (272 PS) bzw. 210 kW (286 PS) bei den Carrera- und Targa-Modellen, bis hin zum Turbo-Topmodell mit 300 kW (408 PS). Daneben wurden auch leistungsgesteigerte Fahrzeuge für den Motorsport hergestellt.
Zunächst war er als Coupé und Cabriolet mit Hinterradantrieb erhältlich. Für das Modelljahr 1995 folgten dann die Allrad-Versionen mit dem Carrera 4 und dem 911 Turbo. In den Modelljahren 1996/97 ergänzte der Carrera 4S und der Carrera S die Modellpalette. Außerdem wurde ab 1996 das Targa-Modell produziert und verfügte über ein großes elektrisch verstellbares Schiebedach aus getöntem Verbundglas anstelle des abnehmbaren Verdecks wie beim Vorgänger des 964. Auf den üblichen Überrollbügel konnte von da an verzichtet werden. Die Carrera- und Targa-Modelle wurden mit einem neuen 3,6-Liter-Motor angetrieben, der ab 1996 zunächst 272 PS und später 285 PS entwickelte.
Bei diesem wunderschönen Targa leistet der 6-Zylinder-Boxermotor satte 286 PS bei 210 kW aus 3,6l Hubraum.
Von dieser Karosserieform wurden nur ca. 4.500 Fahrzeuge gebaut und davon nur wenige mit Handschaltung.
Einige Ausstattungskriterien waren beim 993 schon "Standart", wie Fahrer- und Beifahrerairbag, Servolenkung, Servobremse mit Antiblockiersystem und elektrischen Fensterhebern.
Doch auch Sonderzubehör wurde auf Bestellung verbaut, wie auch bei diesem Fahrzeug.
Hinzu kam ab Werk: Sportfahrwerk (033), Code C00, Sitzheizung links (139), Sitzheizung rechts (340), Sperre 40% (220), ABD Traktionskontrolle (224), Heckwischer (425), farbige Wappen an Felgen (445), automatische Geschwindigkeitskontrolle / Tempomat (454), Soundsystem (490), Bordcomputer (659), Becker CDR-21 (686).
Das Fahrzeug wurde im Dezember 1996 durch das Porsche-Zentrum Nürnberg ausgeliefert an eine Frau Doktor, die das Fahrzeug drei Jahre in ihrem Besitz hatte. Sie verkaufte es im Jahr 1999 mit 12.500km nach München an einen angesehenen Polizeibeamten des Münchner Polizeipräsidiums, der das Fahrzeug von 1999 bis 2013 (14 Jahre) pflegte. Durch einen leichten Wildunfall im Jahr 2003 entstanden einige Kratzer an der linken Fahrzeugseite, sowie das vordere Blinklicht auf der Fahrerseite wurde beschädigt; die Reparatur und Nachlackierung wurde durch das Porsche-Zentrum München durchgeführt und anhand Rechnungen belegt in Höhe von ca. 5000€.
Im Jahr 2013 wurde das Fahrzeug schließlich mit 127.000km an einen Doktor in der Nähe von München verkauft, in dessen Besitz das Fahrzeug bis heute ist.
Er fuhr mit seinem Porsche in den vergangenen acht Jahren lediglich 6.000km.
Selbstverständlich wurde das Fahrzeug immer bei Porsche Nürnberg und anschließend bei Porsche München gewartet.
Die nächste Hauptuntersuchung ist erst im nächsten Jahr fällig, Juli 2022.
Das Fahrzeug befindet sich bis auf die oben genannte Reparatur weitestgehend im Originalzustand innen und außen.
Sämtliche Rechnungen seit Auslieferung sind umfangreich vorhanden, sowie das Porsche Service-Heft.
Im Kundenauftrag. Irrtümer und Änderungen vorbehalten.
Mehr Fahrzeug-Bilder finden Sie auf unserer Website: www.koch-klassik.de
----------------------------
This Porsche 993 Targa handset shines in a noble arena red metallic.
The Porsche 993 is the successor to the Porsche 964 series. It is the last model of the Porsche classic 911 with an air-cooled boxer engine.
The engine range of the 993, introduced in 1993, ranges from 200 kW (272 PS) or 210 kW (286 PS) for the Carrera and Targa models to the top-of-the-range turbo model with 300 kW (408 PS). In addition, performance-enhanced vehicles were also manufactured for motorsport.
It was initially available as a coupé and convertible with rear-wheel drive. The all-wheel drive versions with the Carrera 4 and the 911 Turbo followed for the 1995 model year. In the 1996/97 model years, the Carrera 4S and Carrera S added to the model range. In addition, the Targa model was produced from 1996 onwards and had a large, electrically adjustable sliding roof made of tinted laminated glass instead of the removable hood as in the predecessor of the 964. From then on, the usual roll bar could be dispensed with. The Carrera and Targa models were powered by a new 3.6 liter engine, which from 1996 initially developed 272 hp and later 285 hp.
In this beautiful Targa, the 6-cylinder boxer engine develops a whopping 286 hp at 210 kW from a 3.6l displacement.
Only around 4,500 vehicles of this body shape were built and only a few with manual transmission.
Some of the equipment criteria were already "standard" in the 993, such as driver and passenger airbags, power steering, power brakes with anti-lock braking system and power windows.
However, special accessories were also installed to order, as was the case with this vehicle.
In addition, ex works: Sports suspension (033), Code C00, heated seats on the left (139), heated seats on the right (340), 40% lock (220), ABD traction control (224), rear wiper (425), colored crests on the rims (445) , automatic speed control / cruise control (454), sound system (490), on-board computer (659), Becker CDR-21 (686).
The vehicle was delivered by the Porsche Center in Nuremberg in December 1996 to a doctor who had owned the vehicle for three years. She sold it in 1999 with 12,500km to Munich to a respected police officer of the Munich Police Headquarters, who looked after the vehicle from 1999 to 2013 (14 years). A slight accident with wildlife in 2003 caused some scratches on the left side of the vehicle and the front turn signal light on the driver's side was damaged; The repairs and repainting was carried out by the Porsche Center in Munich and was proven by invoices amounting to approx. 5000 €.
In 2013 the vehicle was finally sold with 127,000km to a doctor near Munich, who still owns the vehicle to this day.
He drove only 6,000km with his Porsche in the past eight years.
It goes without saying that the vehicle was always serviced by Porsche Nuremberg and then by Porsche Munich.
The next general inspection is not due until next year, July 2022.
Except for the repair mentioned above, the vehicle is largely in its original condition inside and out.
All invoices since delivery are available, as well as the Porsche service booklet.
In the client's order. Errors and changes excepted.
More pictures you will find at our website: www.koch-klassik.de