This listing is no longer available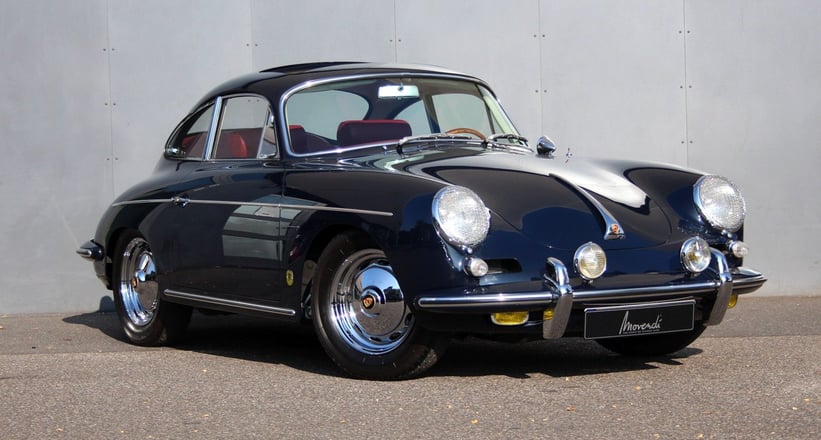 1962 Porsche 356
B Carrera II 2000 GS Reutter Coupé
Location
Description
- Matching Numbers
- Sehr rares elektrisches Schiebedach, nur insg. 30 Exemplare
- Komplett restauriert
- Düsseldorfer Erstauslieferung über VAG Gottfried Schultz nach Langenfeld
- Sehr gut gewartet, hervorragender Zustand
Fahrzeughistorie:
Heinz Reif aus Langenfeld war der erste Eigentümer dieses seinerzeit sehr schnellen Porsche. Das Fahrzeug wurde Herrn Reif im Januar 1963 bei Porsche Schulz in Düsseldorf übergeben. Üppig war seine Sonderausstattungsliste: ein elektrisches Schiebedach, Sonnenblenden mit Schminkspiegel, Chromräder und Schutzgitter für die Frontscheinwerfer sollten es sein. Über Amerika kam der in Amerika restaurierte 356er vor ca. 5 Jahren wieder zurück nach Deutschland. Äußerst selten ist bei den diffizilen Fuhrmann Motoren ein Fahrzeug mit den berühmten Matching Numbers zu finden. Dieses Fahrzeug mit deutscher Auslieferung, Schiebedach und originalem Motor ist ein absolutes Ausnahmefahrzeug.
Die Porsche Carrera waren die Spitzenmodelle der Firma aus Zuffenhausen. Die Carrera 2 Serie war darüber hinaus die erste Porsche Serie mit Scheibenbremsen. Ausgestattet mit dem 130 PS Fuhrmann Motor mit den obenliegenden Nockenwellen und dem Königswellen Antrieb, waren sie als Reisewagen konzipiert.
- Matching numbers
- Very rare electric sunroof, only 30 produced vehicles in total
- Completely restored
- First delivery from Düsseldorf via VAG Gottfried Schultz to Langenfeld
- Very well maintained, excellent condition
Vehicle history:
Heinz Reif from Langenfeld, Germany was the first owner of this Porsche, which was one of the very fast vehicles of the time. This vehicle was handed over to Mr. Reif in January 1963 at Porsche Schulz in Düsseldorf. His list of optional extras was lavish: it should have an electric sunroof, sun visors with make-up mirrors, chrome wheels and protective grilles for the headlights. The 356, which was restored in America, came back to Germany about 5 years ago. It is extremely rare to find a vehicle with the famous matching numbers among the Fuhrmann engine vehicles. This car with German first delivery, sunroof and original engine is an exceptional vehicle.
The Porsche Carrera were the top models from the Stuttgart Zuffenhausen company. The Carrera 2 series was also the first Porsche series with disc brakes. Equipped with the 130 HP Fuhrmann engine with the overhead camshafts and the vertical shaft drive, they were designed as touring cars.