This listing is no longer available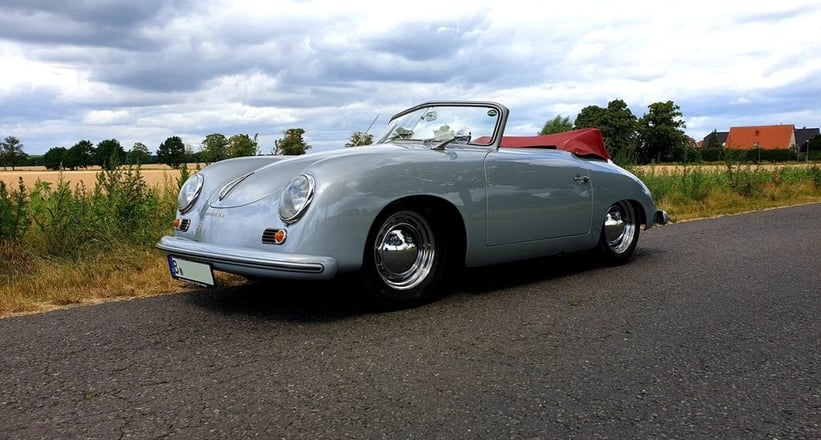 1954 Porsche 356
Porsche 356 Pre A 1500 Knickscheibe Cabriolet
Location
Description
2 owner
beautiful condition
collectable
In 1954 Porsche delivers this bent windscreen on 13.10.1954 to the dealer Rittersbacher in Kaiserslautern in pearl grey with a genuine leather interior and a sporty 55 hp. The windscreen no longer consists of 2 parts and the bar in the middle is omitted, but the production costs for a panoramic windscreen are still too high. Porsche decides to bend the windscreen in the middle. In specialist circles, this Porsche pre-A series is affectionately called a bent window. Today, bent windows are very rare, regardless of their condition, and convertibles are even harder to find.
The 2nd and current owner had the convertible restored in 2000 to 2001 without regard to cost. A documentation of the resto is available in pictures and invoices.
The original engine was unsalvageable and therefore he decided to upgrade it to 1600cc with 60hp. The car was not intended for sale and therefore a matching numbers engine was not an issue. The 60hp is of course registered in the vehicle registration.
The boot and the front bonnet show that this 356 was not restored for a quick sale.
This 356 Vor A bentwindow convertible shows itself to us in high, restored quality. You can see with how much love it has been restored and maintained over the last 20 years. Be sure to note the quality of the restoration considering it has been 20 years in the making. The car appears to us to be freshly restored from a technical and visual point of view. The paintwork shows no dents or cracks, neither on the sills nor on the doors or anywhere else. This is evidence of a high quality restoration without exception.
The current 2nd owner has had the Porsche regularly maintained to the highest standard and there is no maintenance backlog.
Your emotional journey back in time to the early 50s can now begin.