This listing is no longer available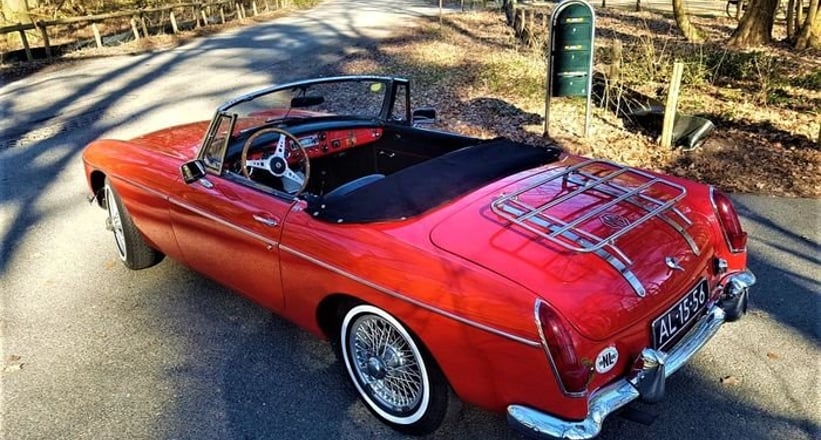 Summary
Location
Description
This classic car is for sale on Catawiki. To have more information or to place a bid click on the "BID NOW" button. .MGB 1966 MK1
MG - B Roadster - 1966
Beautiful, body-off restoration in 2002, this MGB MK1 Roadster is from 06-1966. This 1800 Roadster is in very good condition, the restoration was carried out very neatly and professionally in 2002, it was then always stored indoors and driven with care in nice weather.
This MGB MK1 has beautiful red paintwork, as new leather upholstery with red piping and a new long mohair tonneau cover which can also be used as a short tonneau cover. There is also a Pack Away frame and roof.
Originally from Virginia, US (1996).
This colour combination is fantastic! Red paint and black leather upholstery with red piping edges, a beautiful dashboard painted in colour and fitted with Smiths gauges.
Exterior:
Beautiful paintwork, solid bottom in excellent condition, the engine bay looks good and was neatly sprayed. The boot is sleek and solid, nicely upholstered in black with a wheel cover. The doors, bonnet and boot lid have good hinges and locks. The MG has the original Lucas headlights and indicators, a stainless steel exhaust from front to back and new door rubbers. The soft-top is a black Pack Away and can be stored in the boot.
The chrome bumpers are all in nice condition, the grille and badges are also original and perfect.
A very nice MGB MK1 Roadster!
Interior:
The whole interior has beautiful black leather upholstery with red piping, the seats sit perfectly. The edges of the cabin also have leather sections. Definitely beautiful with the long and short mohair tonneau cover.
The interior features an original black carpet set and is in very good condition. it has an original Moto-Lita steering wheel.
Both inside and out really in beautiful condition.
The steel dashboard is painted in the colour of the body. It has an old-look radio. The speaker in the centre bottom works with the radio.
This interior is really in excellent condition.
Mechanics:
It has the original 1800cc 4-cylinder engine with 96 HP and a 4-speed gearbox (3 synchro). The engine and all mechanics were fully checked.
The entire engine was restored and overhauled during the restoration in 2002. The brakes, suspension, bearings of the rear axle were also completely restored / renewed at the time. Last January 2021, the entire gearbox was overhauled and it shifts great, as it should be.
The MGB starts and drives perfectly.
Details:
Originally delivered new in the USA, to the 1st owner in Virginia. It was exported at the end of 1996 and was completely body-off restored in the Netherlands in 2002 by Autobedrijf Alards, all mechanics such as brakes, suspension, bearings of the rear axle, exhaust and tank were renewed. A very extensive restoration that is still in perfect condition.
The MGB MK1 Roadster was last valued in 2016 and was described as being in very good condition. The valuation in 2016 was over €20,000. In recent years, MGB MK1s have only increased in value, it is now much higher than in 2016.
Various invoices, a few old photos of the restoration, some valuation reports with current photos are included.
This is one of the most beautiful MGB MK1 Roadsters on offer at the moment, this very rare and sought after colour combination and finish create a true collector's item, it will prove to be a perfect investment in the coming years.
Would you like to enjoy beautiful summer drives with the top down in one of the most beautiful classic MGB Roadsters? Then this is your chance!
You are welcome to view and inspect the MG, we would like to invite you for an extended test drive and are happy to show the extensive folder with information about this MGB MK1 Roadster.
An export form is included in the sale.