This listing is no longer available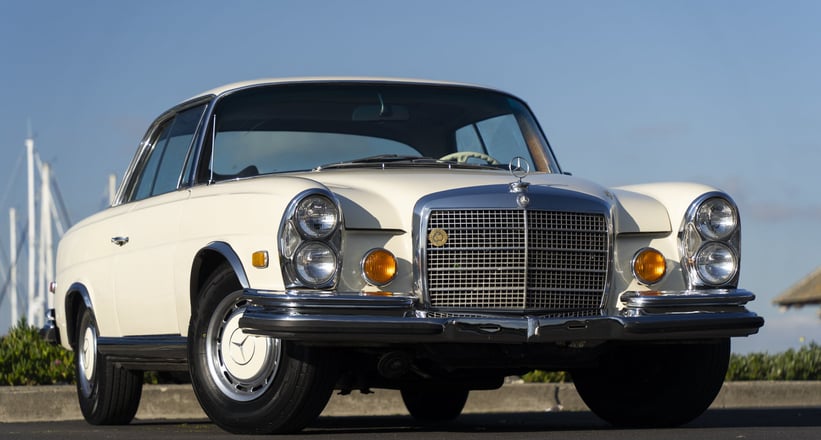 1971 Mercedes-Benz W111/112
Location
Description
Bring a Trailer NO RESERVE auction in progress: Last of the hand built cars and Mercedes flagship coupe of the era. Desirable options including sunroof, Behr A/C, and console shift1971 Mercedes-Benz 280SE 3.5 CoupeVIN – 11102612003678Exterior Color – Light Ivory (color code 670Interior Color – Dark Brown Leather Engine – 3.5 Liter V8Transmission – 4 -Speed automaticCurrent Miles – 63,563Owner Purchase – 2006 with 61,000 milesHighlights of This Car-Beautifully preserved and very well-sorted example from top Mercedes collector-Optioned with BEHR air conditioning-Rare Console Shift with power windows and electric sunroof-Becker Europa AM/FM radio with electric antenna-Automatic transmission rebuilt in November 2020General OverviewAfter more than a century of innovation, ground-breaking designs, and superlative performance, Mercedes-Benz continues to amaze both collectors and enthusiasts alike with their remarkable achievements and steadfast support for their vintage cars. Decades of racing and luxury refinement from the 50s and 60s seamlessly grew into a prolific 1970s US market bringing exciting models to both new and dedicated customers. Introduced in 1970, the 280SE was a fresh and handsome design, offered in both coupe and convertible form. The 280SE was immediately appealing to customers seeking quality workmanship and bespoke accessories in a capable but elegant package. The body was designed with a clean and unified grille, carrying both tradition and freshness to the new look. Under the hood, the upgraded engine was brimming with capabilities fueled by a Bosch fuel-injected 3.5 Liter V8 engine, designed to deliver both reliable and brisk performance. Technical details included 4-wheel disc brakes, comfortable handling (attributed to its coil-sprung independent suspension), and a welcome series of convenience options. Today these highly sought-after models are a welcome offering to the collector who seeks motoring pleasure, comfort, and prestige in a drivable touring car.History and Build Details of This CarThis Mercedes-Benz was purchased by the current owner in 2006. At that time the car showed 61,000 miles which were reported to be original to the car. Delivered new to the first owner in Chicago, the car spent just one year in Illinois before it was moved to Arizona where it remained until sold to the current owner. After his purchase, the current owner, a well-known Mercedes-Benz collector with over 20 examples in his collection, and past president of the Gullwing Group, performed work on the car including installing new Bilstein shock absorbers, new brake hoses, new exhaust, and new tires. The owner also had the distributor rebuilt, and the front seats reupholstered including correct horsehair cushions with top quality leather. Although records on the car were lost in the 2017 Napa fire, the owner has retained service invoices showing the most recent work from the past two years. Under current ownership this car has been driven only 2,500 miles due to the owner having several cars which he rotates in use for events and shows. Major/Recent Service:July 2020 – New water pump, new fan clutch, thermostat, radiator flush, new upper and lower radiator hoses installed, new fan belts, new fuel pump (August), new fuel filter, oil and filter change, and a new distributor cap installed.November 2020, 63,393 miles – transmission rebuilt, valve adjustment, new valve cover gaskets, tune up including new spark plugs and wires, oil and filter change, coolant flush, differential fluid changed, brake fluid flush.September 2021, 63,439 miles – New AC valve and receiver drier installed, R134 refrigerant filled, AC service performed including anti-bacterial additive to HVAC system, new battery, repair battery cable, new positive cable installed, alignment performed.December 2021 – Four new 205/75 R15 Toyo Extensa A/S II tires and new valve stems installed.Condition OverviewToday this 280SE 3.5 presents in excellent condition with smooth paint and handsome luster throughout. The paint was applied under previous ownership and the workmanship appears to be very good with care to all inner surfaces, edges, corners, and trim. The doors open smoothly and shut with a definitive German engineering "snap", while the hood and trunk show excellent closures and fine panel gaps. All chrome appears in good condition, showing only light patina in small areas when viewed up close. Both front and rear bumper rubber show no excessive marks or warpage and are mercifully free from the normally seen US model bumper overriders. Of particular note is the very nicely finished and impeccably detailed grille. All lenses, lighting, and glass are in excellent condition with no significant marks on the windshield. The factory wheel covers are properly finished with matching white paint, accenting against the polished stainless finish. A new set of Toyo radial tires were installed in December 2021. The elegant white exterior, contrasted with the brown leather interior create a stately presence, enhanced by the hardtop lines particularly when all side glass is lowered, and panoramic views of the interior invite you inside. The interior is beautifully finished using correct, high-quality leather recovering the front seats. The leather interior was installed by renowned Pebble Beach winning interior specialist Ken Neminick, Vintage Automotive Upholstery. Virtually every aspect of the interior displays excellent fit and finish just as it left the factory with stunning detailing on the chrome instrument bezels, radio, air conditioning vents, and richly toned wood veneer. The carpeting is in very nice condition showing no significant wear marks, tight fitting, with properly stitched edge-beading, and just a hint of use in the driver's footwell. The steering wheel is beautifully presented with no cracks in the rim, nicely padded centerpiece, and a smooth chrome horn ring. Door panels and rear seating continue the theme of excellence with great fit, tight presentation, and smooth finish with the exception of some sun drying appearing on the top side of the rear seat backs. Even the headliner is in very good condition showing only minor evidence of age surrounding the electric sunroof perimeter. All switches, knobs, and various controls operate smoothly with excellent cosmetic presentation. This 280SE 3.5 features the desirable floor shift automatic transmission and wonderful factory A/C mounted seamlessly into the center console just as it left the factory. The trunk is properly finished with correct materials, spare tire, and proper tools. Under the hood, the engine compartment and engine have been properly maintained and finished with correct factory finishes and proper hardware. Clearly serviced by professionals who pay close attention to correct Mercedes-Benz parts and service guidelines, the engine appears very well prepared. The car starts instantly, delivering a very smooth idle with no smoke at the tailpipe, cold A/C when activated, and smooth shifting from the recently rebuilt 4-speed automatic transmission. Driving manners are wonderful in every respect. The composed, stately nature and superb ride engineering are further evidence of the care this car has received from current and previous owners. Long celebrated for their advanced brakes and suspension, Mercedes-Benz did not scrimp on any mechanical features for their cars, just one of the many benefits of a vintage car with features well ahead of the times. Mechanically the car performs as one might expect, offering smooth and composed power delivery, leisurely touring, smooth shifting, and solid braking. The undercarriage and chassis components are well maintained, clean and properly presented, with no evidence of structural compromises to the floor, suspension, or suspension attachment points. Presented in its original color combination, this Mercedes-Benz 280SE is a handsome, sophisticated, and elegant touring car offering prestige and distinction in a delightfully drivable package. Comfortable for four passengers, even on longer journeys, the trunk offers ample space for luggage or golf bags.Items Included with the CarThis 280SE is offered with the factory owner's manual, a factory service book, tools and tool roll, tire tools, a set of floor mats, and records for recent service.
280se Drive: https://youtu.be/mKc8t4rMVHI
Walk around: https://youtu.be/hw7MbJVX5Pk
More info coming soon....