This listing is no longer available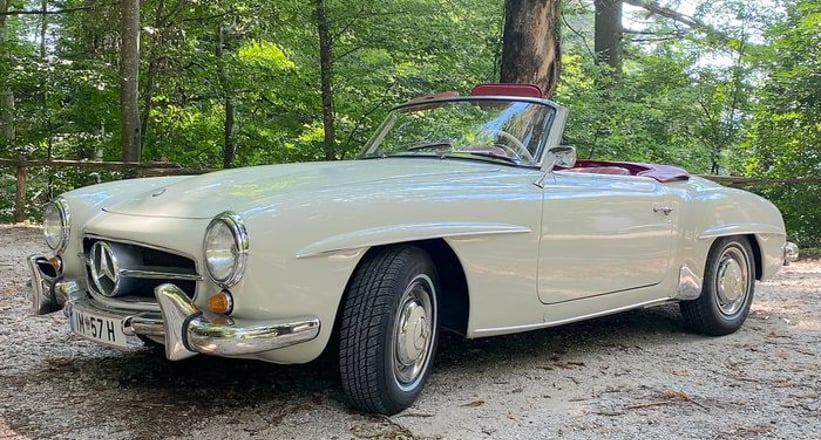 1961 Mercedes-Benz SL 190
Location
Description
Mercedes Benz 190 SL (W121)
Model year: 1961
First registration: July 1967
Odometer reading: approx. 1900 km
Colour: "Kieselgrau" (pebble grey – almost white with a slight beige tone)
Carburettors: 2 x Weber 40 DCOE
FIFA Class F
Grading: 2+
The Mercedes was originally delivered in Germany.
Its first German owner took it with him when he moved to the USA in the early 1970s and also brought it back with him when he returned to Europe in July 2019.
This owner the sold the car to us and we started with the restoration work.
All documents as well as the birth certificate/control slip of this 190 are preserved as a copy. A copy of the technical data sheet, which expired on 07.02.1964, is also available.
This beautiful Mercedes was restored in depth by a Mercedes classic car restorer.
P. Harfmann has been performing classic car restorations for over 60 years. Specialized in Porsche, Mercedes and Austin Healey.
P. Harfmann is one of the true experts in the field of classic car restorations. If Mercedes-Benz no longer knows what to do, P. Harfmann is consulted. Over 60 years of experience in classic car restorations experience speak for themselves. Cars from all over the world were restored in P. Harfmann's workshop.
Deliberately restored and not rebuilt. During the restoration, focus was put on preserving the original as much as possible, but operationally relevant and safety-relevant parts were exchanged for new parts or "better-than-new" refurbished parts.
Neither cost nor effort was spared. Engine, transmission, axles and electrics were redone or restored exclusively with original parts.
The interior was largely retained, only the most necessary parts were renewed. The tarpaulin, the door panels and the carpet are new.
The seat upholstery was renewed completely; the seats were re-upholstered with the original leather.
Most of the original chrome parts were also preserved. The window frame has spots in places, but the installed window is still the factory original.
The Mercedes was driven less than 1800 km in summer. After 1000 km, everything was checked once again, all screws were tightened and all liquids were replaced.
Delivery throughout Europe is possible at cost price (€0.50 per km).This Classic Car is for sale on Catawiki. To have more information or to place a bid click on the "BID NOW" button.