This listing is no longer available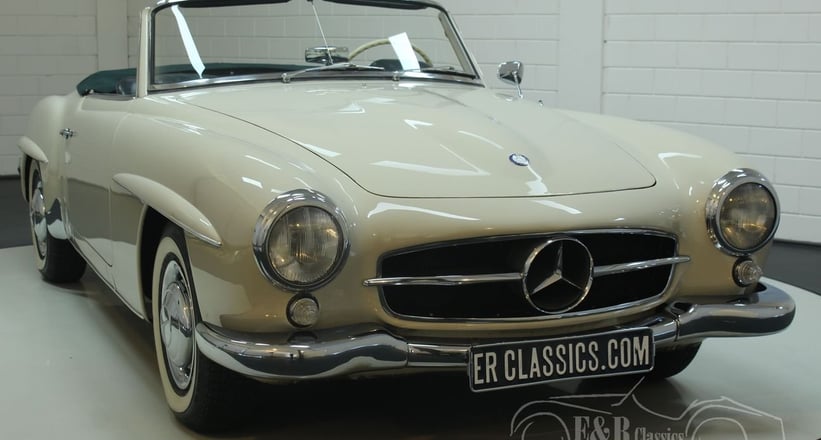 1961 Mercedes-Benz SL 190
1961 Holland delivered, first owner, 87.000 kms
Summary
Location
Description
A real gem – Mercedes Benz 190 SL 1961 Holland delivered, first owner, 87.000 kms
Sometimes we find a real classic gem.
This doesn't happen quite often and definitely not so nearby.
We are proud to offer this unbelievable Holland delivered, first owner Mercedes Benz 190SL with only 87000 real kms. This is a piece of 190SL-history we probably won't ever see again. Moreover, the complete history of the car has been very well preserved.
The car was new acquired at the Amsterdam-Den Haag Mercedes Benz dealer AGAM on oktober 7th, 1961 by Mr. R. (abbreviated for privacy reasons) for his own company. The original purchase contract and first registration document are both present in the extensive history file. The original purchase price was 17.000 Dutch guilders (equivalent to about 7.600 EUR or 8.880 USD). During the eighties the car has had a lot of maintenance by Mercedes Benz Amsterdam (invoices present) and the invoices mention and confirm the mileage of this unique car was 55.000 kms back then. In 1986 the car became private property of the owner (document present). The history file confirms that in 2004/2005 an extensive restoration was done. In 2013 and 2016 major maintenance was done by a well-known Dutch Mercedes classic car specialist. Communication and invoices of all these activities are present in the extensive history file. In 1987 the owner moved to Belgium and took the Mercedes with him, which is proven by the Belgium registration since then. The history file proofs that the owner, Mr. R, was really fond of his car and he treated the car very well all these years.
Because of his age, Mr. R. decided to sell the car this year (2018), after 57 years of ownership. He actually sold a part of his life to us. We are very happy and proud we had the opportunity to buy this real gem. The car is in a very good condition with respect to its age and especially its history. The paint and mechanical works were done in the 2004/2005 restoration. A lot of mechanical works have been redone in 2013/2016. It was the choice of Mr. R. to never re-do the 2 seats; he loved the patina and originality of the seats. They are still 100% original from the 1961 delivery. Carpeting etc. was renewed. With respect to the beautiful history of this car we leave it as it is and it's up to the next owner of this great unique 190SL to refurnish the seats or not.
Un vrai bijou - Mercedes Benz 190 SL 1961 Holland livrée, premier propriétaire, 87 000 km
Parfois, nous trouvons un vrai trésor classique.
Cela n'arrive pas souvent et certainement pas si proche.
Nous sommes fiers d'offrir cette incroyable, premier propriétaire Mercedes Benz 190SL livrée en Hollande avec seulement 87000 km d'origine. C'est un morceau de l'histoire de 190SL que nous ne reverrons probablement jamais. De plus, l'histoire complète de la voiture a été très bien préservée.
La voiture était nouvellement achetée au concessionnaire Mercedes-Benz de Amsterdam-La Haye AGAM le 7 octobre 1961 par M. R. (abrégé pour des raisons de confidentialité) pour sa propre entreprise. Le contrat d'achat original et le premier document d'enregistrement sont tous deux présents dans le fichier historique complet. Le prix d'achat initial était de 17 000 florins néerlandais (soit environ 7 600 EUR ou 8 880USD). Dans les années 80, Mercedes Benz Amsterdam a effectué de nombreuses opérations de maintenance sur la voiture (factures actuelles) et les factures mentionnent que le kilométrage de cette voiture unique était de 55.000 km à ce moment-là. En 1986, la voiture est devenue la propriété privée du propriétaire (document présent). Le fichier historique confirme qu'en 2004/2005 une restauration complète a été effectuée. En 2013 et 2016, un entretien important a été effectué par un spécialiste néerlandais des voitures de collection Mercedes. La communication et les factures de toutes ces activités sont présentes dans le fichier historique complet. En 1987, le propriétaire a déménagé en Belgique et a pris la Mercedes avec lui, ce qui a été prouvé par l'enregistrement en Belgique depuis lors. Le fichier historique prouve que le propriétaire, M. R. aimait beaucoup sa voiture et il a très bien traité la voiture pendant toutes ces années.
En raison de son âge, M. R. a décidé de vendre la voiture en 2018, après 57 ans de propriété. En fait, il a vendu une partie de sa vie pour nous. Nous sommes très heureux et fiers d'avoir eu l'occasion d'acheter ce véritable trésor. La voiture est en très bon état par rapport à son âge et surtout à son histoire. La peinture et les travaux mécaniques ont été réalisés lors de la restauration de 2004/2005. Beaucoup de travaux mécaniques ont été refaits en 2013/2016. C'était le choix de M. R. de ne jamais refaire les 2 sièges; il aimait la patine et l'originalité des sièges. Ils sont toujours 100% d'origine de la livraison de 1961. La moquette etc. a été renouvelée. En ce qui concerne la belle histoire de cette voiture, nous la laisserons telle quelle est. Il appartient au prochain propriétaire de cette grande 190SL unique, de rédresser les sièges ou non.
Ein echtes Juwel - Mercedes Benz 190 SL 1961 Holland geliefert, erster Besitzer, 87.000 km
Manchmal finden wir ein echtes klassisches Juwel.
Dies passiert nicht sehr oft, und sicher nicht so nah.
Wir sind stolz darauf, diesen unglaublichen, von Holland gelieferten, Erstbesitzer Mercedes Benz 190SL mit nur 87000 echten km an zu bieten. Dies ist ein Stück 190SL-Geschichte, das wir wahrscheinlich nie wieder sehen werden. Außerdem ist die komplette Geschichte des Autos sehr gut erhalten.
Das Auto war neu gekauft bei dem Amsterdam-Den Haager Mercedes-Benz-Händler AGAM am 7. Oktober 1961 durch Mr. R. (aus Datenschutzgründen abgekürzt) für seine eigene Firma. Der ursprüngliche Kaufvertrag und das erste Registrierungsdokument sind in der umfangreichen Verlaufsdatei enthalten. Der ursprüngliche Kaufpreis betrug 17.000 holländische Gulden (entspricht rund 7.600 EUR oder 8.880 USD). Während der achtziger Jahren hatte das Auto viel Wartung bekommen durch Mercedes Benz Amsterdam (Rechnungen vorhanden) und die Rechnungen erwähnen und bestätigen, dass die Meilenzahl dieses einzigartigen Autos 55.000 Kilometer damals war. Im Jahr 1986 kamm das Auto in Privatbesitz des Eigentümers (Dokument vorhanden). Die History-Datei bestätigt, dass in den Jahren 2004/2005 eine umfangreiche Restaurierung durchgeführt wurde. In den Jahren 2013 und 2016 erfolgte die Wartung durch einen bekannten niederländischen Mercedes Oldtimer-Spezialisten. Kommunikation und Rechnungen von all diesen Aktivitäten sind in der umfangreichen History-Datei enthalten. In 1987 zog der Besitzer nach Belgien und nahm den Mercedes mit, der seither durch die belgische Registrierung nachgewiesen wurde. Die History-Datei beweist, dass der Besitzer, Mr. R., sein Auto sehr geliebt hat und er hat das Auto all die Jahre sehr gut gepflegt.
Wegen seines Alters, Mr. R. entschied sich, das Auto in 2018, nach 57 Jahren zu verkaufen. Er hat ein Teil seines Lebens für uns verkauft. Wir sind sehr glücklich und stolz, dass wir die Gelegenheit hatten, diesen echten Schatz zu kaufen. Das Auto ist in einem sehr guten Zustand in Bezug auf sein Alter und vor allem seine Geschichte. Die Lackierung und mechanischen Arbeiten wurden in der Restaurierung 2004/2005 durchgeführt. Viele mechanische Arbeiten wurden 2013/2016 erneuert. Es war die Wahl von Mr. R. die 2 Sitze nie zu wiederholen; er liebte die Patina und Originalität der Sitze. Sie sind immer noch 100% Original sowie bei der Lieferung in 1961. Teppichboden usw. wurden erneuert. In Bezug auf die schöne Geschichte dieses Autos werden wir es so lassen wie es ist. Es liegt an dem nächsten Besitzer dieses großen einzigartigen 190SL, um die Sitze neu zu polstern oder nicht.