This listing is no longer available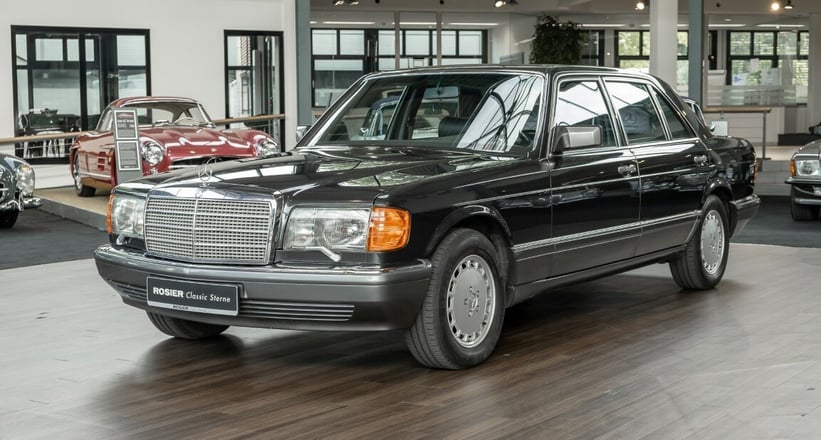 1989 Mercedes-Benz S-Class
560 SEL W126 absolutes Sammlerstück
Location

Performance

205 kW / 279 PS / 275 BHP
Description
Eine absolute Ausnahme-Limousine dürfen wir Ihnen mit diesem 560 SEL der Baureihe W126 anbieten. Mit einer Laufleistung von 66.400 Kilometern befindet sich das Fahrzeug in einem absoluten Traumzustand. Der seinerzeit stärkste Serien-Mercedes entwickelt 279 PS und maschiert bis zum heutigen Tage in beeindruckender Vehemenz nach vorne. Das Automatikgetriebe schaltet dabei so, wie man es sich von einer S-Klasse wünscht. Das Interior ist bestens gepflegt und kaum benutzt. Technisch hält das Fahrzeug, was die perfekte Optik verspricht. Ein zeitloser Klassiker, in dem man erstaunlich mondern reist. Erfahren Sie es selbst!
**Ausstattung:**
199U BLAUSCHWARZ - METALLICLACK
261A LEDER SCHWARZ / ANTHRAZIT
226 FUSSSTÜTZEN IM FOND
442 FAHRER-AIRBAG
498 JAPAN-AUSFÜHRUNG
524 LACKKONSERVIERUNG
581 KLIMATISIERUNGSAUTOMATIK
597 WÄRMEDÄMMENDES GRÜNES GLASS, WINDSCHUTZSCHEIBE, BANDFILTER
613 LEUCHTEINHEIT - ASYMETRISCH LINKSVERKEHR
809 MODELLJAHR 1989
872 SITZHEIZUNG FONDSITZ LINKS UND RECHTS
873 SITZHEIZUNG FAHRERSITZ LINKS UND RECHTS
An absolute exception sedan we may offer you with this 560 SEL of the series W126. With a mileage of 66,400 kilometers, the vehicle is in an absolute dream condition. The strongest series Mercedes at that time develops 279 HP and maschiert up to the today's day in impressing vehemence to the front. The automatic transmission shifts as one would expect from an S-Class. The interior is well maintained and hardly used. Technically, the vehicle delivers what the perfect appearance promises. A timeless classic, in which one travels amazingly mondern. Experience it for yourself!
**Equipment:**
199U BLUE BLACK - METALLIC PAINT
261A LEATHER BLACK / ANTHRACITE
226 REAR FOOTRESTS
442 DRIVER AIRBAG
498 JAPAN VERSION
524 PAINT PRESERVATION
581 AUTOMATIC CLIMATE CONTROL
597 HEAT-INSULATING GREEN GLASS, WINDSHIELD, BAND FILTER
613 LIGHT UNIT - ASYMMETRICAL LEFT TRAFFIC
809 MODEL YEAR 1989
872 HEATED REAR SEAT LEFT AND RIGHT
873 HEATED DRIVER SEAT LEFT AND RIGHT
Für weitere Detailinformationen zu diesem Fahrzeug oder Interesse an einem Besichtigungstermin kontaktieren Sie unser Verkaufsteam Dietrich Gross 0441-209780-12.
Unseren aktuellen Fahrzeugbestand finden Sie unter www.classic-sterne.de
Zubehörangaben ohne Gewähr, Änderungen, Zwischenverkauf und Irrtümer vorbehalten!
----powered by two Sales