This listing is no longer available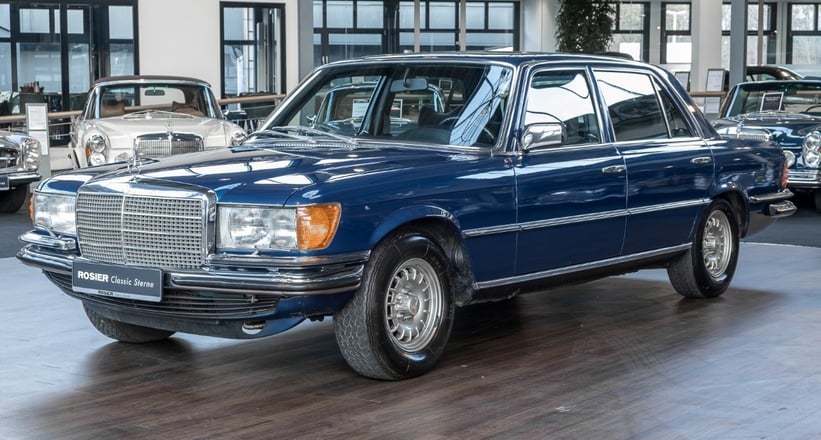 1976 Mercedes-Benz S-Class
450 SEL 6.9 W116 Velours-Ausstattung Webasto
Location

Performance

210 kW / 286 PS / 282 BHP
Description
Eine völlig neu entwickelte Fahrzeuggeneration der Oberklasse wurde im September 1972 der Öffentlichkeit präsentiert. Die erstmals offiziell so genannte "Mercedes-Benz S-Klasse" mit der internen Bezeichnung W 116 löste die Baureihe 108/109 ab. Im Mai 1975 wurde das neue Spitzenmodell der Baureihe der Typ 450 SEL 6.9 als legitimer Nachfolger des 300 SEL 6.3 präsentiert. Der leistungsstarke hubraumgewaltige 6,9-l-V8-Motor, erreichte eine damals unvorstellbare Leistung von 286 PS und ein maximales Drehmoment von 549 Nm. Jeder Sportwagen dieser Zeit hatte angesichts dieser Leistungsdaten das Nachsehen und war gefürchteter Gegner auf der deutschen Autobahn.
Als repräsentatives Luxusgefährt sorgte dieser 450 SEL 6.9 im Dienste eines Düsseldorfer Metallindustriellen in den späten 1970er Jahren bis in die 1980er sicherlich für viel Aussehen ? auch wegen der tollen Farbgebung in Magnetitblau Metallic. Das Fahrzeug springt ohne jegliche Anstalten an und der überragende Achtzylinder sorgt noch immer für einen erstaunlichen Vortrieb. Das Automatikgetriebe schaltet, wie es soll und auch der Rost hält sich vergleichsweise in Grenzen. Aufgrund der auszuführenden Arbeiten verkaufen wir das Fahrzeug als Projekt, dass eine liebevolle und sachkundige Hand benötigt. Aufgrund der momentanen Marktentwicklung sicherlich dennoch ein interessantes Geschäft mit Potenzial. Machen Sie sich ein Bild von diesem 70er Jahre Luxus-Traum.
A completely newly developed vehicle generation of the luxury class was presented to the public in September 1972. The first officially named "Mercedes-Benz S-Class" with the internal designation W 116 replaced the 108/109 series. In May 1975, the new top model of the series, the Type 450 SEL 6.9, was presented as the legitimate successor to the 300 SEL 6.3. The powerful 6.9-liter V8 engine achieved a then unimaginable output of 286 hp and a maximum torque of 549 Nm. In view of these performance figures, every sports car of the time was left behind and was a feared opponent on the German autobahn.
As a prestigious luxury vehicle, this 450 SEL 6.9 in the service of a Düsseldorf metal industrialist certainly created a lot of looks in the late 1970s and into the 1980s - also because of the great color scheme in Magnetite Blue Metallic. The car starts without any fuss and the outstanding eight-cylinder still provides amazing propulsion. The automatic transmission shifts as it should and the rust is also comparatively contained. Due to the work that needs to be done, we are selling the vehicle as a project that needs a loving and knowledgeable hand. Due to the current market development certainly nevertheless an interesting business with potential. Make yourself a picture of this 70s luxury dream.
Für weitere Detailinformationen zu diesem Fahrzeug oder Interesse an einem Besichtigungstermin kontaktieren Sie unser Verkaufsteam Dietrich Gross 0441-209780-12.
Unseren aktuellen Fahrzeugbestand finden Sie unter www.classic-sterne.de
Zubehörangaben ohne Gewähr, Änderungen, Zwischenverkauf und Irrtümer vorbehalten!
----powered by two Sales