This listing is no longer available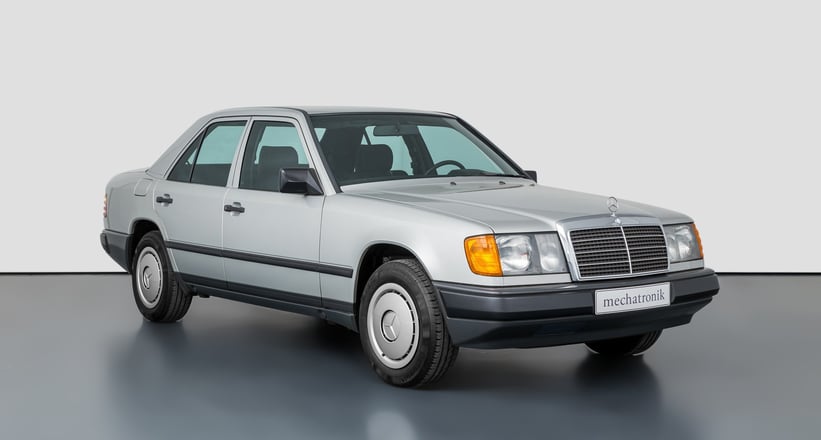 1987 Mercedes-Benz E-Class
W124 230E
Summary
Location
Description
Der Mercedes-Benz W124
Die Entwicklung des W 124 begann im Herbst 1976 unter der Leitung von Hans Scherenberg. Im Juli 1977 startete das W 124-Programm offiziell, und die Forschung und Entwicklung nahm ihre Arbeit unter dem neu ernannten Entwicklungschef Werner Breitschwerdt auf. Im April 1978 wurde beschlossen, sich bei der Entwicklung am Mercedes-Benz W 201 zu orientieren. Bis April 1979 wurde das Lastenheft abgeschlossen, in dem die Basisparameter des Projekts festgelegt wurden. Im Winter 1980 wurde das endgültige Exterieurdesign für das W 124-Programm fertiggelegt und schließlich Anfang 1981 vom Vorstand genehmigt. Mitte 1982 wurden die ersten Prototypen fertiggestellt. Im März 1984 begann die Fertigung der Pilotproduktion und die Entwicklung der Limousine wurde abgeschlossen. Im November 1984 präsentierte Daimler-Benz die neue Limousine der oberen Mittelklasse als Nachfolger der Baureihe W 123, zunächst unter der Bezeichnung "Mittlere Mercedes-Klasse". Für die Baureihe 124 wurden Elemente des W 201 übernommen, sie blieb dabei aber eigenständig in der Technik und im Design. Parallelen zur Kompaktklasse bestanden zum Beispiel in der Verwendung hochfester Stahlbleche sowie anderer Gewicht sparender Materialien. Trotz des Leichtbaus wurde die Fahrzeugsicherheit verbessert. Als Messlatte dafür dienten der W 201 und die S-Klasse der Baureihe 126. Der Fahrgastraum der Baureihe 124 zeichnete sich durch hohe Seitenaufprall- und Überschlagfestigkeit aus und war mit ausgeklügelten Deformationszonen im Bug und im Heck versehen. Das Kriterium des asymmetrischen Frontalaufpralls mit 40 Prozent Überdeckung und 55 km/h wurde jetzt auch von den Limousinen der mittleren Baureihe erfüllt. Außerdem wurden mögliche Kontaktzonen zum Schutz von Fußgängern und Zweiradfahrern stoßnachgiebig konzipiert.
Das hier angebotene Fahrzeug wurde am 27. Mai 1987 an die Mercedes-Benz Niederlassung in Braunschweig ausgeliefert und als Ausstellungsfahrzeug im dortigen Showroom präsentiert. Nach ca. einem Jahr im Showroom wurde beschlossen den Wagen einzulagern. In diesem Dornröschen-Schlaf verblieb dieser 230e für die folgenden 33 Jahre ! Ungenutzt und im absoluten Neuwagenzustand. Im März 2021 entdeckt ein Händler diese Zeitkapsel und erwirbt das Fahrzeug, um den Wagen direkt im Anschluss unserem Unternehmen zum Kauf anzubieten. Und so steht dieser, noch immer als Neuwagen zu bezeichnende W124 230e nun bei uns zum Verkauf. Wir übergeben dieses Sammlerfahrzeug inklusive eines neuen Kundendienstes, sowie neuer TÜV Abnahme. Für Detailfragen steht Ihnen unser Verkaufspersonal jederzeit gerne zur Verfügung. Bitte beachten Sie, dass Fahrzeugbesichtigungen grundsätzlich nur nach vorheriger Terminvereinbarung möglich sind.
Austattungsliste:
211 AUTOMATISCHES SPERRDIFFERENTIAL (ASD)
254 RADIO MB AUDIO 30
412 SCHIEBEDACH ELEKTRISCH
470 ANTIBLOCKIERSYSTEM (ABS)
531 ANTENNE AUTOMATISCH
550 ANHAENGEVORRICHTUNG
591 WD-GRUENES GLAS RUNDUM, HEIZB. HECKSCHEIBE-ESG
620 ABGASREINIGUNG
_________________________________________________________________
The Mercedes-Benz W124
Development of the W 124 began in autumn of 1976 under the direction of Hans Scherenberg. The W 124 program officially started in July 1977, and research and development began work under the newly appointed head of development, Werner Breitschwerdt. In April 1978 it was decided to orientate the development on the Mercedes-Benz W 201. By April 1979, the specification sheet was completed, in which the basic parameters of the project were determined. The final exterior design for the W 124 program was completed in the winter of 1980 and finally approved by the board in early 1981. The first prototypes were completed in mid-1982. In March 1984, pilot production began and sedan development was completed. In November 1984 Daimler-Benz presented the new sedan in the upper middle class as the successor to the W 123 series, initially under the name "Middle Mercedes class". Elements from the W 201 were adopted for the 124 series, but remained independent in terms of technology and design. There were parallels to the compact class, for example, in the use of high-strength sheet steel and other weight-saving materials. Despite the lightweight construction, vehicle safety has been improved. The W 201 and the S-Class of the 126 series served as benchmarks for this. The passenger compartment of the 124 series was characterized by high side impact and rollover resistance and was provided with ingenious deformation zones in the front and rear. The criterion of an asymmetrical frontal impact with 40 percent overlap and 55 km / h has now also been met by the sedans of the medium series. In addition, possible contact zones to protect pedestrians and two-wheelers were designed to be flexible.
The vehicle offered here was delivered to the Mercedes-Benz branch in Braunschweig on May 27, 1987 and presented as an exhibition vehicle in the local showroom. After about a year in the showroom, the decision was made to store the car. This 230e remained in this beauty-sleep for the next 33 years! Unused and in absolutely new car condition. In March 2021, a dealer discovers this time capsule and purchases the vehicle in order to offer the vehicle for sale to our company immediately afterwards. And so this W124 230e, which can still be described as a new car, is now for sale from us. We hand over this collector's vehicle including a new customer service, as well as a new TÜV approval. Our sales staff will be happy to answer any questions you may have at any time. Please note that vehicle inspections are generally only possible by prior appointment.
Equipment list:
211 AUTOMATIC LOCKING DIFFERENTIAL (ASD)
254 RADIO MB AUDIO 30
412 ELECTRIC SUNROOF
470 ANTI-LOCK BRAKING SYSTEM (ABS)
531 AERIAL AUTOMATIC
550 HANGING DEVICE
591 WD-GREEN GLASS ALL AROUND, HEATING. REAR WINDOW ESG
620 EXHAUST GAS CLEANING