1956 Mercedes-Benz Adenauer
300 C Cabriolet D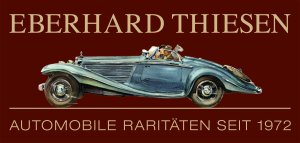 Eberhard Thiesen GmbH & Co. KG
Location
Description
• Nur 51 (!) Exemplare als 300c Cabriolet D gefertigt
• Seltenes original-Farbschema: hellgrün-metallic mit Leder grün
• Erstauslieferung in Nairobi, damals Britisch-Ostafrika
• Motor nummernidentisch
• Originale Laufleistung von nur knapp 50.000 km!
• Sehr schöner Erhaltungszustand, erstes Lederinterieur
• Seinerzeit wohl der repräsentativste Mercedes, den auch zahlreiche deutsche und internationale Persönlichkeiten und Stars sehr schätzten
Dieses 300c Cabriolet D wurde im Juni 1956 ausgeliefert – und zwar an die Firma D.T. Dobie & Co. in Nairobi, damals Britisch-Ostafrika. Somit ist dieses Cabriolet D ein Zeitzeuge des britischen Empire und Commonwealth. Dennoch ist der Wagen als Linkslenker ausgeführt. Die Ausstattung umfasste eine Sonderlackierung, Sonderpolster und Sonderverdeck sowie ein Becker-Radio "Le Mans", das noch heute vorhanden ist. Später kam der Wagen nach Deutschland. Das Fahrzeug erhielt vor einigen Jahren eine umfangreiche Überarbeitung auf einer super gut erhaltenen Karroseriesubstanz. Der Motor ist nummerngleich und hat vermutlich seine original-Laufleistung von knapp 50.000 km. Das originale Farbschema in hellgrün-metallic mit dunkelgrünem Leder und dem noch originalen (!) hellgrauen Verdeck ist wahrscheinlich das einzige so ausgelieferte Exemplar und gibt dem Wagen eine gewisse Leichtigkeit. Vor allem im Vergleich zu den meisten Modellen, die in dunklen Farben eher "mächtig" daherkommen. Es handelt sich hier wohl um das attraktivste und seltenste viersitzige Mercedes Cabriolet Modell aus den 50er Jahren. Und dieser Wagen bringt mit seinem reizvollen Farbschema und dem geringen Kilometer-Stand einige Alleinstellungsmerkmale mit.
Anfang 1952 erschien, mit einjähriger Verspätung zu der Limousine, die Cabriolet Version des Mercedes-Benz 300 (W186) und wurde sofort zu einem Verkaufsschlager des Stuttgarter Autobauers. In drei verschiedenen Varianten wurden ca. 450 Exemplare weitgehend handgemacht bis zum Jahr 1956 gebaut. Viele berühmte Persönlichkeiten wie Gary Cooper oder Yul Brynner bestellten schon frühzeitig einen solchen Wagen und auch eine Reihe von Staatsoberhäuptern, wie der Schah von Persien oder Kaiser Hirohito aus Japan zählten zu den prominenten Eigentümern dieses imposanten Fahrzeuges. Auch der damalige deutsche Bundeskanzler, Konrad Adenauer, bestand darauf sich in einem 300er Mercedes chauffieren zu lassen. Auf diesen Umstand ist auch der Begriff des "Adenauer-Mercedes", der für den Typ 300 gern verwendet wird, zurückzuführen. Der 300c war ab 1955 die überarbeitete Version des 300 W186. Das besondere ist die modernisierte eingelenkige Hinterachse, die eine deutlich bessere Straßenlage vermittelt. Des Weiteren wirkt sich hier die letzte Ausbaustufe des 300er Vergasermotors mit 125 PS anstelle von 115 PS kraftvoll aus. Optisch betrachtet erkennt man den 300c an den Ausstellfenstern in den vorderen Türen und den großen Blinkleuchten sowie an den Stoßstangenhörnern vorn und hinten, die der Vorgänger noch nicht hatte. Das 300c Cabriolet D ist eine besonders seltene Variante, von der lediglich 51 Exemplare gebaut wurden. Er war so selten und begehrt wie ein offener Mercedes 300 Sc. Es gibt zu den noch erhaltenen 300c Cabriolet D eine aktuelle Bestandsliste, die von einen MVC-Mitglied geführt wird.
----------
• Only 51 (!) examples made as Cabriolet D
• Rare original colour scheme: light green metallic & green leather
• First delivery in Nairobi, then British East Africa
• Engine matching number
• Original mileage of just under 50,000 km!
• Very nice state of preservation, first leather interior
• Probably the most prestigious Mercedes of its time, which was also appreciated by many German and international personalities and stars
This 300c Cabriolet D was delivered in June 1956 to D.T. Dobie & Co. in Nairobi, then British East Africa. Thus, this Cabriolet D is a contemporary witness of the British Empire and Commonwealth. Nevertheless, the car is left-hand drive. The equipment included a special paint, special upholstery and special soft top as well as a Becker radio "Le Mans", which is still present today. Later the car came to Germany. The vehicle received an extensive overhaul a few years ago on a super well-preserved body. The engine is matching numbers and probably has its original mileage of just under 50,000 km. The original colour scheme in light green metallic with dark green leather and the still original (!) light grey soft top is probably the only example delivered like this and gives the car a certain lightness. Especially in comparison to most models, which come across rather "powerful" in dark colours. This is probably the most attractive and rarest four-seater Mercedes convertible model from the 1950s. And this car brings some unique selling points with its charming colour scheme and the low mileage.
At the beginning of 1952, with a one-year delay to the saloon, the convertible version of the Mercedes-Benz 300 (W186) appeared and immediately became a bestseller for the Stuttgart carmaker. Approximately 450 examples were built in three different variants, largely by hand, until 1956. Many famous personalities such as Gary Cooper or Yul Brynner ordered such a car at an early stage and also a number of heads of state, such as the Shah of Persia or Emperor Hirohito from Japan were among the prominent owners of this impressive vehicle. Even the then German chancellor, Konrad Adenauer, insisted on being chauffeured in a 300 Mercedes. This is also the reason for the term "Adenauer Mercedes", which is often used for the Type 300. The 300c was the revised version of the 300 W186 from 1955. The special feature is the modernised single-joint rear axle, which gives a much better road holding. Furthermore, the last stage of development of the 300 carburettor engine with 125 hp instead of 115 hp has a powerful effect here. Optically, the 300c can be recognised by the opening windows in the front doors and the large indicator lights as well as the front and rear bumper horns, which the predecessor did not have. The 300c Cabriolet D is a particularly rare variant, of which only 51 were built. It was as rare and sought-after as an open Mercedes 300 Sc. There is an up-to-date stock list of the 300c Cabriolet D still in existence, which is kept by an MVC (Mercedes Veteran Club) member.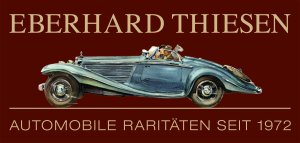 ---
Eberhard Thiesen GmbH & Co. KG
Contact Person
Kontaktperson
---