This listing is no longer available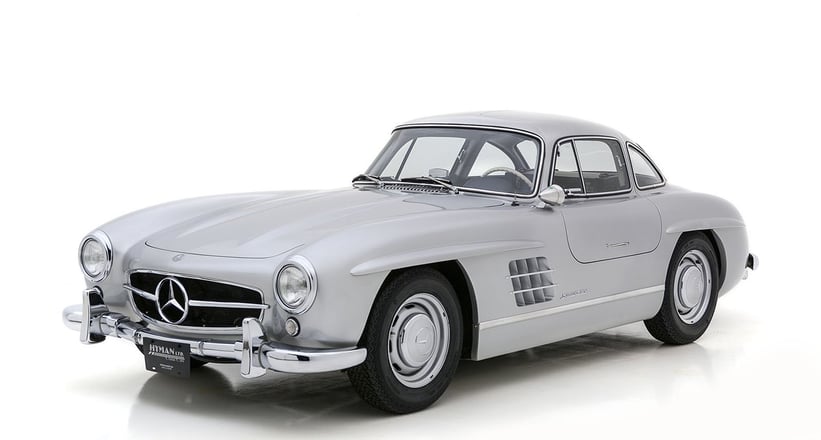 2000 Mercedes-Benz 300 SL
Gullwing
Summary
Location
Description
Mercedes-Benz turned the automotive world on its head when the astonishing 300SL Coupe made its debut at the 1954 New York International Auto Show. A technological tour de force, the 300SL had a tubular spaceframe chassis, independent suspension, and a 3-liter inline-six with dry-sump lubrication fed by Bosch mechanical fuel injection. Wrapping the spaceframe was a taut, curvaceous two-seat coupe body shell derived from the W194 racing sports cars. The high sides of the frame led to the ingenious top-hinged doors, that when open resembled a bird's wings – and thus the "Gullwing" moniker was born. Mercedes-Benz built 1,400 coupes and just over 1,800 roadsters in the car's nine-year production run, and today, no significant collection is complete without an example of this post-war masterpiece.
The value of original 300SLs reflects its status as a benchmark, "blue-chip" collectible. Upwards of seven-figure values are the norms, and concours restorations can easily top a half-million dollars. As the 300SL slipped out of reach for the average enthusiast, the market for replicas and recreations grew accordingly. In the 1980s, a 300SL owner and former Mercedes-Benz employee named Anton "Tony" Ostermeier founded Gullwing International Cars to take the concept of a "replica" 300SL to another plane, designing a ground-up, exacting recreation worthy of sharing the spotlight with the legendary original.
Ostermeier cut no corners developing his Gullwing tribute, using the finest components and materials available. The bespoke square-tube chassis is crafted in the same manner as the original. Keeping it "in the family," the car is built around contemporary Mercedes-Benz W124 engines. The body is measured against factory bucks and made with an aircraft-derived material that bonds fiberglass to a thin outer layer of aluminum. The process ensures precise accuracy, and a nearly flawless outer surface with better consistency and finish quality than traditional fiberglass. Many of the trim parts, instruments, and other details are so accurate that owners of original cars began using them on restoration projects, and even marque experts are hard-pressed to tell the difference between an Ostermeier and the real thing at first glance. These hand-built cars took over 400 hours each to build, and much like a Lynx D-Type Jaguar or Glenn Pray Auburn, the cars of Tony Ostermeier's Gullwing International are highly desirable and considered genuine collectibles in their own right.
Presented in the classic combination of silver over blue leather, this 2000 Ostermeier Gullwing is a superb example, showing just over 12,700 miles from new. Car number 1105, this is a very late production model, completed in the spring of 2000. It is very well-documented, with a history file including the original sales invoice, Certificate of Origin, specification sheets, and sales literature. Documentation shows this car was ordered new by Mr. Tom Milner of Winchester, Virginia. Keen motor racing fans will recognize Milner as the founder of Prototype Technologies Group and the father of Le Mans-winning driver Tommy Milner. Much like Group 44 was to Jaguar or Pratt & Miller is to Corvette Racing, PTG was the race shop behind BMW's highly successful IMSA GTS program in the mid-1990s, when their distinctive wide-body, Yokohama-livered M3s took three championships in a row.
It is not surprising, then, that Mr. Milner was attracted to Tony Ostermeier's superbly crafted Gullwing. The original sales agreement shows Milner ordered his car with the optional 3-liter inline-six mated to a Mercedes-sourced 5-speed manual gearbox. Other equipment includes power brakes, air conditioning, and optional period-look wheels. The most recent owners acquired the car in 2008 when it showed just 9,780 miles. It has since enjoyed a life of light use, and is in superb condition today with gorgeous paint and detailing. The body is excellent, exhibiting precise panel gaps, and high-quality plating on the bumpers and trim. The factory-style painted wheels wear authentic chrome hub caps and new, period-style Blockley radials.
Raising the signature top-hinged doors reveals the beautiful, hand-stitched leather cockpit. Anyone who has driven a 1950s Gullwing will feel instantly at home in this car. The leather seats are crafted in the same manner as the originals, with sills trimmed in matching leather, and correct square weave carpet lines the floors. Instrumentation and switchgear are exact reproductions, and this car features a period-correct steering wheel that tilts for easy ingress/egress (the factory-supplied Nardi is included). Air conditioning is a welcome modern accommodation, as is a neatly integrated stereo. A fitted two-piece luggage set nestles behind the seats, and there is a generously sized boot to accommodate all you'd need on a continental tour.
Mechanically, the car consists of nearly all off-the-shelf Mercedes Benz components, starting with the virtually-bulletproof M104.983 shared with the W124 300E. The inline six-cylinder unit retains the factory fuel injection and engine management, and the power goes through a 5-speed manual gearbox and on to a Mercedes rear axle. Parts are readily available, and any experienced Mercedes technician will feel right at home under the hood. The engine is clean and tidy, appearing well-maintained and reflective of the low mileage. Disc brakes are at all four corners, and the Mercedes-derived suspension is specially tuned for balanced handling and ride quality. These are superb cars to drive, and their quality is apparent from the first turn of the key.
With reliable, proven mechanical components, this is a superb automobile for long-distance touring or for merely savoring your favorite driving roads in the spirit of the original 300SL. With only 150 or so examples produced, Ostermeier Gullwings are extremely rare and seldom available on the open market. This excellent example is beautifully maintained, and ready to be driven and cherished by its next keeper.
Offers welcome and trades considered