This listing is no longer available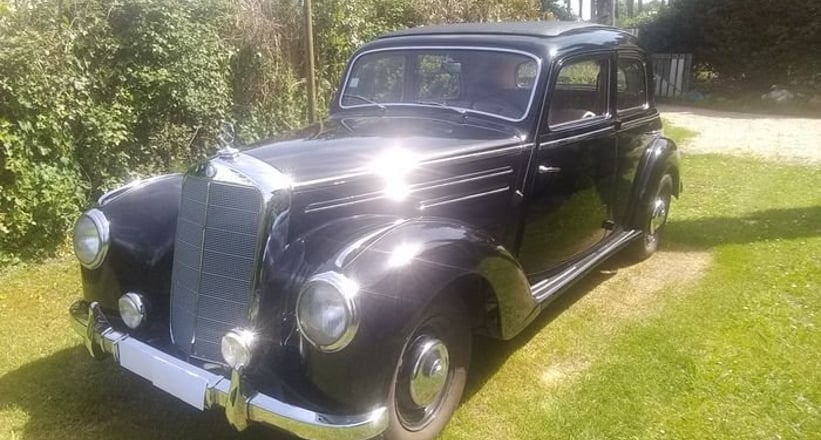 Location
Description
Introduced in 1951, the Mercedes 220 marked a return to the top of the range in the wake of the Second World War. In fact, its 2.2L six-cylinder engine, combined with a robust chassis and a plush interior, made it a high-performance and luxurious car.
The vehicle offered for sale is a rare open-top version with the optional enhanced heating and cold weather equipment.
Sold in Germany, it appeared in France in 1964, and from 1984 onwards the next owner undertook a refurbishment, as evidenced by a file of invoices.
In 1986, the engine was fully restored, with the pistons, camshaft bearings, valves and valve guides replaced.
In 2016 the vehicle was fully serviced and the brakes were refurbished.
In 2020, a complete overhaul was done and the vehicle has been regularly serviced ever since.
In addition to the invoice file, an appraisal file from 2020 and the original maintenance and user's guide (in English) are available. The registration was redone in 2020 as a classic vehicle.
The 6-cylinder engine could benefit from an overhaul. It works perfectly but there is a very light leak from the axle and one from the gearbox. That said, the car handles really well and runs very smoothly.
It starts easily, shifts really well and the brakes work properly.
The bodywork is a sober glossy black colour that would need to be redone to be perfect, as would some of the small chrome parts and seals.
Inside, the beautifully restored interior is upholstered in cloth. The dashboard is completed with a tube car radio. The soft top, which folds back to reveal the rear passengers, is in good condition.
Transportation is to be arranged by the buyer.
It is recommended to view the vehicle prior to bidding in order to avoid any disappointment. Please contact Catawiki to arrange an appointment.This Classic Car is for sale on Catawiki. To have more information or to place a bid click on the "BID NOW" button.