This listing is no longer available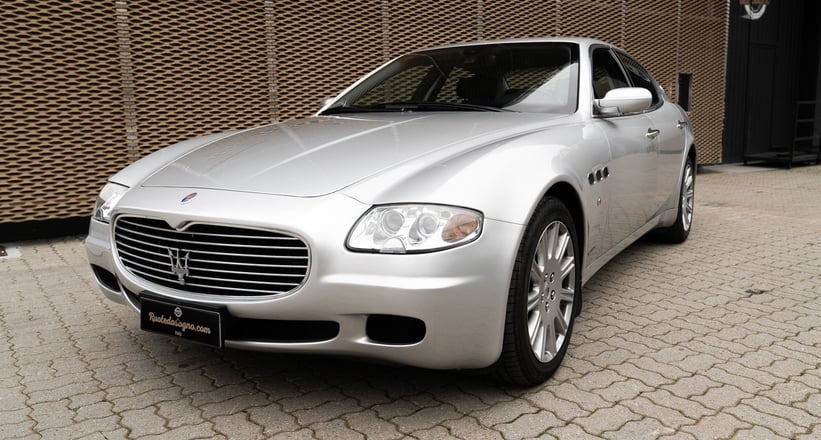 2004 Maserati Quattroporte
Location
Description
Displacement 4244 cc V8
Gearbox: Automatic sequential 6 speed
Max power 294 KW (400 Hp) 7000 revs/min
Max Speed: 275 kph
Acceleration 0-100 kph in 5.2 seconds
European emission standards Euro 3
The History
Showed for the first time to the 2003 Frankfurt Motor Show, the Maserati Quattroporte represents a beautiful challenge won by Luca Di Montezemolo and Pininfarina. A majestic and imposing yet flexible and elegant car, a granturismo with a double personality, designed for strong driving emotions, but also to be entrusted to the driver, perhaps in livery. The deep roar of the 4.2-liter (294 kW-400 hp) V8 engine is enough to realize that you are sitting on something unique and that it is not just any car, you can also clearly see from the arrangement of the controls in the cockpit.
It lacks the gear lever, whose function is almost exclusively carried out by the two levers placed on the steering column just below the crown of the steering wheel. In its place there is a tiny metal T-barbell, to be used exclusively for parking maneuvers: if you push forward it pulls the gear, if you pull back, reverse it.
Among the main merits of the car are certainly the ease of driving and the speed with which you manage the car through the controls. The interior are impressive, a luxurious and welcoming living room for four, where it has certainly not become an economy of precious materials. Wood and leather in abundance and with many customization possibilities.
Ultimately, a car to drive without compromise, which never forgets its role as a luxury sedan, with the duties that this entails, first of all, to offer comfort higher than any speed.
It should be remembered that in 2003 the Modena flagship made its official entrance to Quirinale as the car of the President of the Italian Republic, Carlo Azeglio Ciampi for the time.
Our Maserati Quattroporte
The car is in excellent body and mechanical condition with coupons performed in specialized workshops. The interior is in very good condition.
The dashboard in like new, with the LCD central display with radio, phone, sat-nav, CD with MP3, 30 GB HDD, USB, Bluetooth and voice comands.
The oldstyle elliptical quartz watch is very refined, nestled in the upper area of the dashboard between the vents.
Dashboard and doors in briar Wengè polished.
Original wheels with new tyres.
A flagship of the Tridente with a few kilometers, ideal for a refined driver that prefers luxury and power.
It is possible to view the car online, booking a call with one of our commercial operators, via Skype, Zoom, Whatsapp and Google Meet platforms.
Optional:
ABS, front and rear airbag, driver airbag, lateral airbag, passenger airbag, anti-thief system, ASR (Traction Control), Rear Isofix, Alloy wheels, Automatic air conditioning, Electronic stability control, Cruise control, EBD, Fog lights, Wood finishes, Hill Holder, wheel repair kit, electronic thermal rear-view mirrors, front and rear power seat, easy-entry system, twilight ad rain sensor, power steering, active suspension system, rear roller blind, mini-fridge in front armrest, laminated glass, multifunction steering wheel, Xenon headlights with headlights, Multi Media System.
!