This listing is no longer available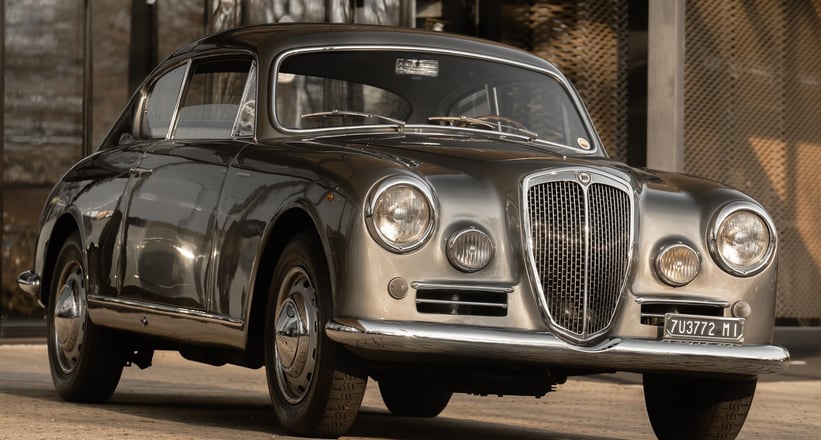 Location
Description
The Aurelia B20 is unanimously recognized as the true masterpiece of Pininfarina, which was awarded, the definitive contract for the series production of this model.
Starting from the fourth series, new set-ups are proposed by external specialists, as accessories with a sporty tone, such as: cloche gearbox and steering wheel (Nardi), spoked wheels (Borrani), special exhaust (Abarth), special manifold (Nardi ) with two carburetors. The accessories supplied for a fee by Lancia, are the car radio and the leather upholstery.
The last series of this glorious model, was therefore born in the spring of 1957: in addition to a slight increase in power and torque values that raise the maximum speed threshold up to over 180 km / h, a series of small improvements must be registered, mechanical and expecially in terms of accessories and comfort.
Outwardly, the sixth series is recognized by the deflectors on the doors, which did not exist in the previous series.
The last B20 left the factory in November 1958.
Our Lancia Aurelia VI Series
- Original Milan black plates
- Regular documents.
- Frame B20S No. 1679
- Restored car. No trace of rust is present.
- Engine in good condition.
- New grille and bumper.
- Original internal instrumentation
- Seats in gray cloth and blue leather in good condition, as are the door panels.
- Original three-spoke steering wheel.
- Original restored rims.
Today the prices of an Aurelia B20 are rather stable, but certainly, really interesting for a car of these characteristics and with this coat of arms.
It is possible to view the car by booking an online call with our sale operator, via Skype, Zoom, Whatsapp and Google Meet platforms.
!