1968 Lamborghini Miura
P400 SV Specs & RHD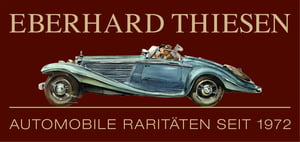 Eberhard Thiesen GmbH & Co. KG
Location

Performance

350 PS / 258 kW / 346 BHP
Description
• Eines von nur wenigen originalen Rechtslenker-Exemplaren ab Werk
• Einer der wenigen Miura, die im Motorsport eingesetzt wurden
• Sportliches Farbschema in Gelb mit Interieur in Leder dunkelblau
• Motor und Getriebe "matching numbers"
• Historie vollständig bekannt, mit nur fünf Besitzern, zuletzt über 30 Jahre Bestandteil einer Sammlung
• Ältere Restaurierung sowie Umrüstung auf SV-Spezifikation
• Ein interessanter Miura zu einem attraktiven Preis!
Dieser Lamborghini Miura P400 wurde am 29. Juli 1968 über den Londoner Lamborghini-Konzessionär in der Alie Street an seinen ersten Besitzer Sir Malcolm Guthrie ausgeliefert. Dieser stammte aus einer Bankiersfamilie und hatte 1968 mit gerade mal 26 Jahren als Rennfahrer in der Formel 3 auf einem Brabham von Frank Williams begonnen. Kurze Zeit nach dem Kauf des Miura erwarb Guthrie einen Ford GT40, den er auch als Rennfahrzeug einsetzte. Der Miura verfügt über eine seltene Rechtslenkung (RHD) ab Werk, die nur in geringer Stückzahl gefertigt wurde. Sowohl die originale Lieferrechnung vom Lamborghini-Werk in Sant'Agata Bolognese an den Händler in London als auch die Rechnung der Auslieferung von Lamborghini London an den Erstbesitzer liegen vor. Laut den Auslieferungsdokumenten des Lamborghini Werks war das originale Farbschema weiß mit Lederinterieur in Rot. Anhand der Auslieferungsrechnung des Lamborghini-Händlers in London verfügte dieser Miura P400 über eine "Special Engine", vermutlich mit einer Leistungssteigerung. Zudem wurden breitere Räder montiert. Über den ersten Besitzer Sir Malcolm Guthrie und seinen Miura erschien am 18. September 1969 ein Artikel in der britischen Zeitung Motoring News. Als zweiter Besitzer übernahm der britische Amateur-Rennfahrer Marc Rigg den Miura. Er setze den Wagen in den 1970er Jahren im Rennsport bei diversen Clubveranstaltungen ein. Die Außenlackierung war nun schwarz. Zudem wurden einige Modifikationen vorgenommen, um die Leistung zu verbessern. Dazu zählten Leichtbauverkleidungen, eine wettbewerbstaugliche Kupplung, belüftete Scheibenbremsen mit größeren Bremssätteln, ein Ölkühler, offene Vergaser und ein Durchgangsauspuff. Diese Motorsportaktivitäten sind nicht spurlos an dem Fahrzeug vorbeigegangen, das in der Zeit Unfallschäden und einen Brandschaden erlitten hat. Mitte der 1980er Jahre wurde der Miura an den dritten Besitzer Martin Cliffe verkauft. Er ist Gründer und Eigentümer von Omicron Enineering Ltd., einem Restaurationsbetrieb für klassische Fahrzeuge in Großbritannien. Unter seiner Regie erfolgte zwischen 1986 und 1988 eine umfangreiche Restaurierung sowie der Umbau des Wagens auf die Spezifikationen des Miura SV – und zwar unter Einbeziehung und Hilfestellung des Lamborghini-Konzessionärs in London. Im Zuge dessen erhielt der Miura eine hellgrüne Lackierung mit einem dunkelblauen Interieur. In dieser Form wurde der Miura 1988 in dem britischen Magazin "Supercar Classics" in einem Vergleichstest mit einem Ferrari 365 GTB/4 vorgestellt. Im Oktober 1989 wechselte der Miura im Rahmen einer Auktion auf der London Motor Show zu seinem vierten Besitzer David R. Holland, ebenfalls in Großbritannien. Die Belege über den Erwerb und späteren Verkauf liegen vor. Der fünfte und letzte Eigentümer, ein privates Museum in der Schweiz, erwarb den Miura sodann im Sommer 1993. Der Gründer der Museumssammlung war in den 1950 Jahren selbst im Motorsport aktiv. Er ließ den Miura in den 1990er Jahren erneut teilrestaurieren, wobei der Wagen seine jetzige Lackierung in Gelb erhielt. Dieser Miura P400 verfügt über eine vollständig bekannte und bewegte Historie mit nur fünf Besitzern, "matching numbers" für Motor und Getriebe sowie die sehr seltene Rechtslenkung ab Werk. Im Gegensatz zu den meisten Miura hat dieses Exemplar eine seltene Renngeschichte. Die später erfolgte Umrüstung auf SV-Spezifikationen ist ein weiteres besonderes Merkmal dieses Wagens. Bedingt durch seinen Bestandteil in der Museumssammlung wurde der Wagen in den letzten 30 Jahren nur bei wenigen Gelegenheiten gefahren. Daher sind vermutlich umfangreichere Service-Arbeiten erforderlich. Dieser Umstand ist macht es möglich, den Wagen zu einem attraktiven Preis zu erwerben. Dies lässt wiederum Spielraum für weitere Investitionen und Optimierungen, ganz nach individuellen Bedürfnissen und persönlichem Geschmack.
Der Lamborghini Miura wurde im März 1966 auf dem Genfer Automobilsalon präsentiert. Er war insbesondere aufgrund seines Designs und Antriebs umgehend eine Sensation des noch jungen Automobil-Herstellers (Automobili Lamborghini S.p.A.), der erst 1963 von dem Traktorfabrikanten Ferrucio Lamboghini gegründet worden war. Das Antriebskonzept des Miura galt als eine echte Revolution: Er war der erste Serien-Sportwagen mit Heck-Mittelmotor. Ein Prinzip, das man bis dahin nur aus dem Rennsport kannte. Dieses Konzept wurde in der Folge bei vielen leistungsstarken Sportwagen übernommen, z. B. Ferrari 365 GTB/4 (512 BBi) und Dino 246 GT, BMW M1 und viele mehr. Für die Entwicklung des Wagens waren Gianpaolo Dallara (Chefingenieur von Lamborghini), Paolo Stanzani und der Testfahrer Bob Wallace verantwortlich. Die spektakuläre Formgebung stammte von dem 27 Jahre alten Bertone-Designer Marcello Gandini. Eine so flache Silhouette (nur 105 cm hoch) hatte es bis dahin noch nicht gegeben. Die Motorabdeckung aus schwarzen Lamellen und die in schwarzen "Rippen" eingefassten Klappscheinwerfer sind weitere markante Details. Besonders eindrucksvoll ist der Miura mit aufgeklappter Front- und Motorhaube, die jeweils die gesamte Front- und Heckpartie der Karosserie samt der Kotflügel umfassen. Der Antrieb war ein 4-Liter V12-Mittelmotor mit 60 Grad-Zylinderwinkel und doppelter oben liegender Nockenwelle, der im ersten Modell P400 rund 350 PS leistete. Der Mittelmotor ist aus Platzgründen und für eine bessere Gewichtsverteilung quer zur Fahrtrichtung eingebaut und sitzt direkt hinter der Fahrgastkabine. Die Antriebskraft wird über ein vollsynchronisiertes Fünfganggetriebe, das direkt am Motor sitzt, auf die Hinterräder übertragen. Alle Räder sind an doppelten Dreieckslenkern einzeln aufgehängt und verfügen über Stabilisatoren an beiden Achsen. Rundum sind Scheibenbremsen montiert, die hydraulisch betätigt werden. Bereits 1968 wurde der Miura weiterentwickelt und hieß nun P400 S. Der Motor leistete fortan 370 PS. Technische Verbesserungen waren innenbelüftete Bremsscheiben und eine überarbeitete Hinterachse. Im Jahr 1971 gab es eine weitere Modifikation zum P400 SV, dessen Motor 385 PS hatte. Zudem gab es getrennte Schmiersysteme für Motor und Getriebe sowie optisch eine leicht verbreiterte Karosserie im Heck mit breiteren Rädern. Heute spricht man oft von sog. "Supercars" – der Miura war rückblickend das erste Automobil dieser Kategorie. Als damaliger Superlativ bot er enorm viel Leistung, ein neues Antriebskonzept und ein progressives Design. Und er war bei seiner Premiere der schnellste Serien-Sportwagen der Welt. Dies hat umso mehr Gewicht, als dass die junge Marke Lamborghini erst einige Jahre zuvor gegründet wurde und bis zur Premiere des Miura nur ein Serienmodell – den 350/400 GT – im Markt hatte.
----------
• One of only a few original right-hand drive factory examples
• One of the few Miura's used in motor racing
• Sporty colour scheme in yellow with dark blue leather interior
• Engine and gearbox "matching numbers"
• History fully known with only five owners, recently part of a collection for 30 years
• Older restoration as well as conversion to SV specification
• An interesting Miura at an attractive price !
This Lamborghini Miura P400 was delivered to its first owner, Sir Malcolm Guthrie in the United Kingdom on 29 July 1968 via the London Lamborghini Concessionaire in Alie Street. The owner came from a banking family and had started racing in 1968 at the age of just 26 in Formula 3 on a Brabham owned by Frank Williams. Shortly after buying the Miura, Guthrie acquired a Ford GT40, which he also used as a racing car. The Miura has a rare factory right-hand drive (RHD), which was only produced in small numbers. Both the original delivery invoice from the Lamborghini factory in Sant'Agata Bolognese to the dealer in London and the delivery invoice from Lamborghini London to the first owner are available. According to the Lamborghini factory delivery documents, the original colour scheme was white with red leather interior. Based on the Lamborghini London dealer's delivery invoice, this Miura P400 had a "Special Engine", presumably with a power upgrade. In addition, wider wheels were fitted. An article about the first owner, Sir Malcolm Guthrie, and his Miura appeared in the British newspaper Motoring News on 18 September 1969. The second owner to take over the Miura was the British amateur racing driver Marc Rigg. He raced the car in various club events in the 1970s. The exterior paintwork was now black. In addition, some modifications were made to improve performance. These included lightweight fairings, a competition-grade clutch, ventilated disc brakes with larger calipers, an oil cooler, open carburettors and a straight-through exhaust. These motorsport activities did not leave no trace on the vehicle, which suffered accident damages and fire damage during the period. In the mid-1980s, the Miura was sold to the third owner, Martin Cliffe. He is the founder and owner of Omicron Enineering Ltd, a classic car restoration company in the UK. Under his direction, an extensive restoration and conversion of the car to Miura SV specifications took place between 1986 and 1988 – with the involvement and assistance of the Lamborghini concessionaire in London. In the course of this, the Miura was given a light green paintwork with a dark blue interior. In this form, the Miura was presented in 1988 in the British magazine "Supercar Classics" in a comparison test with a Ferrari 365 GTB/4 Daytona. In October 1989, the Miura changed hands in an auction at the London Motor Show to its fourth owner, David R. Holland, also in the United Kingdom. Receipts of the purchase and later sale are available. The fifth and last owner, a private museum in Switzerland, then acquired the Miura in the summer of 1993. The founder of the museum collection had himself been active in motor sport in the 1950s. He had the Miura partially restored again in the 1990s, during which the car was given its current yellow paintwork. This Miura P400 has a fully known and eventful history with only five owners, "matching numbers" for engine and gearbox and the very rare right-hand drive from the factory. Unlike most Miura's, this example has a rare racing history. The later conversion to SV specifications is another special feature of this car. Due to its inclusion in the museum collection, the car has only been driven occasionally in the last 30 years. Therefore, more extensive service work is probably required. This circumstance makes it possible to acquire the car at an attractive price. This in turn leaves room for further investment and optimisation entirely according to individual needs and personal taste.
The Lamborghini Miura was presented at the Geneva Motor Show in March 1966. It was an immediate sensation, particularly due to its design and drive concept developed from the still young automobile manufacturer (Automobili Lamborghini S.p.A.), which had only been founded in 1963 by the tractor manufacturer Ferrucio Lamboghini. The Miura's drive concept was considered a real revolution: it was the first series production sports car with a rear-mid engine. A principle that until then had only been used by race cars. The rear mid-engine concept was subsequently adopted in many high-performance sports cars, e.g. Ferrari 365 GTB/4 (512 BBi) and Dino 246 GT, BMW M1 and many more. Gianpaolo Dallara (Lamborghini's chief engineer) and Paolo Stanzani, along with test driver Bob Wallace, were responsible for the car's engineering. The spectacular styling came from Bertone designer Marcello Gandini, who was just 27 years old in 1965. Such a flat silhouette (only 105 cm high) had never been seen before. An engine cover made of black louvers and the folding headlights set in black "ribs" are further striking details. The Miura is particularly impressive with the front and engine hoods flipped open, each encompassing the entire front and rear sections of the body, including the fenders. The power plant was a 4 litre V12 mid-engine with a 60-degree cylinder angle and double overhead camshaft that produced about 350 hp in the first P400 model. The mid-engine is installed transversely to the direction of driving for space reasons and better weight distribution, and fits directly behind the passenger cabin. Drive power is transmitted to the rear wheels via a fully synchronized five-speed transmission located directly on the engine. All wheels are individually suspended on double triangular control arms and have stabilizers on both axles. Disc brakes are fitted all around, which are hydraulically actuated but have no power assistance. Already in 1968 the Miura was further developed and was now called P400 S. From then on, the engine produced 370 hp. Technical improvements were internally ventilated brake discs and a revised rear axle. In 1971 there was a further modification to the P400 SV, whose engine now had 385 hp. There were also separate lubrication systems for the engine and transmission, and visually a slightly wider body in the rear with wider wheels. Today, people often talk about so-called "supercars" – in retrospect, the Miura was the first automobile in this category. As a superlative at the time, it offered enormous power, a new drive concept and a progressive design. Moreover, it was the fastest production sports car in the world on its debut. This is way more significant because the Lamborghini brand had been founded only a few years earlier and, until the Miura's premiere, had only one production model on the market, the Lamborghini 350/400 GT.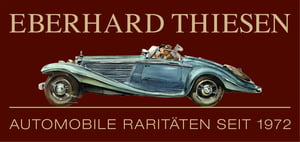 ---
Eberhard Thiesen GmbH & Co. KG
Contact Person
Kontaktperson
---