This listing is no longer available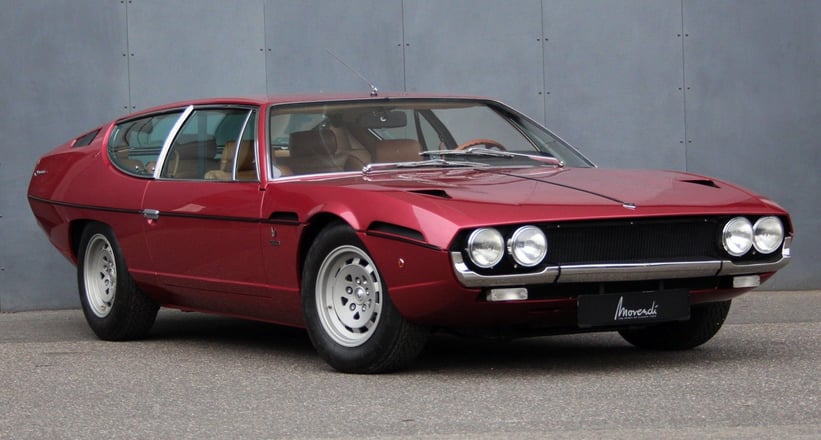 1972 Lamborghini Espada
Serie III
Location

Performance

340 PS / 251 kW / 336 BHP
Description
- Sehr seltene Originalfarbe Rosso Granada, matching numbers & colors
- Umfangreich restauriert, seit 2011 über 60.000 € investiert
- Eines von nur 1.225 Exemplaren
- Zugelassen in Deutschland, sofort einsatzbereit
Fahrzeughistorie:
Marcello Gandini, ebenfalls Designer des berühmteren Miura, entwarf dieses nach einem spanischen Stierkampfdegen benannten Fließheck Coupé im Dienste der für Lamborghini tätigen Designschmiede Carrozzeria Bertone.
Dieser Espada der dritten Serie wurde neu in die USA geliefert und dort von einem seiner Vorbesitzer etwa 26 Jahre lang aufbewahrt. Der bisherige deutsche Besitzer erwarb das Auto 2011 und importierte es anschließend nach Deutschland. Anschließend gab er eine umfassende Überholung der Mechanik in Auftrag, die 2012 vom deutschen Lamborghini-Spezialisten Cuntz Autotechnik in Nürnberg durchgeführt worden ist. Außerdem wurden neue Reifen und eine neue Edelstahl-Abgasanlage verbaut. Teile wurden beim Lamborghini-Teilespezialisten Ricambi Toro bestellt und haben einen Wert von mehr als 20.000 €. Die originalen Campagnolo-Magnesiumräder wurden durch neue Räder des gleichen Designs aus Aluminium ersetzt. Der letzte Besitzer erwarb diesen Espada 2016 und ließ ihn komplett lackieren. Nachweislich über 60.000 € sind investiert worden.
- Very rare original color Rosso Granada, matching numbers & colors
- Extensively restored, over 60.000 € invested since 2011
- One of only 1,225 produced cars
- Registered in Germany, ready for immediate use
Vehicle history:
Marcello Gandini, designer of the more famous Miura, constructed this hatchback coupe, which was named after a Spanish bullfighting sword, for the design studio Carrozzeria Bertone.
This third-series Espada was delivered new to the United States, where it was kept by one of its previous owners for about 26 years. A German gentleman bought the car in 2011 and imported it to Germany. He then ordered a major overhaul of the mechanicals, which was carried out in 2012 by German Lamborghini specialist Cuntz Autotechnik in Nuremberg. New tires and a new stainless steel exhaust system were also installed. The parts that were ordered from the Lamborghini specialist Ricambi Toro were worth more than €20,000. The original Campagnolo magnesium wheels were replaced with new wheels of the same design in aluminum. The recent owner purchased this Espada in 2016 and had it completely painted. More than 60,000 € have been invested.