This listing is no longer available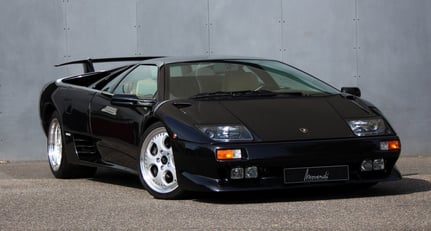 1999 Lamborghini Diablo
VT
Location

Performance

530 PS / 390 kW / 523 BHP
Description
- Design by Marcello Gandini
- Eines von nur 34 Fahrzeuge produziert in 1999
- VT Version (Visco Traction), allradgetrieben
- Erst ein eingetragener Besitzer in Italien
- Nach Werkszulassung, seit 2013 in den Niederlanden
- Sehr geringe Laufleistung, exzellenter Zustand
- Erstlack! Matching Numbers & Colors
Fahrzeughistorie:
1999 noch auf die Automobili Lamborghini SPA in Sant ´Agata Bolognese werkszugelassen, wurde das teuflische Geschoss im Mai 2000 erstmals in Dronero bei Cuneo auf die Straße gebracht. Es ist die allradgetriebene VT Version, die Sig. Verutti bis zum Verkauf in die Niederlande 2013 durch die Berge des Piemont pilotierte. Der erste Service in niederländischer Hand war 2013 bei erst 8,765 km Laufleistung. Heute präsentiert sich dieser Diablo nahezu neuwertig. Eine seltene Gelegenheit, ein Fahrzeug dieser Generation nahezu jungfräulich zu erwerben.
Ziel der Diablo Entwicklung war nicht nur, einen Nachfolger für den Countach zu finden, sondern auch, das schnellste Serienfahrzeug der Welt zu bauen. Das Auto musste mindestens 320 km/h schnell sein, selbst wenn kein Käufer es je ausfahren konnte. Auf der Strecke von Nardò soll er jedoch 337 km/h erreicht haben. Die Form des Autos ist typisch für Gandini: lange, fließende Linien mit großen Lufteinlässen in den Seiten und verkürzte vordere Kotflügel, an die sich weit heruntergezogene, flache Seitenfenster anschließen. Der Cw-Wert liegt bei 0,31 und damit deutlich niedriger als beim Countach.
- Design by Marcello Gandini
- One of only 34 vehicles produced in 1999
- Very low mileage, excellent condition
- First paint! Matching Numbers and Colors
- Only one registered owner in Italy after factory registration
- In the Netherlands since 2013
Vehicle history:
Factory-registered in 1999 to Automobili Lamborghini SPA in Sant 'Agata Bolognese, the diabolical bullet was first put on the road in May 2000 at Dronero near Cuneo. It is the all-wheel drive VT version that Sig. Verutti piloted through the mountains of Piedmont until it was sold to the Netherlands in 2013. The first service in Dutch hands was in 2013 at only 8,765 km of mileage. Today, the Diabolo presents itself in excellent condition. A rare opportunity to acquire a vehicle of this generation so virgin.
The goal of the Diabolo development was not only to build a successor to the Countach, but also to build the fastest production car in the world. The car had to beat at least 320 km/h, even if no buyer could ever drive it out. On the Nardò track, however, it is said to have reached 337 km/h. The shape of the car is typical of Gandini; long, flowing lines with large air intakes on the sides and shortened front fenders followed by wide, flat side windows. The cw value is 0.31, significantly lower than that of the Countach.