This listing is no longer available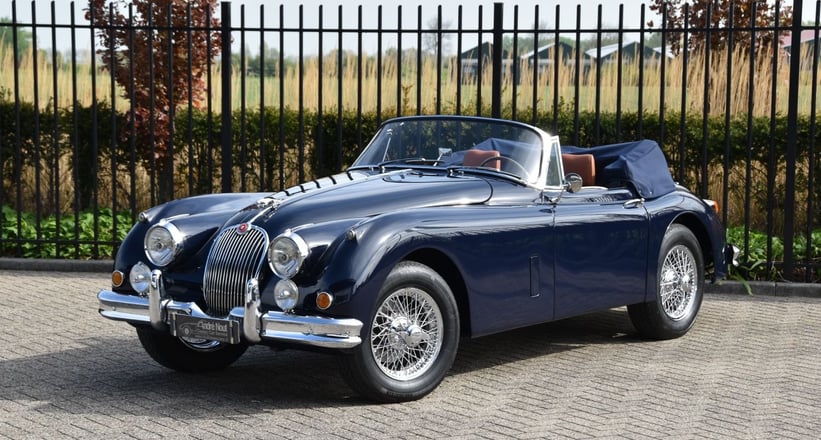 Location
Description
For those who want to go on a roadtrip or (tour)rally this summer with one of the most beautiful and practical Jaguars. it is possible with this XK150 DHC. By far the most interior space and ease of use can be found in this model XK, and when the weather changes, the car is closed in an instant. The possibility to bring plenty of luggage also makes this Jaguar extra attractive. Skip the long waiting period for a restoration, just get in and enjoy!
The car was recently restored, but when the current owner bought it, he spent a considerable amount of money to further improve it. A Dutch Jaguar specialist has gone through the entire car and several upgrades have been installed. EZ power steering, bucket seats, five-speed gearbox, Coopercraft brakes, alternator, electronic ignition, kenlowe fan, etc. contribute to the ease of use. The color scheme has been chosen carefully in tasteful dark blue with dark blue leather and carpet. The contrasting dark beige seats (original seats, newly upholstered in the same color are also present) gives the interior a chic appearance, finished with a dark blue soft top and hood cover.
We can be brief about driving this XK150: once you drive it you will not want to stop! Thanks to the upgrades and the quality of the restoration, it drives great. The engine was adjusted on the rolling road and in combination with the Getrag five-speed gearbox, it does an excellent job. The quality of the restoration is noticeable throughout the car. Paintwork, panel gaps, technics and interior; everything is in top condition! All inspections allowed!
EZ powersteering
Bucket seats
Burr walnut dashboard
Maplight
Tom Tom navigation
High torque starter
123 electronic ignition
Spin-on oil filter conversion
Alternator
Stainless steel exhaust system
Coopercraft brakes
Koni classic shock absorbers
Chrome wire wheels
Inertia reel seatbelts
Moto Lita steering wheel
Sump protection