This listing is no longer available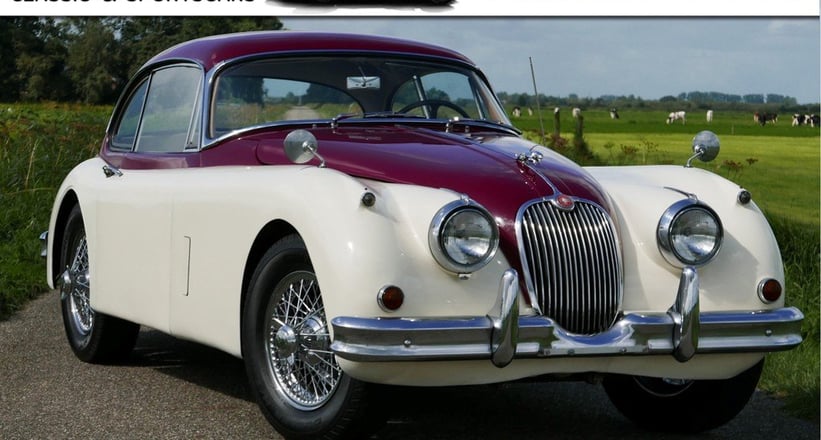 1958 Jaguar XK 150
LHD Chroom spaakwielen
Summary
Location

Performance

154 kW / 210 PS / 207 BHP
Description
🇬🇧 Information in English:
Model range: 1957 - 1961
Drive: Rear wheel drive
Number of cylinders: 6
Engine capacity: 3.442 cc
Service history: Present
Jaguar XK150 FHC from year 1958.
. Made in the color combination of Red over White
. New 'chrome' wire wheels
. Biscuit leather interior
. LHD
. overdrive
The XK 150 was different in 1958 from the original XK line started ten years earlier. As such, it can actually be considered a separate model. This was partly caused by the fact that the XK140 could no longer be built due to a major fire in the production halls of Jaguar in February 1957. When the factory was rebuilt, the XK150 was introduced in May 1958. The XK 150 had clearly evolved lines and was more in line with the increased streamlining of cars of the time. The 150 also offers a solution for people who do not fit well in the XK 120 or 140, because the interior is a lot more spacious compared to its predecessors. The production line of the XK had been a very successful one so far, so there was no reason to switch to a completely new concept. For example, little was changed in the technology, except that things that were still optional on the XK 140 were now supplied as standard, such as disc brakes at the front and rear. The model range remained the same with three versions: the Open Two Seater (OTS), the Drop Head Coupé (DHC) and the Fixed Head Coupé (FHC) as a closed version.
The Jaguar comes with a folder with various documents. This includes the original American title, which is a nice addition to the history. The original instruction booklet is also present.
The car was exported from Phoenix (USA) and taken over by its Belgian owner.
This two-tone XK150 is a nice ''daily driver'. The body is hard and rust free. With the American paintwork you can participate in rallies and touring without any worries. If you would like to take the paintwork to a higher level, then a complete refinishing or a body-off restoration is a great option.
We can also arrange the export documents and transport for you. An insurance for 2 weeks is also possible!
We have been trading vintage, classic and modern sports cars for years, with sales throughout the Netherlands, Europe and the rest of the world. We offer a wonderful variety of collector cars capable of providing years of pure pleasure, which you can find online at www.carrosso.com or by visiting our showroom in Oldemarkt, an hour's drive from Amsterdam.
We have a wide variety of classic sports cars, if you are interested in the specific details of a particular car, please give us a call. We are open to negotiating transactions, we can stock cars and we have an effective and reliable way to sell your cars through our purchase or consignment sales program. So, if you have a (classic) sports car for sale, contact us and we can give you the price your car deserves!
🇩🇪 Informationen auf Deutsch:
Modellbereich: 1957 - 1961
Antrieb: Hinterradantrieb
Zylinderzahl: 6
Motorhubraum: 3.442 cc
Polsterung: Leder
Hefte: Vorhanden
Jaguar XK150 FHC aus dem Jahr 1958.
. Hergestellt in der Farbkombination Rot über Weiß
. Neue 'Chrom' Speichenräder
. Interieur aus Biskuitleder
. Linkslenker
. übertreiben
Der XK 150 unterschied sich 1958 von der ursprünglichen XK-Linie, die zehn Jahre zuvor gestartet wurde. Als solches kann es tatsächlich als separates Modell betrachtet werden. Dies lag unter anderem daran, dass der XK140 aufgrund eines Großbrandes in den Produktionshallen von Jaguar im Februar 1957 nicht mehr gebaut werden konnte. Beim Wiederaufbau der Fabrik wurde im Mai 1958 der XK150 vorgestellt. Der XK 150 hatte deutlich weiterentwickelte Linien und entsprach mehr der zunehmenden Stromlinienform der Autos der Zeit. Auch für Leute, die nicht gut in den XK 120 oder 140 passen, bietet der 150 eine Lösung, denn der Innenraum ist im Vergleich zu seinen Vorgängern deutlich geräumiger. Die Produktionslinie des XK war bisher sehr erfolgreich, es gab also keinen Grund, auf ein komplett neues Konzept umzusteigen. An der Technik änderte sich beispielsweise wenig, außer dass beim XK 140 noch optionale Dinge wie Scheibenbremsen vorne und hinten serienmäßig mitgeliefert wurden. Die Modellpalette blieb mit drei Versionen gleich: dem Open Two Seater (OTS), dem Drop Head Coupé (DHC) und dem Fixed Head Coupé (FHC) als geschlossene Version.
Der Jaguar wird mit einer Mappe mit verschiedenen Dokumenten geliefert. Dazu gehört auch der ursprüngliche amerikanische Titel, der eine schöne Ergänzung zur Geschichte ist. Die originale Bedienungsanleitung ist auch vorhanden.
Das Auto wurde aus Phoenix (USA) exportiert und von seinem belgischen Besitzer übernommen.
Dieser zweifarbige XK150 ist ein schöner ''Alltagsfahrer''. Die Karosserie ist hart und rostfrei. Mit der amerikanischen Lackierung können Sie unbesorgt an Rallyes und Touren teilnehmen. Wenn Sie die Lackierung auf ein höheres Niveau bringen möchten, bietet sich eine Komplettlackierung oder eine Karosserierestaurierung an.
Auch die Exportdokumente und den Transport können wir für Sie organisieren. Eine Versicherung für 2 Wochen ist auch möglich!
Wir handeln seit Jahren mit Oldtimern, klassischen und modernen Sportwagen mit Verkäufen in den Niederlanden, Europa und dem Rest der Welt. Wir bieten eine wunderbare Auswahl an Sammlerautos, die Ihnen jahrelange Freude bereiten können und die Sie online unter www.carrosso.com oder in unserem Showroom in Oldemarkt, eine Autostunde von Amsterdam entfernt, finden können.
Wir haben eine große Auswahl an klassischen Sportwagen, wenn Sie sich für die spezifischen Details eines bestimmten Autos interessieren, rufen Sie uns bitte an. Wir sind offen für Verhandlungen, wir können Autos lagern und wir haben eine effektive und zuverlässige Möglichkeit, Ihre Autos durch unser Kauf- oder Konsignationsverkaufsprogramm zu verkaufen. Wenn Sie also einen (klassischen) Sportwagen zu verkaufen haben, kontaktieren Sie uns und wir können Ihnen den Preis nennen, den Ihr Auto verdient!