This listing is no longer available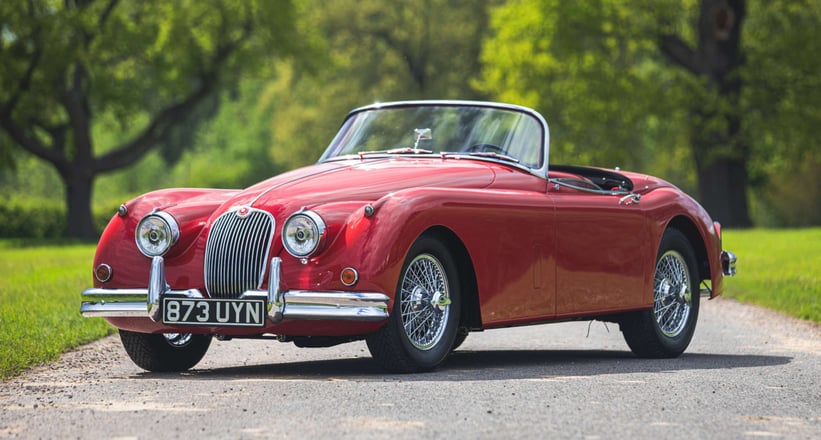 Summary
Location

Performance

229 PS / 169 kW / 226 BHP
Description
The Heritage Certificate confirms that this left-hand drive, XK150S was finished in Carmen Red on 8/07/1958 and fitted with a manual gearbox with overdrive
It was duly despatched to Jaguar Cars, New York and spent most of its life in the US before returning to the UK in 2015
 It's 1 of only 844 LHD 'S' Roadsters and dates from the first 3 months of production
Consequently, it retains all of the rare early features such as the centre-mounted heater and nearside-bulkhead-located chassis plate
When our vendor began the restoration of 873 UYN his intention was to return it to exactly (100%) as it left Browns Lane
It would be unfair to try and precis the details of this amazing restoration so please check our website
The results are simply spectacular. Is there a better left-hand drive 150S in the World? We have our doubts
Progressive development of the sensational XK120 and XK140, the XK150 retained the same basic chassis, 3.4-litre engine and four-speed Moss transmission of its predecessors but, partly due to the growing U.S. demand for more comfortable and refined sports cars, benefited from an entirely new body providing increased interior space and improved visibility courtesy of a single-piece wrap-around windscreen. A higher front wing line and broader radiator grille were other obvious differences but the new model's main talking point was its Dunlop disc brakes; at last the XK had stopping power to match its prodigious straight-line speed. Introduced in the spring of 1957, the XK150 was available at first only in Fixed and Drophead Coupé forms, the open roadster version not appearing until the following year. At 190bhp, the engine's maximum power output was identical to that of the XK140, so performance was little changed, but 'Special Equipment' and 'S' versions offered 210 and 250bhp respectively, the latter delivering an astonishing 0-60mph time of 7.3 seconds and a top speed of 136mph. This improvement in performance resulted from the adoption of a Weslake-developed, straight-port cylinder head, high-compression pistons, triple 2" SU carburettors and twin electric fuel pumps. Overdrive and a Borg-Warner automatic gearbox were the transmission options, the latter becoming an increasingly popular choice, whilst a Thornton 'Power-Lok' limited-slip differential was available for the 150S. Steel wheels remained the standard fitting although XK150s so equipped are a great rarity as most were sold in SE (Special Equipment) form with centre-lock wire wheels. The much-admired chromed Jaguar Mascot was made available as an optional extra on an XK for the first time.
This, simply remarkable, Jaguar XK150S began life on the 8th of July 1958 finished in Carmen Red with red leather and a black soft top. The Heritage Certificate confirms it was a left-hand drive, manual/overdrive gearbox car that had been built for the US market and was duly dispatched there on August the 28th that year arriving at Jaguar Cars, New York a couple of weeks later prior to being delivered to its first proud owner. Cars from the United States tend to have very little history and that's certainly the case here but we do have a letter from its last American owner and a record of its earlier long-term ownership in Oklahoma from the State Licensing Authority.
The Jaguar returned to the UK in 2015 to begin the next chapter of its long life and was purchased by our vendor as a restoration project. He had a clear idea of what he was trying to achieve and the car fitted the criteria as it was a very solid 'S' Roadster that had spent its life in a dry US state allowing it to retain the vast majority of its original and rust-free sheet metal and chassis. It's one of only 844 LHD 'S' Roadsters built, and dates from the first three months of production, bearing the early 'S' chassis-prefix, whilst being only a dozen or so of cars away from the change (confusingly) to a 'T' chassis-prefix. Consequently, it retains all of the rare early features such as the centre-mounted heater and nearside-bulkhead-located chassis plate.
Whilst upgrades to classic Jaguars are common these days and generally advantageous (early E-Type brakes), our vendor intended to return 873 UYN to exactly as it rolled out of Browns Lane in July 1958, not approximately but non-negotiably, 'exactly' as it left the factory. This attention to detail could be regarded as obsessive but it's probably more polite to regard it as 'fastidious'.
In his own words;
"The Jaguar underwent a total nut and bolt restoration with every single detail scrutinised to be absolutely correct and original, spending hours on refurbing, honing, and tuning many of its original parts, whilst also sourcing better original parts due both to authenticity and the quality of fit comparative to many reproduction items.
Examples of the lengths undertaken include sourcing the correct pumpkin orange cylinder head paint, spending 120 hours alone to obtain a chassis finish as perfect as the body finish, with every interior material replicating the correct original shade, texture and contour, whilst every nut, bolt, and washer has been orientated to match and line up. Fitting up the vehicle employed a selection process of ranking and rejecting each individual component and sub-component until an optimum fitting and functioning condition was eventually reached.
This has ensured that the 'S' has been painstakingly hand-crafted to Concours standard throughout with over 2,800 hours invested across British Midlands XK marque specialists including Suffolk & Turley (trim), DT Classics (panel work), MRC (body and chassis paintwork), and Paul Burden of Corley Ash Garage (fitting out and shakedown). The original complete engine was fully stripped, with every component overhauled or replaced, then perfectly painted and plated, re-assembled, and tested by David Williams, formerly of Rob Beere Racing and Jaguar Classic Works. David also rebuilt the close-ratio transmission, and the overdrive unit was fully reconditioned by Overdrive Spares. The 'Power-Lok' limited-slip differential was checked and overhauled with new bearings. Significantly, Martin Collins of MRC also painted the earlier Concours-winning XK150 Drophead that sold for a record of over £420,000 in 2015.
Martin appointed Paul Burden of Status Cars to finally re-assemble the XK at their premises at Corley Ash Garage. Paul has been rebuilding and restoring classic Jaguars for over 50 years and had a number of significant, Concours-winning cars to his name. The final process took two and a half years, extensively photo recorded, and the spectacular result is plain to see. Unlike many Concours examples, however, this 'S' drives and performs equally as well as it looks due to the fastidious level of build carried out over five years."
As mentioned before, our vendor insisted on every aspect of the specification being precisely as the Roadster left Browns Lane without any upgrades or enhancements that weren't fitted from new. He often delayed the build to double-check detail and had parts of the build forensically repeated until perfect. The only deviation has been to fit a 12-volt battery, but for authenticity, a dummy 6-volt battery, correct clamps and battery cable have been fitted in the other battery cavity, just as it would have looked in 1958.
The deep and luscious Carmen Red finish, the twin-cam straight-port cylinder head, the triple SU carburettors, every shut-line both in and out of view, every profile, the red hide interior, the hood, tonneau, carpets, the original chassis and underside, and every single aspect of this car is simply stunning and has been recreated as precisely original having been diligently researched with marque experts and then executed perfectly throughout. A complete photographic record from pre-purchase, through the whole process to completion of 600 photos is provided in the car's history file alongside a detailed breakdown of the restoration costs compiled with the same diligence evident in every other aspect of this remarkable motor car.
This XK150S looks, drives, and represents the very pinnacle of a period XK in, what many believe is, the optimal form of the model having the cleaner and uncluttered lines of the OTS Roadster and class-leading performance with 250bhp and 136mph. Indeed, Norman Dewis, the famous Jaguar Test Driver was quoted as stating that the 150S was his favourite Jaguar, being the "best balanced" model he worked on during his long tenure from XK120 to XJ40.
It would not be appropriate for us at Silverstone Auctions to say that this, matching-numbers, passionately-restored XK150S is the best in the world but, if it's not, we would certainly love to see a better one. It's ready now as either a fabulous driving example, or to roll out at Salon Privé or similar for show competition, or even both if the lucky new owner so chooses! Viewing is highly recommended and encouraged to appreciate the quality of finish that's been achieved