This listing is no longer available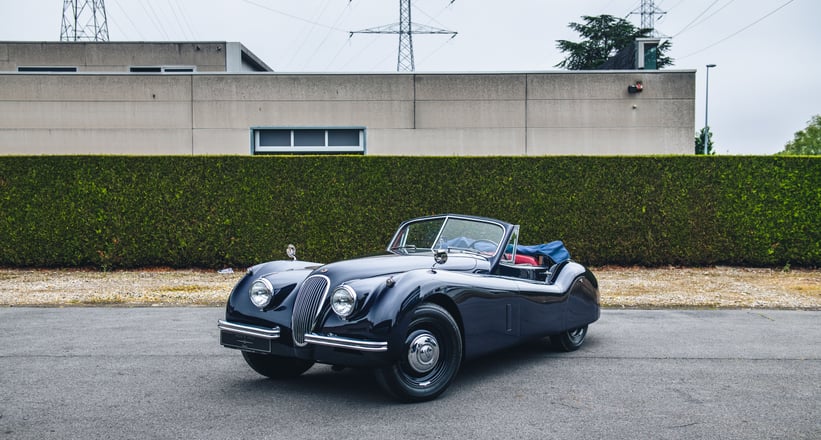 Location

Performance

182 PS / 134 kW / 180 BHP
Description
When production of the Jaguar sports car, the SS100, stopped in 1940, Jaguar did not bring another sports car onto the market for a long time. In 1948 they brought an end to this and came with a new sports car, the XK 120. The XK 120 immediately drew a lot of attention from many fans of this kind of car. It came as an OTS (Open 2 Seater) as well as a roadster and a Drophead Coupé (DHC). These were launched as the showpiece for the updated XK engine and were first seen at the 1948 London Motor Show. And because of the many positive reactions to the prototype, William Lyons (Jaguar founder and Head of Design) was immediately convinced to put the car into production. The production car would be almost the same as the prototype. The Xk became the fastest production car at the time, breaking many records and reaching speeds of up to 192 km/h. It also owes its name to this top speed, "120" standing for 120mp/h which is 192 km/h.
The Jaguar offered here comes in the colour combination of dark blue bodywork with a red leather interior and a blue soft top. A beautiful colour combination that attracts the attention of many connoisseurs. Disc wheels, with the rear wheels partially disappearing behind the spats, complete the picture here as well. Also present with this beautiful Jaguar XK120 DHC is the Jaguar Heritage Certificate, which proves that the car was shipped to Hornburg, Los Angeles on 21 July 1953. The production of the DHC started in 1953 and this makes our specimen one of the very early DHCs.
The Jaguar underwent a restoration at a Jaguar Specialist in the Netherlands and was given this new dark blue colour. The accompanying documentation shows everything you need to know about this XK120.
Are you curious as well and do you want to know more about this beautiful Jaguar XK120 DHC? She is now for sale at Rock N Roll Classics in Bruges.