This listing is no longer available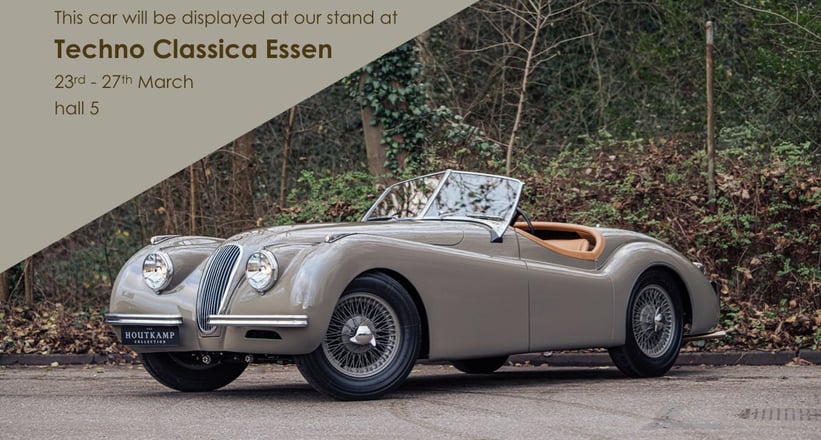 1950 Jaguar XK 120
Genuine factory built alloy XK 120 (1 of only 184 left hand drive examples)
Location
Description
__________________________________________________________
PLEASE NOTE:
if this car is not sold before it will be displayed at our stand at the Techno Classica in Essen, Germany between the 23rd and 27th. of March 2022.
If you have serious interest in this car, we kindly ask you to contact us before the show.
The Techno Classica is one of the world's largest motor shows for classic cars.
We will be pleased to welcome you at our stand where we will display approximately 20 cars from our collection.
You can find us in hall 5 stand number 314. We look forward to meet you there!
__________________________________________________________
- Genuine factory built alloy XK 120 (1 of only 184 left hand drive examples)
- This special 1950 Jaguar XK 120 is not just a work of art, but an important piece of motoring history
- 1 of the first 240 hand built XK 120's with aluminium bodywork on wooden frames
- Accompanied by Jaguar Daimler Heritage Trust (JDHT) Certificate
- Mille Miglia Eligible
- A complete "frame-off" restoration including renewal of the wooden frame was carried out to the highest standards
- Documented restoration file
The Jaguar XK 120 began life as the sole experimental "100" coupe, built in 1938 for the Earls Court Motor Show in London.
The first XK 120 was built in only six weeks for the London's 1948 Earls Court Motor Show, and it was a sensation.
With typically British understatement, the "120" signified the car's top speed.
The first 242 XK's were built with aluminum panels over a wood frame since aluminum was light and easy to work, and it was not rationed like steel.
William Lyons originally planned to sell 200 XK 120 OTSs (open two seaters, or roadsters), but at only £998, orders poured in so fast that he was eventually forced to switch to steel bodies, which could be built much faster, and in large numbers.
Steel was in short supply in the years following World War II, which prompted Jaguar to abandon its plans to build its first post-war model from that comparatively pliable material and instead utilize alloy panels over a wood frame. The XK 120 was initially intended as a stop-gap model for Jaguar, and a home for its new 160-horsepower straight-six, but its legacy is unparalleled.
In all, there were 7,631 XK 120 roadsters built from 1949–1954, and 2,678 coupes between 1951 and 1954. The weather-tight drophead coupe arrived last, with 1,769 produced in 1953 and 1954. With only 242 examples bodied in aluminum, these earliest XK 120 roadsters are by far and away the most desirable examples.
ABOUT THIS SPECIFIC EXAMPLE
According to the accompanying JDHT Certificate, this Jaguar XK 120 OTS Alloy was built on the 8th of March 1950.
A genuine factory left-hand-drive example which was shipped on the 12th of April 1950 to Hornburg, the Jaguar distributor in Los Angeles, California, a country that at the time had its fair share of wealthy sports car enthusiasts.
The Jaguar was delivered via Clayrich Motors in St. Louis to its first owner Henry C. Heier.
According to available information Heier used the car in various SCAA races.
After about 40 years of service the car was offered as a barn find in Chicago in 2010.
It was in a well-preserved condition at thae time.
The completely original aluminum body was almost without corrosion (photos available).
An European collector bought the car and between 2014 and 2017 a complete "frame-off" restoration including renewal of the wooden frame was carried out to the highest standards.
The restoration work is impressively documented with photo's.
Pictures of the restoration show the body which was stripped down to bare metal, with anything deemed needing repair or replacement rectified with correct components.
CONDITION EXTERIOR
Finished in Birch Grey paintwork with a Biscuit leather interior this fine example is in an exceptional condition throughout.
Being restored with the utmost precision the exterior is in an absolute outstanding condition.
The body of the Jaguar shows impressively nice.
The body is superb straight and has wonderful fittings.
All chrome parts are excellent without any damages or signs of use.
From underneath (the chassis, as well as the wheel area's) one can see that the Jaguar has undergone a very proper and intensive restoration and that the car has been very carefully used since it was finished resulting in a just finished from restoration condition.
CONDITION INTERIOR
The interior is equally nice as the exterior. The leather on the seats is excellent and the Biscuit leather seats fit the exterior color extremely well.
Everything is clean, neat and tidy. The interior is in excellent condition all round, as is the dash, steering wheel, instruments and controls.
All switches and instruments are in a perfect condition and have been all checked on functionality.
Even the trunk has been fully and period correct restored.
Currently the Jaguar is fitted with period correct bucket seats. The original sofa is present and comes with the car and is also fully restored.
DRIVING EXPERIENCE
The handling and the performance of this Jaguar is perfect. We have owned for several years a Jaguar XK 140 which we used for rallies.
It was a dream car to drive. The power, the sound and the drivability was excellent.
This XK 120 gives the same feeling!
In other words, the car is not only fantastic to see, it is also a superb driver!
The XK120 is one of the icons of the post-war British sports car world and think the XK120 is undeniably a classic that every enthusiast should have the opportunity to experience.
These earliest XK 120 roadsters are by far and away the most desirable examples.
The car is in the condition of a mint concours car and the driving is as perfect as from a just prepared holiday/rally car.
A short trip in this 120 let you understand why the XK 120 became such a successful car.
This beautiful early XK120 Alloy would be a great entry to any number of historic rallies included the Mille Miglia.
Disclaimer
The information provided on this website has been compiled by The Houtkamp Collection with the utmost care. The information contained within this advert is provided 'as-is', without warranties as to its accuracy whether expressed or implied and is intended for informational purposes only. The Houtkamp Collection is not liable for any errors or mistakes.