This listing is no longer available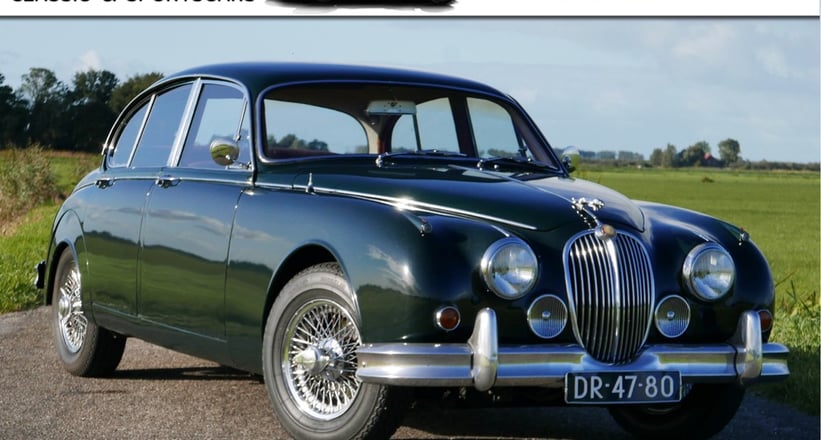 1967 Jaguar MK II
Automaat Stuurbekr. LPG
Summary
Location

Performance

124 kW / 169 PS / 167 BHP
Description
🇬🇧 Information in English:
Type of fuel: LPG
Model range: 1959 - 1967
Number of cylinders: 6
Engine capacity: 4.235 cc
Empty weight: 1.579 kg
Emission class: Euro 0
Registration number: DR-47-80
= More options and accessories =
- LPG underfloor installation
- Power steering
- Radio
= Remarks =
Jaguar MK II Automatic 1967
*Moto-Lita wooden steering wheel
*LPG installation
*Power steering
*LHD
*Powerful and smooth 4.2L 6 cylinder engine
*15" Spoked wheels
The Mark II or Mk II is a four-door sports limousine, which Jaguar released in 1959 as the successor to the Mark I, with 2.4, 3.4 and a 3.8 liter engine. The body was improved and modified in some details. From then on, disc brakes were standard on all four wheels.
Originally, this Jaguar was sold as a 3.8 automatic. Later during the restoration, this 3.8L was replaced by a 4.2L Jaguar engine which is linked to a fine automatic transmission.
The chassis is hard. The body is basically very good and hard. About 20 years ago, the body was made bare down to the metal and completely rust-free. Over the years, the Jaguar has gotten some rust in certain places under the paint, which you can see in the photos. Often these spots are updated for a few hundred euros before sale, but we prefer to show you what this car really is like. This is a real Jaguar that has not been fully filled!
This Jaguar comes with a binder with various maintenance bills (worth over €7,000).
This Jaguar was restored in 1997, photos are available.
In the past year, the MKII has also received a new battery in addition to a service.
The MKII is equipped with various options, including a Pioneer audio, Motolita wooden steering wheel, power steering, Chrome wire wheels, and an LPG installation with a 70 L gas tank. During our test drive, we noticed that the power steering does its job very well.
The color combination is also tasteful, the body is painted in dark green. A very nice combination with the red interior. The connection of the headliner has come loose at a number of points, as can also be seen in the photos.
The Jaguar is 54 years old and therefore no longer subject to an MOT in the Netherlands!
This MKII on LPG is a nice ''daily driver'. With points of attention to the paintwork you can participate in rallies and touring without any worries. If you would like to take the paintwork to a higher level, then complete refinishing is a great option.
The doors, sills, fenders, hood and trunk lid have neat fits.
Over the years, the car has acquired various signs of wear, see photos for details.
We can also arrange the export documents and transport for you. An insurance for 2 weeks is also possible!
We have been trading in vintage, classic and modern sports cars for years with sales throughout the Netherlands, Europe and the rest of the world. We offer a wonderful variety of collector cars capable of providing years of pure pleasure, which you can find online at www.carrosso.com or by visiting our showroom in Oldemarkt, an hour's drive from Amsterdam.
We have a wide variety of classic sports cars, if you are interested in the specific details of a particular car, please give us a call. We are open to negotiating transactions, we can stock cars and we have an effective and reliable way to sell your cars through our purchase or consignment sales program. So, if you have a (classic) sports car for sale, contact us and we can give you the price your car deserves!
🇩🇪 Informationen auf Deutsch:
Kraftstofftyp: LPG
Modellbereich: 1959 - 1967
Zylinderzahl: 6
Motorhubraum: 4.235 cc
Leergewicht: 1.579 kg
Polsterung: Leder
Emissionsklasse: Euro 0
Kennzeichen: DR-47-80
= Weitere Optionen und Zubehör =
- LPG-Unterbau
- Radio
- Servolenkung
= Anmerkungen =
Jaguar MK II Automatik 1967
*Moto-Lita Holzlenkrad
*LPG-Installation
*Servolenkung
*LHD
* Leistungsstarker und laufruhiger 4,2-Liter-6-Zylinder-Motor
*15" Speichenräder
Der Mark II oder Mk II ist eine viertürige Sportlimousine, die Jaguar 1959 als Nachfolger des Mark I mit 2,4-, 3,4- und 3,8-Liter-Motor herausbrachte. Die Karosserie wurde in einigen Details verbessert und modifiziert. Von da an waren Scheibenbremsen an allen vier Rädern Standard.
Ursprünglich wurde dieser Jaguar als 3.8 Automatik verkauft. Später während der Restaurierung wurde dieser 3,8-Liter-Motor durch einen 4,2-Liter-Jaguar-Motor ersetzt, der mit einem feinen Automatikgetriebe verbunden ist.
Das Chassis ist hart. Der Körper ist grundsätzlich sehr gut und hart. Vor etwa 20 Jahren war die Karosserie bis aufs Metall blank und komplett rostfrei. Im Laufe der Jahre hat der Jaguar an einigen Stellen etwas Rost unter dem Lack abbekommen, was man auf den Fotos sehen kann. Oft werden diese Spots vor dem Verkauf für ein paar hundert Euro aktualisiert, aber wir zeigen Ihnen lieber, wie dieses Auto wirklich ist. Dies ist ein echter Jaguar, der noch nicht vollständig gefüllt ist!
Diesem Jaguar liegt eine Akte mit verschiedenen Rechnungen (im Wert von mehr als 7.000 €) der Wartung bei.
Dieser Jaguar wurde 1997 restauriert, Fotos sind verfügbar.
Im vergangenen Jahr erhielt der MKII neben einem Service auch eine neue Batterie.
Der MKII ist mit verschiedenen Optionen ausgestattet, darunter ein Pioneer-Audio, ein Motolita-Holzlenkrad, eine Servolenkung, Chrome-Speichenräder und eine LPG-Installation mit einem 70-Liter-Gastank. Bei unserer Testfahrt ist uns aufgefallen, dass die Servolenkung ihren Job sehr gut macht.
Geschmackvoll ist auch die Farbkombination, die Karosserie ist in dunkelgrün lackiert. Eine sehr schöne Kombination mit dem roten Interieur. Die Verbindung des Dachhimmels hat sich an einigen Stellen gelöst, wie auch auf den Fotos zu sehen ist.
Der Jaguar ist 54 Jahre alt und unterliegt daher in den Niederlanden nicht mehr einem TÜV!
Dieser MKII auf LPG ist ein netter ''Alltagsfahrer''. Mit Aufmerksamkeitspunkten auf die Lackierung können Sie unbesorgt an Rallyes und Touren teilnehmen. Wenn Sie die Lackierung auf ein höheres Niveau bringen möchten, ist eine Komplettlackierung eine gute Option.
Die Türen, Schweller, Kotflügel, Motorhaube und Kofferraumdeckel haben saubere Passungen.
Im Laufe der Jahre hat das Auto verschiedene Gebrauchsspuren bekommen, siehe Fotos für Details.
Auch die Exportdokumente und den Transport können wir für Sie organisieren. Eine Versicherung für 2 Wochen ist auch möglich!
Wir handeln seit Jahren mit Oldtimern, klassischen und modernen Sportwagen mit Verkäufen in den Niederlanden, Europa und dem Rest der Welt. Wir bieten eine wunderbare Auswahl an Sammlerautos, die Ihnen jahrelange Freude bereiten können und die Sie online unter www.carrosso.com oder in unserem Showroom in Oldemarkt, eine Autostunde von Amsterdam entfernt, finden können.
Wir haben eine große Auswahl an klassischen Sportwagen, wenn Sie sich für die spezifischen Details eines bestimmten Autos interessieren, rufen Sie uns bitte an. Wir sind offen für Verhandlungen, wir können Autos lagern und wir haben eine effektive und zuverlässige Möglichkeit, Ihre Autos durch unser Kauf- oder Konsignationsverkaufsprogramm zu verkaufen. Wenn Sie also einen (klassischen) Sportwagen zu verkaufen haben, kontaktieren Sie uns und wir können Ihnen den Preis nennen, den Ihr Auto verdient!