This listing is no longer available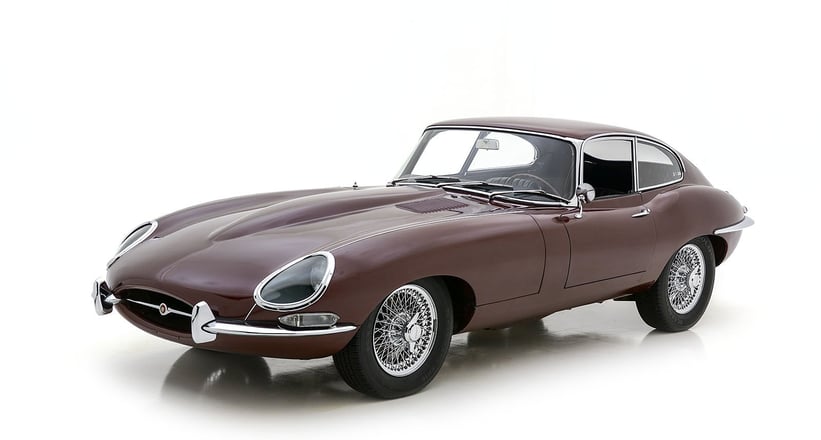 Summary
Location
Description
As the revolutionary XK series reached the end of its development, Jaguar engineers, led by company founder Sir William Lyons, turned to the proven template of combining exotic looks and race-proven technology for its replacement. Lyons and his chief aerodynamicist Malcolm Sayer worked together to design the new car, drawing inspiration from the Le Mans-winning D-Type through the use of a semi-monocoque tub with bolt-on front subframes supporting the engine and independent front suspension. In a departure from the live axle-equipped XK series, the E-Type utilized the ingenious modular independent rear suspension with inboard brakes, first pioneered on the Mk10 saloon. The E-type also boasted such exotic tech as four-wheel disc brakes, torsion bar front suspension, and initially, a 3.8-liter version of the XK's twin-cam inline-six pumping out an impressive 265 horsepower. Co-designer Malcolm Sayer had no interest in designing a car based purely on aesthetics; instead, he was far more interested in aerodynamics and allowing his interpretations of airflow to guide the shape. The E-Type followed a natural progression from the path set by the D-Type racing car, with evocative curves and a purposeful, aggressive stance. Upon debut at the 1961 Geneva Auto Salon, it was met with near-universal acclaim, and legend has it that even Enzo Ferrari declared it the most beautiful car he had ever seen. For all of the exotic style and technology, Jaguar managed to build the car to a price point that was half of its nearest competitors.
In 1964, the E-Type got its first significant update. Wisely, the styling remained mostly unchanged, but there was big news under the clamshell bonnet. The twin-cam inline-six got the second boost in displacement since its introduction in 1949, now up to 4.2 liters. The other big news was the addition of an all-new gearbox to replace the somewhat archaic four-speed Moss' box in the 3.8-liter cars. The new unit was still four speeds, but with a vastly improved shift feel and a synchronized first gear. Also upgraded were the four-wheel disc brakes, which got a new booster to address complaints about pedal feel and stopping power. These mechanical updates elevated the E-Type 4.2 to hero status among enthusiasts, and the Series 1 4.2 stands as one of the most desirable production models of the E-Type range.
This desirable Series 1 4.2 fixed-head coupe is a fine example for the driving enthusiast seeking an E-Type to enjoy on tours, rallies, and club events. A numbers-matching example that is mechanically dialed-in, this car is presented in its original color combination of Opalescent Maroon over black leather. According to the Jaguar Daimler Heritage Certificate, this car was dispatched from Coventry on May 24, 1965, and shipped to the United States through Jaguar Cars, New York. Further details of its history aren't known, although the car appears to be in mostly unrestored condition, excepting some paintwork as needed. It's most recent owner was a Jaguar enthusiast who maintained the car in excellent mechanical condition. This car presents with a moderate yet appealing patina; the opalescent maroon paintwork is slightly faded and crazed in places, and the chrome shows some slight hazing. It rides on excellent chrome knock-off wire wheels with newer radial tires. It could readily be enjoyed as-is, or make an excellent basis for a straightforward cosmetic freshening if the next owner desires.
The interior is in mostly original condition, with careworn black leather upholstery, and tidy carpets and headlining. The seats show some creasing and fading on the surface, but like a broken-in old baseball glove, they have a marvelous character and are quite comfortable. The dash features original instrumentation, toggle switches, and original wood-rimmed three-spoke steering wheel. The factory-correct console houses a slightly later vintage Blaupunkt AM/FM radio in place of the standard original Radiomobile. Behind the seats is a generous cargo area, accessed through the distinct side-hinged rear hatch. The load floor has correct black vinyl upholstery with rub-rails for effortless loading of a weekend's worth of luggage.
The factory 4.2-liter inline-six presents in good and tidy condition under the bonnet. It retains the original numbers-matching block and head per the data tag and Heritage Certificate. On a recent road test, the car performed beautifully, feeling tight, planted, and with the velvety-smooth character and stout performance expected from a 4.2 E-Type. Handling feel is superb, thanks in part to the excellent Koni Classic dampers and grippy radial tires. Suspension and chassis components are correctly finished, and the front sub frames are in good order. The front "picture frame" radiator support still bears the original chassis number, indicating it has never been replaced due to corrosion or accident damage as many cars have. The engine bay is clean, orderly, and appropriately detailed for a car that is well-suited to regular driving.
The E-Type is a true motoring icon, and this Series 1 4.2-liter Fixed Head Coupe represents its purest and most desirable form. The shape is unmistakable, and the performance is wholly memorable. This is a great car to enjoy as-is or to treat to a straight forward cosmetic freshening. As offered, this numbers-matching coupe is a superb choice for the enthusiast seeking a sorted, on-the-button E-Type for JCNA club events, casual rallies, or simply to explore your favorite back roads.
Offers welcome and trades considered