This listing is no longer available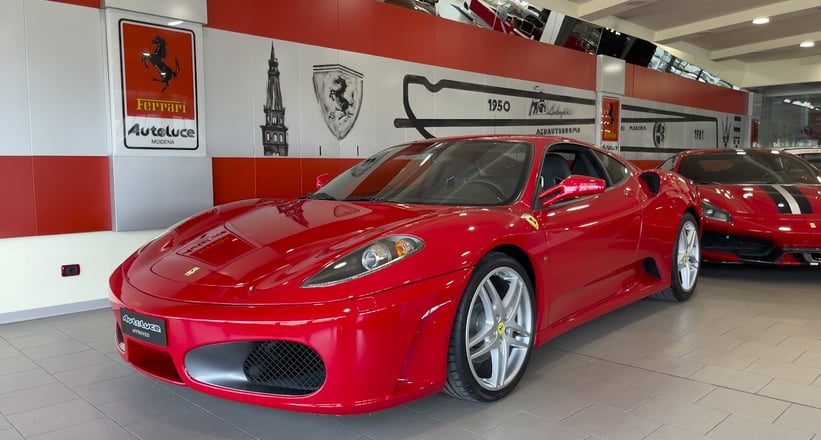 Summary
Location
Description
Con la F430 nasce una nuova generazione di Ferrari 8 cilindri, sviluppata attraverso la preziosa esperienza della Gestione Sportiva Ferrari. Ne risulta un progetto innovativo, grazie a tecnologie di frontiera estreme reinterpretate per un uso stradale sportivo.
Le più importanti sono il differenziale a controllo elettronico, studiato dalla Ferrari per le monoposto di Formula 1, e il 'manettino', il comando sul volante che permette al pilota di agire rapidamente sui sistemi che governano il veicolo.
Completamente nuovo il motore, compatto e leggero, con una cilindrata di 4308 cm3 e prestazioni di altissimo livello.
L'aerodinamica sfrutta concetti innovativi come la specializzazione dei flussi per incrementare i valori deportanti e migliorare il raffreddamento delle meccaniche.
La linea della F430, disegnata da Pininfarina, nasce dagli eccezionali contenuti tecnici racchiusi nella vettura.Tutti gli elementi stilistici sottolineano infatti l'aggressività e le prestazioni di questo modello.In grande evidenza il frontale della vettura, caratterizzato da due prese d'aria di forma ellittica che alimentano i grandi radiatori chiamati a smaltire l'elevata potenza del motore
La F430 monta un motore V8 di 90°, progettato secondo la tipica architettura di Ferrari ad albero piatto (180° tra le manovelle). L'applicazione dell'esperienza maturata da Ferrari nella Formula 1 ha consentito un miglioramento del motore, rispetto al suo predecessore, in termini di prestazioni, peso e riduzione delle dimensioni globali. Nonostante l'incremento della cilindrata del 20% (passando dai 3586 CV ai 4308 CV), il peso del motore è cresciuto di soli 4 kg, mentre sono incrementate notevolmente le prestazioni. La coppia è aumentata del 25% (465 Nm a 5,.250 giri/min, dei quali l'80% disponibile già a 3.500 giri/min) e la potenza del 23% (490 CV a 8.500 giri/min). Il motore si presenta estremamente compatto, con uno spazio tra i cilindri di appena 104 mm. Allo stesso modo, gli ingegneri Ferrari hanno scelto di integrare la coppa e le principali connessioni in un solo getto, che insieme a una frizione bidisco e a un volano più piccoli, ha ridotto l'altezza del motore tra il fondo della coppa dell'olio e l'albero a gomiti a soli 130 mm (rispetto ai 145 mm dell'unità motore presente sulla 360 Modena).
Immatricolazione 12/05/2005
Rosso Corsa
Interni nero
Moquette nero
Odometro 13.334 chilometri
Completa con tutti i libri e gli strumenti
Manutenzione Ferrari , documentata
Optional:
Scudetti Scuderia Ferrari sui parafanghi
Cuciture speciali in colore rosso
Sedili racing
Inserti in carbonio
The F430 hails the arrival of a whole new generation of Ferrari V8-engined berlinettas. Every inch of the car was inspired by the engineering research carried out at Ferrari's Gestione Sportiva F1 Racing Division. The result is a highly innovative design characterised by cutting-edge technologies perfected for use on a road-going car.
Two of these innovations are world firsts for a production car: the electronic differential (E-Diff), initially developed by Ferrari for its F1 single-seaters and designed to make the most of the engine's torque to optimise traction, and the handily placed steering wheel-mounted commutator switch (better known to the Scuderia's drivers as the manettino), which directly controls the systems governing vehicle dynamics.
The F430′s light, compact 4,308 cc engine that gives the car its name is completely new ; it punches out 490 hp and delivers a specific power output of 114 hp/l and 465 Nm of torque. Needless to say, performance is outstanding: acceleration from zero to 100 km/h in four seconds flat and a maximum speed in excess of 315 km/h.
Every area of this latest Prancing Horse car has been influenced by Formula 1. For instance, a braking system using carbon-ceramic discs has been installed within the car as standard. The discs offer superior stopping power and give the driver the satisfying feeling of being in complete control of the vehicle even in the most demanding situations. The F430′s aerodynamics are also highly innovative for a road car: its shape has been honed to generate air flows to increase down-force and improve cooling. Every last component of this Ferrari has been perfected to deliver outstanding performance and driving pleasure
Created by Pininfarina in collaboration with Ferrari's Head of Design, the F430 is inspired by the car's exceptional engineering and Formula 1. The F430's nose, characterised by two distinctive air intakes, draws inspiration from the Ferrari 156 F1 that Phil Hill drove to his 1961 F1 World Championship title.
The Enzo Ferrari was the inspiration for much of the rear styling of the new F430, and the Ferrari's meticulous aerodynamic detailing is reflected in the design of the nolder incorporated into the engine cover and the new rear diffuser integrated into the bumper, which boasts race-derived dimensions. Extreme care has also been lavished on designing the exterior details. The wing mirrors now have specially profiled twin mounting arms that channel air flows to the engine intakes, and the F430 name has been embossed on the back of the driver's side mirror. Even the finish of the engine bay is a work of art in terms of its distinctive shape and materials.The F430 is powered by a new 90° V8 featuring Ferrari's traditionally uncompromising design approach with a flat-plane crank (180° between throws). This is an all-new unit that does not share any components with the 360 Modena's engine. The improvement in terms of performance, weight and reduction of overall dimensions is the result of applying Ferrari's wealth of F1 experience to its road cars. Despite a 20% increase in engine displacement (from 3,586 cc to 4,308 cc), engine weight has grown minimally by just 4 kg, while perform-ance is considerably improved across the board. Torque increases by 25% (465 Nm at 5,250 rpm, 80% of which is already available at 3,500 rpm) and power by 23% (490 hp at 8,500 rpm).
Registration 12/05/2005
Racing Red Color
Black interior
Black carpet
Odometer 13,334 kilometers
Complete with all books and tools
Ferrari maintenance, documented
Optional:
Scuderia Ferrari badges on the fenders
Special red stitching
Racing seats
Carbon inserts