This listing is no longer available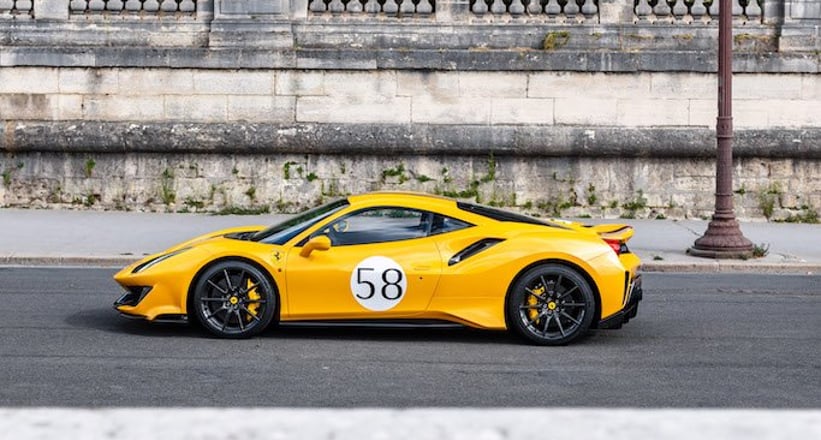 2020 Ferrari 488
Pista Tailor Made
Exterior brand colour

Giallo Ardilla Amarillo / Rubino Mettallizato
Location

Performance

720 BHP / 730 PS / 537 kW
Description
Dans l'ère moderne des « Berlinettes à moteur central », Ferrari a lancé quatre séries spéciales à vocation encore plus sportive. En 2003, la Modena Challenge Stradale avait fait sensation avec ses lignes aux couleurs du drapeau transalpin. Elle inaugurait, avec la présence d'un gros V8, quelques pièces de carbone. Puis il y a eu la F430 Scuderia, en 2007. Là encore, l'ingérence de la compétition dans l'univers de la voiture de série se faisait de plus en plus pressent. La Formule 1 offrait à ce bolide une boite de vitesses ultra rapide capable d'encaisser la puissance imposée et de propulser la voiture toujours plus rapidement.
En 2013, c'est l'apparition de la 458 « Speciale ». La dernière Ferrari V8 atmosphérique. Un moteur qui développait 605 chevaux et conçu par le génial directeur technique de l'époque, le français Jean Jacques His.
Mais pour continuer ce développement sans fin, Ferrari est passé aux moteurs turbos. D'abord avec la GTB et aujourd'hui évidemment avec cette Pista qui développe 720 chevaux à 8000 tours, soit 50 chevaux de plus que la 488 classique et 115 chevaux supplémentaires que ceux distillés par « la Speciale »... Et pour y arriver, les ingénieurs motoristes ont modifié le V8 : 50% des pièces du 3,9 litres proviennent de la compétition, de l'admission aux turbos, le moteur gagne en puissance mais aussi en poids, il pèse 18 kg de moins par rapport au V8 de la GTB.
Les chronos sont exceptionnels et gomme les résultats des précédentes générations et de quelques unes de ces éventuelles concurrentes. La barre des 3 secondes est symboliquement battue : 2,85s exactement pour atteindre les 100 km/h. Mais le référent c'est celui là : 7,6s pour que le compteur se positionne sur les 200 km/h : C'est deux dixièmes de mieux que la McLaren 720S. Et pour la vitesse Maxi ? 340 km/h...
L'aérodynamique a fait l'objet de toutes les attentions. Il joue un rôle essentiel avec 20% d'appuis supplémentaires. Fond plat, vortex mobiles, diffuseur, extracteur, prises d'air, spoiler spécifique, la Pista s'est physiquement transformée par rapport à sa grande sœur. Surtout à l'avant, avec deux innovations majeures : les aérodynamiciens ont conçu un inédit capot qui plonge avant la présence du bouclier. Il laisse apparaître un trou béant pour permettre à l'air de circuler au plus vite au-dessus de la voiture sans imposer de contrainte. En tout cas, le moins possible. Une solution qui provient là encore de la Formule 1, et nommée, le S-Duct. Autre solution technique : les radiateurs de refroidissement à l'avant ont été inversés pour obliger la trainée de l'air à disparaître au plus bas vers l'arrière et ainsi, éviter que le flux n'impose trop de résistance à la voiture.
L'auto proposée a été livrée neuve en France, c'est une première main affichant 1 800 km.
Lors de la configuration de cette auto, l'actuel propriétaire a souhaité rendre hommage a la Ferrari 250 Testa Rossa, #724TR, de 1958, pilotée notamment aux 24h du Mans 58 par Lucien Bianchi. Il a donc opté pour une version tailor made, intégralement configurée à l'usine. La voiture est donc dans une configuration jaune (Giallo Ardilla Amarillo) avec une bande bordeaux (Rubino Mettallizato). A l'intérieur, un siege rouge pour le conducteur est accompagné d'un siège noir pour le passager afin de le gommer vu de l'extérieur.
Cette 488 Pista est probablement une des plus optionnées que nous connaissions, et est absolument unique...
- TAIL : Tailor Made (72 120 euros HT...),
- RMPY : fonds de compteur jaune,
- RSCH : sieges racing sport,
- 4HAR : harnais 4 points,
- AFS1 : feux avants adaptatifs,
- ALCS : sieges alcantara,
- BONC : capot AR et entourage moteur en fibre de carbone (25 200 euros HT...),
- CALY : étriers de freins jaunes,
- CEXG : prise d'air sur pc AV en carbone,
- CEXS : bas de caisse extérieur en carbone,
- DEDI : plaque dédicacée argentée,
- ELEV : lift system,
- EMPH : Cavallino brodés,
- EXAB : sorties échappement céramique noire,
- EXT1 : extincteur,
- FLMA : sur tapis avec logo voiture brodé,
- GRDC : grille arrière type challenge en carbone,
- NAVC : navigation avec bluetooth,
- PAC1 : caméra de recul,
- RMCF : jantes carbone,
- ROL4 : arceau homologué route,
- SND2 : système hifi intégré,
- STC2 : coutures spéciales.
La voiture est visible sur rendez-vous dans nos locaux.
Financement possible.
Crédits photos Kevin van Campenhout pour Eleven Cars.
-------------------
In the modern era of the "mid-engined Berlinettes", Ferrari has launched four special series with an even sportier vocation. In 2003, the Modena Challenge Stradale caused a sensation with its lines in the colors of the transalpine flag. It inaugurated, with the presence of a large V8, some carbon parts. Then there was the F430 Scuderia, in 2007. Here again, the interference of competition in the world of production cars was more and more urgent. Formula 1 offered this racing car an ultra-fast gearbox capable of handling the imposed power and propelling the car ever faster.
In 2013, the 458 "Speciale" appeared. The latest atmospheric Ferrari V8. An engine that developed 605 horsepower and designed by the brilliant technical director of the time, the French Jean Jacques His.
But to continue this endless development, Ferrari switched to turbocharged engines. First with the GTB and today obviously with this Pista which develops 720 horsepower at 8000 revs, ie 50 horsepower more than the classic 488 and 115 additional horsepower than those distilled by "the Speciale" ... And to get there , the engine engineers have modified the V8: 50% of the parts of the 3.9 liters come from competition, from the intake to the turbos, the engine gains in power but also in weight, it weighs 18 kg less compared to the V8 of the GTB.
The lap times are exceptional and erase the results of previous generations and some of these possible competitors. The bar of 3 seconds is symbolically beaten: 2.85s exactly to reach 100 km / h. But the referent is this one: 7.6s for the counter to position itself at 200 km / h: It's two tenths better than the McLaren 720S. What about the Maxi speed? 340 km / h ...
Aerodynamics have been the focus of attention. It plays an essential role with 20% additional support. Flat bottom, mobile vortices, diffuser, extractor, air intakes, specific spoiler, the Pista has been physically transformed compared to its big sister. Especially at the front, with two major innovations: the aerodynamicists have designed a unique hood that plunges before the presence of the shield. It reveals a gaping hole to allow the air to circulate as quickly as possible above the car without imposing any constraint. In any case, as little as possible. A solution which again comes from Formula 1, and called the S-Duct. Another technical solution: the cooling radiators at the front have been reversed to force the air trail to disappear as low as possible towards the rear and thus prevent the flow from placing too much resistance on the car.
The proposed car was delivered new in France, it is a first hand showing 1,800 km.
When configuring this car, the current owner wanted to pay tribute to the Ferrari 250 Testa Rossa, # 724TR, from 1958, driven in particular at the 24 hours of Le Mans 58 by Lucien Bianchi. He therefore opted for a tailor made version, fully configured at the factory. The car is therefore in a yellow configuration (Giallo Ardilla Amarillo) with a burgundy stripe (Rubino Mettallizato). Inside, a red seat for the driver is accompanied by a black seat for the passenger in order to erase it when viewed from the outside.
This 488 Pista is probably one of the most optioned that we know, and is absolutely unique ...
- TAIL: Tailor Made (72 120 euros HT ...),
- RMPY: yellow meter fund,
- RSCH: sport racing seats,
- 4HAR: 4-point harness,
- AFS1: adaptive front lights,
- ALCS: Alcantara seats,
- BONC: rear cover and engine surround in carbon fiber (25,200 euros HT ...),
- CALY: yellow brake calipers,
- CEXG: air intake on carbon front pc,
- CEXS: exterior sill in carbon,
- DEDI: signed silver plate,
- ELEV: lift system,
- EMPH: Embroidered Cavallino,
- EXAB: black ceramic exhaust outlets,
- EXT1: fire extinguisher,
- FLMA: on mat with embroidered car logo,
- GRDC: challenge type rear grille in carbon,
- NAVC: navigation with bluetooth,
- PAC1: reversing camera,
- RMCF: carbon rims,
- ROL4: road approved roll bar,
- SND2: integrated hi-fi system,
- STC2: special seams.
The car can be viewed by appointment in our premises.
Financing possible.
Photo credits Kevin van Campenhout for Eleven Cars.