This listing is no longer available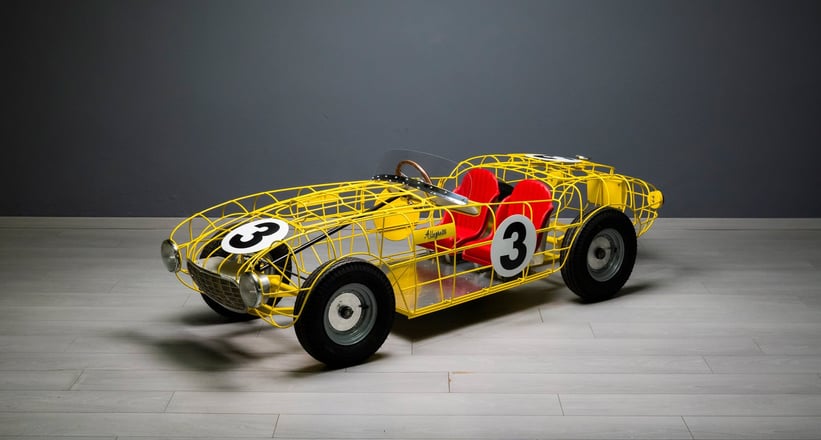 1953 Ferrari 375
Allegretti Children Car
Location
Description
This children's car is a wonderful 'half scale' homage to the 375 MM, clearly built in the style of the full-size PF Spyder. It was manufactured in the 1980s by the famous Italian coachbuilder, Carrozzeria Allegretti, which was founded by the renowned Modenese craftsman, Mario Allegretti.
This 375 MM was designed in the 'manichino' style without an engine or pedals, and was fabricated in tubular steel, which was then finished in bright yellow. There is a clear 'aeroscreen', metal front grille, and dummy headlights. Inside, the car has red leather bucket seats in the period style, plus a three-spoke wood-rimmed steering wheel, and a functional steering mechanism.
The Ferrari 375 MM was a limited-run sports car of the early 1950s, powered by a 4.5-litre V12 producing around 330bhp. While most cars were open-bodied Spyders built by Pinin Farina, a handful of cars received unique bodywork from the likes of Vignale, Ghia, and Scaglietti. Perhaps the most famous 375 MMs are the cars commissioned by film director, Roberto Rossellini - one an original 'Speciale' coupe by Pinin Farina, and another rebodied as a coupe by Scaglietti.
Allegretti had worked with Fantuzzi, in-house at Maserati, and alongside teams at Scuderia Ferrari to craft the bodies for the legendary 330 P4 while working at Piero Drogo's Carrozzeria Sports Cars. Various bespoke 'Speciale' cars were built by Allegretti, as well as numerous children's cars, which are now highly sought-after given their provenance.
Understood to be a unique children's car by Allegretti, this car was recently restored, and it is presented in superb condition. Its dimensions are approximately 220cm in length by 80cm in width.
While it is not currently powered, a skilled engineer could perhaps add pedals or a small engine in due course if desired. However, simply as a display piece, this is a wonderful 'half scale' car with outstanding provenance, and one which would be a fun addition to any Ferrari collection.