This listing is no longer available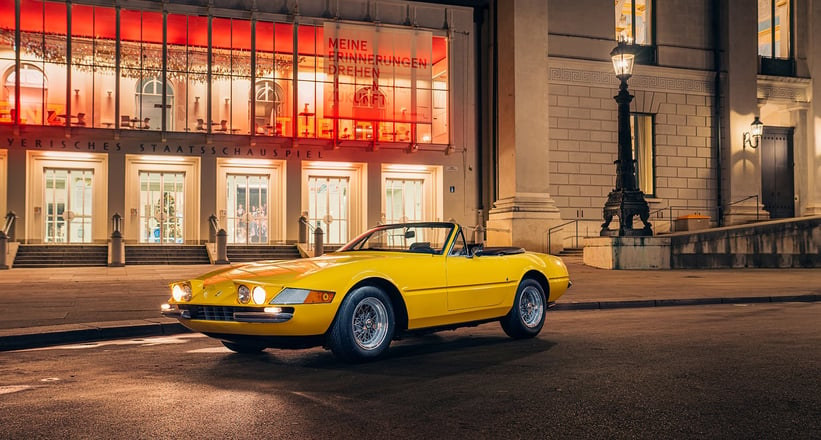 1973 Ferrari 365
GTS/4 Daytona Spider
Location
Description
Highlights:
• One of 121 Daytona Spiders
• Matching numbers and colors
• Ferrari Classiche certified
• Once owned by renowned collector Sir Anthony Bamford
History:
The Ferrari 365 GTB/4 was unofficially named "Daytona" after the 1-2-3 marque win at the 24 Hours of Daytona in 1967. With its now newly revisited V12 developing 352 horsepower, the Lamborghini Miura was dethroned as the fastest production car. Technically, a dry-sump lubrication meant the engine was installed lower for a centre of gravity favourable for driving, and the five-speed transaxle allowed for a perfect 50-50 weight distribution. Although intended as a coupe only by Ferrari at the beginning, the spider prototypes designed by Scaglietti and Pininfarina cought Ferrari's interest, and one of the propositions was approved. The GTS/4 Spider was launched at the 1969 Frankfurt Auto Show, and only 121 examples for the world were ever made.
Our example is chassis number 16839, a striking Giallo Fly example with Nero vaumol leather interior. Of the 121 Daytona Spiders ever made, our car is the 90th to roll out the factory. It sports some extras of the time such as air conditioning for the hot summers and a Becker radio.
Manufactured in March 1973, the car was distributed to William Harrah's Modern Classic Motors in Reno, Nevada. Its first owner, James Nute of Dearborn, Michigan, presented the Daytona at the 12th annual Ferrari Club America Meet in May 1974, held at Stone Mountain Park, Georgia. Jim Southard of Atlanta purchased the car in 1976, and the car was then passed on to two dealers before finding home at the hands of California-based German Fred Johl in 1978. His brother, Armin Johl, was famous for having a successful leather manufacturing business and being an avid Ferrari collector.
In its then new ownership, the Daytona was registered in California with tags bearing his nickname "ITZER", before being imported to Germany where it was seen at the Ferrari Owners Club meet at the Nürburgring in June 1980, and the AvD-Oldtimer Grand Prix at the Nürburgring in 1982. Chassis 16839 was sold to Kay Bradford of Villanova, Pennsylvania, in 1986, who kept it for three years before passing it on to Gerald Bowers of Philadelphia, at which point the odometer displayed 29,132 miles. The Spider was presented under Mr. Bowes ownership at the Sixth Annual Reading Concours d'Elegance at Reading, Pennsylvania, in June 1990, winning a class award. Mr. Bowes kept the car for an additional three years, before selling it to its next caretaker.
The Daytona found its way to New York in 1993, now owned by Gary Schaevitz, who kept the car for two years, and then sold it to Dean Becker, owner of a beeper company. After an additional American ownership, the Daytona was sold to world-renowned collector Sir Anthony Bamford of Stoke-on-Trent, England, in April 1999. Marque expert Terry Hoyle was commissioned to carry out a full cosmetic restoration of chassis 16839, where exterior as well as interior were treated to an overhaul in the original delivery colors.
The car found its way once again to the USA, where, in 2001, it was purchased by Los Angeles Times publisher Otis Chandler, for inclusion in his local museum. The car changed hands once again, acquired by Joel Finn of Connecticut, to whom it was then delivered from England. In 2006, the car was sold once again to another American owner, who kept the car for almost 13 years, during which he drove the vehicle very scarcely, meticulously maintaining it and storing it in a climate-controlled garage. In 2019, our Daytona found its way back to Germany, in a collection of Italian horses and bulls.
Our Spider retains its original engine and gearbox and is therefore a matching-numbers example. It holds a Ferrari Classiche Certificate attesting of the originality of its drivetrain and color combination. The mileage of 36.000 miles is believed to be original, and overall, the car retains a stunning condition, not over-restored, with still a very original interior, engine bay, boot, and soft top. It's beautiful Pininfarina dress coupled to the exquisite V12 from Ferrari, as well as its rarity and condition, make it a great addition to a collection of Ferrari's or Italian cars.
Schaltkulisse is proud to offer this piece of Ferrari history in very good condition, matching-numbers, and with a Ferrari Classiche certificate. The car as well as its underbody can be inspected at our showroom in Munich.
Deutsch:
Highlights:
• Einer von 121 Daytona Spider
• Matching numbers und originale Farbkombination
• Ferrari Classiche zertifiziert
• Damals im Besitz des renommierten Sammlers Sir Anthony Bamford
Historie:
Der Ferrari 365 GTB/4 wurde nach dem 1-2-3-Sieg bei den 24 Stunden von Daytona 1967 inoffiziell "Daytona" genannt. Mit seinem jetzt neuen V12 mit 352 PS wurde der Daytona zum schnellsten Serienauto der Welt und entronnte damit den Lamborghini Miura. Technisch sorgte eine Trockensumpfschmierung für einen tieferen Einbau des Motors, und dadurch für einen geringen Schwerpunkt. Das Fünfgang-Getriebe ermöglichte eine perfekte Gewichtsverteilung von 50:50. Obwohl Ferrari zu Beginn den Daytona nur als Coupé bauen wollte, weckten die von Scaglietti und Pininfarina entworfenen Spider-Prototypen das Interesse von Ferrari, und einer der Vorschläge wurde genehmigt. Damit wurde der GTS/4 Spider 1969 auf der Frankfurter Automobilausstellung vorgestellt. Insgesamt wurden nur 121 Exemplare weltweit hergestellt.
Unser Fahrzeug trägt die Fahrgestellnummer 16839, und ist in der markenten Farbe Giallo Fly lackiert. Zusammen mit dem Innenraum mit Lederausstattung in Nero Vaumol sorgt die Farbkombination für ein atemberaubend schönes Exemplar. Von den 121 jemals hergestellten Daytona Spider ist unser Auto das 90. Fahrzeug. Es verfügt über einige Extras wie eine Klimaanlage für die heißen Sommer und ein Becker-Radio.
Unser Fahrzeug lief aus dem Band im März 1973 und wurde an William Harrahs Modern Classic Motors in Reno, Nevada, ausgeliefert. Sein erster Besitzer, James Nute aus Dearborn, Michigan, präsentierte den Daytona beim 12. jährlichen Ferrari Club America Treffen in Stone Mountain Park, Georgia, im Mai 1974. Jim Southard aus Atlanta kaufte das Auto 1976. In 1978 erward der in Kalifornien-lebende Deutsche Fred Johl den Daytona. Sein Bruder, Armin Johl, war berühmt für sein erfolgreiche Ledergeschäft und seine Ferrari-Sammlung.
Während seines Besitzes wurde der Daytona in Kalifornien zugelassen, bevor er nach Deutschland importiert wurde, wo er im Juni 1980 beim Treffen des Ferrari Owners Club auf dem Nürburgring und beim AvD-Oldtimer Grand Prix auf dem Nürburgring 1982 zu sehen war. Chassis 16839 wurde 1986 an Kay Bradford aus Villanova, Pennsylvania, verkauft. Herr Bradford behielt das Fahrzeug drei Jahre lang, bevor er es an Gerald Bowers aus Philadelphia verkaufte, woraufhin der Tacho 29.132 Meilen anzeigte. Der Spider wurde im Juni 1990 beim sechsten jährlichen Reading Concours d'Elegance in Pennsylvania ausgestellt und gewann einen Klassenpreis. Mr. Bowes behielt das Auto weitere drei Jahre, bevor er es an den nächsten Eigentümer verkaufte.
Der Daytona fand 1993 seinen Weg nach New York, im Besitz von Gary Schaevitz, der das Auto zwei Jahre lang behielt, und verkaufte es dann an Dean Becker, Inhaber einer Beeper-Firma. Nach einem weiteren amerikanischen Besitz wurde der Daytona im April 1999 an den weltbekannten Sammler Sir Anthony Bamford aus Stoke-on-Trent, England, verkauft. Der Markenexperte Terry Hoyle wurde beauftragt, eine vollständige kosmetische Restaurierung des Fahrzeuges durchzuführen, wo das Äußere sowie das Interieur in den originalen Auslieferungsfarben überholt wurden.
Das Auto fand erneut seinen Weg in die USA, wo es 2001 von Otis Chandler, dem Herausgeber der Los Angeles Times, in seinem Museum ausgestellt wurde. Das Auto wechselte erneut den Besitzer und wurde von Joel Finn aus Connecticut erworben. Im Jahr 2006 wurde das Auto an seinen nächsten amerikanischen Besitzer verkauft, der das Auto fast 13 Jahre lang behielt. In diesem Zeitraum wurde das Fahrzeug sehr selten bewegt, sehr akribisch gepflegt, und in einer klimatisierten Garage gelagert. In 2019 wurde unser Daytona an einem Deutschen Sammler verkauft. In seiner Garage klassiche und bedeutende Fahrzeuge der Marken Ferrari und Lamborghini.
Unser Spider behält seinen originalen Motor und Getriebe und ist daher ein Matching Numbers Fahrzeug. Es besitzt ein Ferrari Classiche-Zertifikat, das sowohl die Originalität des Antriebsstrangs als auch die Auslieferungsfarben von Giallo Fly und Nero Leder bescheinigt. Die Laufleistung von 36.000 Meilen wird als original vermutet. Insgesamt ist das Auto in einem atemberaubenden Zustand, nicht überrestauriert, mit noch sehr originalem Interieur, Motorraum, Kofferraum, und Verdeck. Sein wunderschönes Pininfarina Design in Verbindung mit dem exquisiten V12 von Ferrari sowie seine Seltenheit und sein Zustand machen es zu einer Piece de resistance für jede Sammlung von Ferraris oder italienischen Autos.
Schaltkulisse ist stolz darauf, diesen wunderschönen Matching-Numbers Daytona Spider in sehr gutem Zustand und mit Ferrari Classiche-Zertifikat anzubieten. Das Fahrzeug kann in unserem Showroom in Taufkirchen bei München nach Terminvereinbarung besichtigt werden.