This listing is no longer available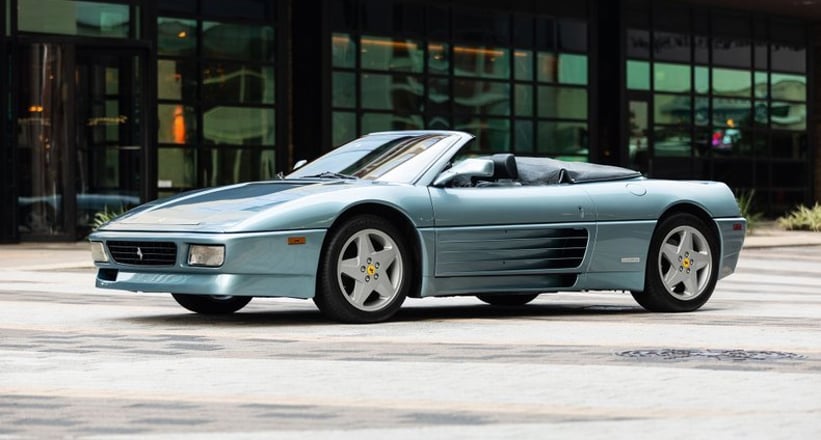 Location
Description
DriverSource proudly presents the Gated Collection®. A celebration and curated selection of Ferrari's finest 'Gated' shifter GTs. Selling NOW exclusively through auction, at bringatrailer.com: https://bringatrailer.com/listing/1994-ferrari-348-spider-13
1994 Ferrari 348 Spider
VIN: ZFFRG43A8R0097719
Assembly No. 14702
Production Date: July 1993
Ferrari's first 2-Seat Spider to follow the Daytona
One of Only 556 Imported to the U.S. from 1993-1995
A Beautifully Preserved Example in Stunning Original Colors, with Just 30,675 Recorded Miles
• Azzurro Hyperion over Dark Blue Upholstery & Convertible Top
Former Ferrari North America Promotional Car
• March 1994 Automobile Magazine featuring this 348 on the cover is included
Remains in Stock, Unmodified Condition – Thoughtfully Kept & Well Maintained
• All original Ferrari Etched glass, including rear vinyl window
• Supple original leather upholstery and carpeting
• Prancing Horse floor mats
• 215/50ZR17 & 255/45ZR17 Continental Extreme Contact tires, dated 2017-18
• Unrestored original wheels
Successful Participant of the Tejas Turismo, Texas Hill Country Rally
• December 2021, Over 700 Miles Driven
January 2021 Engine-Out Timing Belt Service – 29,931 Miles
• Including belts, tensioners, fluids filters, associated seals and gaskets, various sensors, bonnet struts and air conditioning recharge
• Previous Major Belt Service Performed in 2015
2022 Inspection & Suspension Restoration by DriverSource
• Cleaning and preservation of the original component finishes
• Complete replacement of A-arm and suspension bushings
• Replace both front coil over shocks
• 4-Wheel Alignment
• All Authentic Ferrari parts, supplied by Ferrari of Houston
An Exceptionally well performing and tight handling 348!
Clean CarFax & Auto Check History Reports
Supported by a Complete Tool Kit, Matching Leather Boot Cover & Ferrari Car Cover
The Ferrari 348 marked a distinct departure from the 328 and 308 that preceded it, and it truly ushered the Prancing Horse brand into the 1990s, albeit with some obvious design cues that gently nod to the past. The 348 was penned by Pininfarina and featured the straked air intakes and rectangular tail lamps that debuted on the iconic Testarossa. Although these stylistic touches were controversial at the 348's 1989 debut, they have now become emblematic of the era.
ZFFRG43A8R0097719's history according to previous owner:
When Ferrari North America selects a car to be the face of a new model, the decision is not taken lightly. It must be just the right color to impress admirers and it must be photogenic for promotional photos. Dr. Gianluigi Buitoni, President of FNA at the time, chose a Azzuro Hyperion Metallic 517C (metallic light blue) with dark blue leather for this car, his personal 348 Spider demonstrator. The combination was smashing, earning the 348 a place on the cover of Automobile Magazine.
A Ferrari Club of America Director saw the car at a Ferrari Challenge event and arranged to purchase it from FNA. Over the next couple years, the car was a regular at FCA events always collecting complements on its beautiful color.
The 348 was traded on a new F355 and disappeared. In 2012, the former owner noticed a Hyperion blue 348 Spider in an online ad. It was this very FNA demonstrator he had owned years back in which he reacquired. The Spider has most recently spent residency amongst a noted Midwest collection before arriving here in Houston, Texas.
The above vehicle information is accurate to the best of our knowledge at the time it is posted to this website. It is provided 'as-is', without warranties as to its accuracy, whether expressed or implied, and is intended for informational purposes only. Corrections or additional information is always appreciated.
All advertised prices exclude government fees and taxes, any finance charges, any dealer document preparation charge, and shipping expenses. Vehicles are subject to prior sale. DriverSource is not liable for any errors, omissions, or mistakes.