This listing is no longer available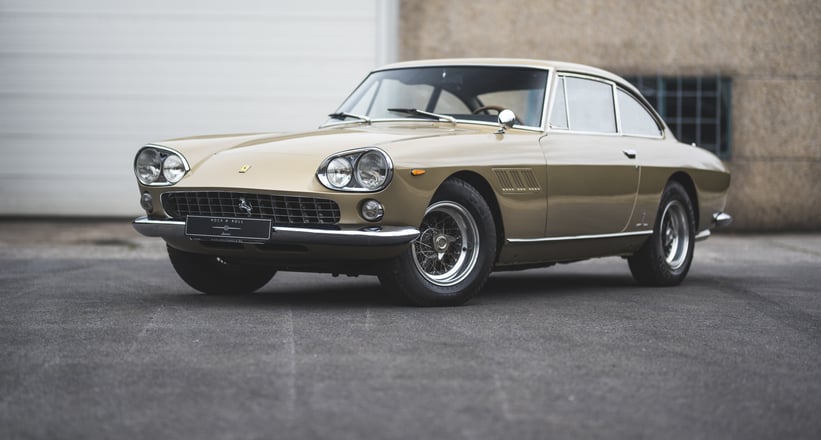 1965 Ferrari 330
GT 2+2 Series 1
Location

Performance

300 PS / 221 kW / 296 BHP
Description
The Ferrari 330 GT 2+2, that was introduced in 1964, came as successor tot he Ferrari 250 GTE 2+2 ( Ferrari's first four-seater). The tubular frame that was 50mm longer than the one of its predecessor, provided this Ferrari of a better comfort and sufficient space for the passengers in the back. Due its independant suspension at the front by wishbones and elliptic set-up at the back this Ferrari drives very gentle, yet sporty. Besides its astonishing comfort and unique design ( the 330 GT 2+2 was called "The Chinese Eyes" ), it made a huge impression with its performance! The re-engined V12-engine from the 250 GTE 2+2 was now provided of more than 300hp at 6600rpm and a topspeed of 245km/h, what was very Ferrari-worthy and breathtaking for a tourer from its time!
This offered example from 1965 is finished in 'Orio Chiaro' – gold, which justice the design by Pininfarina. This car finds itselves in an excellent condition today. The engine starts and runs smoothly and the transmission shifts fluent. Compared to other 2+2-cars from its time, this Ferrari is provided with enough space for four passengers.
This Ferrari meets all aspect of a purebred prancing horse should: An exceptional design, admittedly by pininfarina, and the classic front-engined Ferrari lay-out with colombo-V12-engine. This latter is an absolute icon in terms of engines, which produces a symphony and a performance that is reachable at all revs! After a drive in this 330 GT you will get why! Ultimately, you can do excellent on a rally the one day, and going out with your family the other day!
This wonderful Pininfarina-bodied Ferrari 330 GT 2+2 is now available at Rock 'N Roll Classics!