This listing is no longer available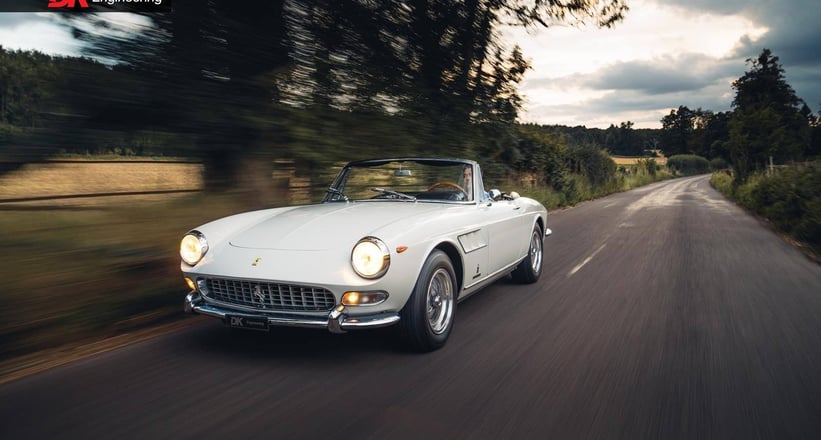 1967 Ferrari 275
Original & Unrestored - 27,300 Miles From New
Summary
Location
Description
The 275 GTS was launched alongside the 275 GTB in October 1964 at the Paris Salon, the GTS was an overdue replacement for Ferrari's Series II 250 GT PF Cabriolet that had ceased production back in 1962. Producing 280bhp, the GTS was still a formidable performer. With its top speed of 147mph and 0-60 requiring just 6.6 seconds, little else could match it as a great all-rounder due to its excellent chassis shared with the GTB, independent suspension all round, a silky smooth yet powerful and torquey 3.3 Litre V12, disc brakes all round and of course a 5-speed transaxle to match. These attributes, especially the 5-speed gearbox, make a 275 GTS a delight to own and enjoy in the modern environment.
The 147th of just 200 275 GTS' produced by Ferrari, this example is arguably amongst the best preserved and most original examples in existence. Designated as a U.S. delivery example, it was originally finished in Bianco (20.414 A. Italver) over a Bleu (VM 3015) Connolly leather interior, colours which it still proudly sports today. According to Ferrari Historian Marcel Massini, this is one of just eleven 275 GTS' finished in Bianco. Amazingly, six of these cars, including this example was delivered new to Luigi Chinetti's Greenwich, Connecticut distributorship.
The car would remain in the showroom for over a year, until April 1967 at which point it was sold to its first owner Mr Suerth, a prominent funeral director in Chicago who took delivery in April 1967 through his local dealership Loeber Motors after import by Chinetti. Keen to escape Chicago's infamous cold and windy winters, he had this GTS shipped directly to his second home in the sunny Fort Lauderdale, Florida.
Whilst there, Suerth added some unusual accessories to suit his taste and uses, including gold "MJS" monograms on the doors, an anniversary gift from his wife, as well as a small cocktail bar set up over the passenger seat. However, the most interesting modification was a trailer hitch, as Suerth used the 275 GTS to tow a small dinghy to and from his yacht.
Remaining in Fort Lauderdale with Mr. Suerth for the next ten years, the car was advertised in the Ferrari Club of America Newsletter in April of 1977, stating that it had been driven 17,785 miles and was fitted with Borrani wire wheels. The advertisement caught the eye of the late Dr. Raymond Boniface. Dr. Boniface developed a passion for Italian automobiles while studying medicine at the University of Bologna and developed a fine collection of cars over the course of many years which included many well preserved, but regularly used automobiles.
Dr. Boniface purchased the 275 GTS for $18,000 and a letter to him from Mr. Suerth is included in the history file, stating "I hope you will enjoy driving the little speed demon as much as I did. It has always been a dependable car." The car was shipped to Ohio where it would remain in Dr. Boniface's collection for the next thirty-seven years. There, the car resided alongside vehicles such as a 250 GT/L Berlinetta Lusso, and a Lancia Aurelia B24S Cabriolet.
In his ownership, Dr. Boniface drove the car to Concours and club events all over the north-eastern United States, including at the Ferrari Club of America's annual meet at Watkins Glen in 1990 and at the Meadow Brook Hall Concours d'Elegance in 1997. During this time the car's original condition was carefully preserved, with the only modifications being to remove the gold MJS monograms and trailer hitch, both of which were returned to Mr. Suerth at his request.
Dr. Boniface sold his 275 GTS in 2014, when it was bought by an important collector and shipped to the U.K. Upon arriving in the U.K., the car was awarded Ferrari Classiche certification, confirming that it retains its original engine and gearbox. Following the current owner's acquisition in 2016, the car has accrued nearly 3,500 miles alongside further careful preservation of its remarkable originality. Over €50,000 has been spent in mechanical work, including repairing the differential, balancing the clutch and flywheel, and fitting a new exhaust. All this work was done by Walter Historische Sportwagen in Switzerland.
Importantly, the car is also accompanied by a rich history file, which includes its original purchase invoice from Loeber motors, correspondence between Mr Suerth and Dr Boniface confirming its early history, its Ferrari Classiche binder, and invoices from the work carried out by Walter Historische Sportwagen. Furthermore, the car includes an original tool roll and its original owner's manuals and pouch.
Considering its incredible level of preservation, fascinating ownership history, and recent mechanical sorting, this car is surely amongst the most desirable 275 GTS in existence. It is surely ready for any adventures its next owner has in store, be it preservation-class Concours events, vintage rallies, the casual Sunday drive, or perhaps driving to and from one's yacht in the South of France or along the Florida coast.
Please refer to our main website www.dke.co.uk for full details, additional photos, our terms of sale and accurate pricing as some websites may use out of date currency exchange rates: https://www.dkeng.co.uk/ferrari-sales/1273/blue_chip_competition_cars/ferrari_275_gts.html