This listing is no longer available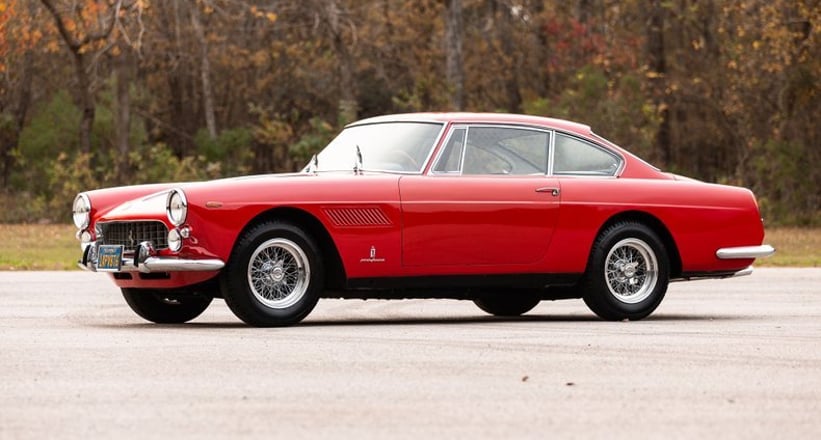 Location
Description
Selling NOW! Exclusively at auction, through Bring-a-Trailer: https://bringatrailer.com/listing/1963-ferrari-250-gte-4
1963 Ferrari 250 GTE 2+2 Series III
Chassis No. 4319
Engine No. 4319
Pininfarina Body No. 68438
Historically Significant as Ferrari's First Production 2+2
Desirable Series III LHD, European Version
Retains Original Matching Numbers Engine & Body Number Stamped Panels
Offered with a Marcel Massini History Report
An Exciting "Garage Find", Out of Long-Term Storage
California Blue Plate GTE from over Three Decades of Single Ownership.
Documentation Dossier Dating to 1970; Retains California Pink Slip
Offered with Records, California Blue Plates, Tool Roll & Spare Tire
Throughout the 1950s the 250 Series of Ferrari's saw fantastic success, both on the racetrack and in the showroom. In the late 1950's it was determined that Ferrari would develop its first real 4-seater offering to help broaden the market of potential buyers. The 250 Series Ferraris all utilized one of two chassis, either a short version (94.5 inches) or the long version (102.4 inches), upon which the GTE was built. It utilized the same Colombo 3.0 liter V-12 engine as much of the rest of the 250 lineup, although in this guise it made an estimated 237 hp. Today, the 250 GTE 2+2 remains an elegant, well driving, and important piece of Ferrari's automotive heritage.
742nd of a total of 954 units built (all 3 Series), 91st of the Series III Cars
4319 GT was completed on March 12, 1963 in Grigio Argento over Black Leather upholstery and sold new to its first owner, 21yr old Anna Rosa Poloniato of Milan, Italy and registered on Italian plates "MI 757485". The GTE would pass through a handful of caretakers in the years immediately following, ultimately purchased and exported by Cliff Folland of New York, NY in February 1970. The 250 was then airfreighted via TWA from Milan to New York on February 27, 1970, in which the original Air Waybill remains on file with the vehicle. 4319 was now wearing Red paintwork. The car later made its way to Washington State in 1975 and later California by the early 1980's. Today the GTE still wears its blue California license plates (1APV876) and matching California "Pink Slip", issued 6/19/1982. An accompanying dossier of records, receipts, and invoices date to 1970 with its arrival in the States, along with a detailed Marcel Massini History Report.
Recently uncovered from long-term storage, this Series III GTE now displays 97,600 recorded kilometers, while displaying a preserved older restoration. A summary written in period by Kevin Fiske, a past caretaker whom purchased the GTE in 1977, describes his commissioning of a thorough ground-up mechanical and cosmetic restoration shortly following his acquisition. This older restoration is what shows today and remains ideal as a 'driver's' car, if coupled with a comprehensive mechanical inspection, servicing, and undercarriage assessment prior to road use. Out of recent long-term storage the GTE is not currently road worthy, but will start by key. We recommend a thorough inspection and servicing of the fuel system and consumables. Engine compression numbers read as follows: 150, 130, 120, 145, 135, 135, 155, 160, 145, 140, 145, 145psi.
The Ferrari 250 GTE 2+2 is an important vehicle in Ferrari's history with a low number of surviving examples. In the right hands, 4319 will surely provide a great entry into vintage V12 Ferrari ownership or a wonderful addition to any growing collection.
The above vehicle information is accurate to the best of our knowledge at the time it is posted to this website. It is provided 'as-is', without warranties as to its accuracy, whether expressed or implied, and is intended for informational purposes only. Corrections or additional information is always appreciated.
All advertised prices exclude government fees and taxes, any finance charges, any dealer document preparation charge, and shipping expenses. Vehicles are subject to prior sale. DriverSource is not liable for any errors, omissions, or mistakes.