1975 De Tomaso Pantera
Gruppe 5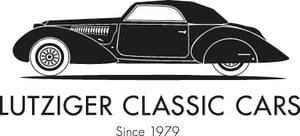 Location

Performance

523 PS / 385 kW / 516 BHP
Description
De Tomaso Pantera Group 5
Year 1975
Swiss delivery
FIA/HTP papers
The extremely rare De Tomaso Pantera racing car offered here was delivered new to Switzerland to the racing driver Walter Friedrich. Friedrich had the Pantera converted to Group 5 by the De Tomaso factory and raced it in various hill climbs, including Oberhallau, La Roche and Gurnigel. The owner history in later years is well known. The car is very well documented and many documents such as the original order form, purchase invoice, work cards/workshop order from the De Tomaso factory as well as photos from the time are available. Also mentioned and described in two De Tomaso books is this desirable De Tomaso Pantera Group 5.
The last owner optimized this Pantera Gr 5 again for historic racing. The correct 351 cu-in Ford Cleveland engine is equipped with dry sump lubrication and produces 523 hp according to the dyno. The transmission has been revised and fitted with ratios suitable for circuit racing. The entire chassis was also revised and adapted by means of new shock absorbers and springs, aluminum bushings, reinforced steering column and new brake system with adjustable balance. For endurance racing, in addition to the existing 75-liter tank, a 50-liter FT3 tank was mounted at the front. With optimized cooling, also for the brakes, stainless steel exhaust system (one loud and one silenced version), additional aluminum fenders, two sets of wheels (slick and rain) and currently valid FIA/HTP papers, this Pantera is a competitive bolide for future racing.
Errors, mistakes and prior sale reserved.
More detailed pictures of this De Tomaso Pantera Group 5 can be found on our homepage www.lutziger-classiccars.com
DEUTSCH:
De Tomaso Pantera Gruppe 5
Jahrgang 1975
Schweizer Auslieferung
FIA/HTP-Papiere
Der hier angebotene, äusserst seltene De Tomaso Pantera Rennwagen, wurde neu in die Schweiz an den Rennfahrer Walter Friedrich ausgeliefert. Friedrich liess sich den Pantera vom De Tomaso Werk auf Gruppe 5 umbauen und setzte ihn bei diversen Bergrennen ein, so unter anderem in Oberhallau, in La Roche und am Gurnigel. Die Halterhistorie in späteren Jahren ist bekannt. Das Auto ist sehr gut dokumentiert und viele Unterlagen wie der originale Bestellschein, Kaufrechnung, Arbeitskarten/Werkstattauftrag vom De Tomaso Werk sowie Fotos aus der Zeit sind vorhanden. Ebenfalls wird dieser begehrte De Tomaso Pantera Gruppe 5 in zwei De Tomaso-Büchern erwähnt und beschrieben.
Der letzte Besitzer optimierte diesen Pantera Gr 5 nochmals für den historischen Rennsport. Der korrekte 351 cu-in Ford Cleveland Motor ist mit Trockensumpf-Schmierung ausgerüstet und leistet gemäss Prüfstand 523 PS. Das Getriebe wurde revidiert und mit für die Rundstrecke passenden Übersetzungen ausgestattet. Das gesamte Fahrwerk wurde ebenfalls revidiert und mittels neuer Stossdämpfer und Federn, Aluminiumbuchsen, verstärkter Lenksäule und neuer Bremsanlage mit verstellbarer Balance angepasst. Für Langstreckenrennen wurde zusätzlich zum vorhandenen 75-Liter Tank, vorne ein 50-Liter FT3 Tank montiert. Mit optimierter Kühlung, ebenfalls für die Bremsen, Edelstahl-Auspuffanlage (eine laute und eine schallgedämpfte Version), zusätzlichen Aluminium-Kotflügeln, zwei Radsätzen (Slick und Regen) und aktuell gültigen FIA/HTP-Papieren, ist dieser Pantera ein wettbewerbsfähiger Bolide für künftige Renneinsätze.
Irrtümer, Fehler und Zwischenverkauf vorbehalten.
Weitere, detaillierte Bilder von diesem De Tomaso Pantera Gruppe 5 finden Sie auf unserer Homepage www.lutziger-classiccars.com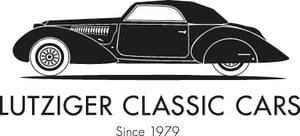 ---

---