This listing is no longer available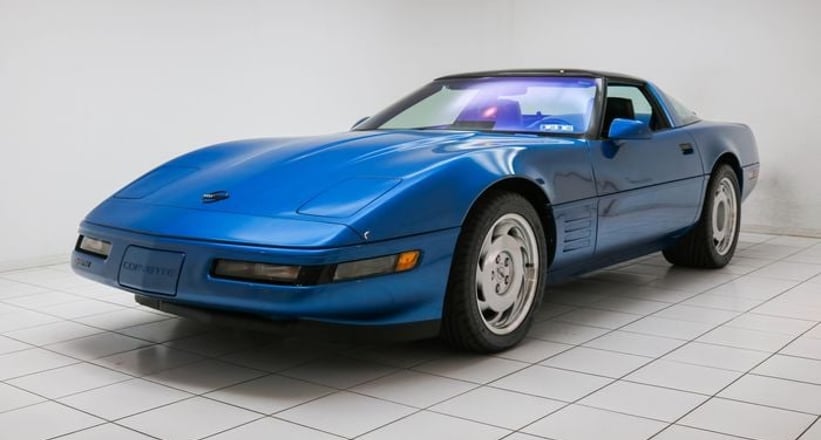 Location
Description
A fully original Chevrolet Corvette C4 ZR1 LT5 from 1991! From the first owner A. Bermann, originally only 4,000 miles from new! The car is in an absolute mint condition, UNIQUE! This is 1 of the 75 ZR1 cars delivered in the colour Medium Quassar Blue Metallic!
Year of production: 1991.
Dutch periodic vehicle inspection (APK): No valid Dutch periodic vehicle inspection.
Documents: American title, all import duties have been paid.
Transmission: Manual.
Engine: 5,735cc, 8-cylinder, 375 hp.
Fuel: Petrol.
Colour: Medium Quassar Blue Metallic (very unique colour, 1 of 75 ZR1 cars delivered in this colour).
Mileage: 4,607 Miles (original, from new)!
Maintenance condition: The car is completely original, it was maintained on time. The engine runs excellent and the car drives well. The gearbox is a 6-speed manual and it shifts properly. The car brakes and drives as it should.
Paintwork condition: The paintwork is in very good condition and is very neat for its age. The paintwork is completely original, 100% first paint! The car is in perfect condition. Unique Medium Quassar Blue Metallic colour.
Condition of the interior: The black leather interior is in neat condition. Just like the exterior, the interior is completely original and in absolute mint condition.
Options: In original condition, only 4,000 miles from new, 1st owner, 1 of 75 ZR1 cars delivered in this colour, 1 of the 2044 delivered with the ZR1 option, 2 Targa roofs (glass & body colour), box with documentation included, 100% original! The ZR 1 has Dave McLellan's signature under the bonnet.
Factory options:
1YY07 Base Coupe
AC1 Power Passenger Seat
AC3 Power Driver Seat
AQ9 Leather Sport Seats
C2L Dual Removable Roof Panels
24S\tRemovable Roof Panel, blue tint
C68 Electronic Air Conditioning
FX3 Selective Ride and Handling System
KC4 Engine Oil Cooler
MN6 6-spd, Manual Transmission
UJ6 Low Tire Pressure Warning System
U1F\tDelco Bose CD Stereo System
CF7 Removable Roof Panel (Solid Body Color)
ZR1\tSpecial Performance Handling Pkg. (coupe)
DC7 Electronic LH & RH Outside Mirrors
DL8\tLH/RH Heated Sport Mirrors
D3X\tSpeedometer Driven Gear (25513049)
D8I Vehicle Speed Sensor (10456039)
FE1\tSoft Ride Suspension
LT5\t8-Cyl., V8, 5.7L (Vin J) Engine
NK4\tSport Leather Steering Wheel
QA2 Wheels, 17 x 9.5 (Front), 17 x 11 (Rear), Aluminium
U75\tPower Antenna
XAU Front Tyre, P275/40ZR17
YBE\tRear Tyre, P315/35ZR17
80 Medium Quasar Blue Metallic
193 Black Leather
The car can be viewed and picked up in Musselkanaal, the Netherlands. Viewing is possible Monday through Saturday from 8:30 to 17:00! The photos are part of the description, so please take a good look at them! It is recommended to view the car prior to placing a bid. The vehicle must be picked up within 4 weeks after the closing date of the auction, storage costs will be charged after this period.
It is possible to have the vehicle delivered to your home!This Classic Car is for sale on Catawiki. To have more information or to place a bid click on the "BID NOW" button.