This listing is no longer available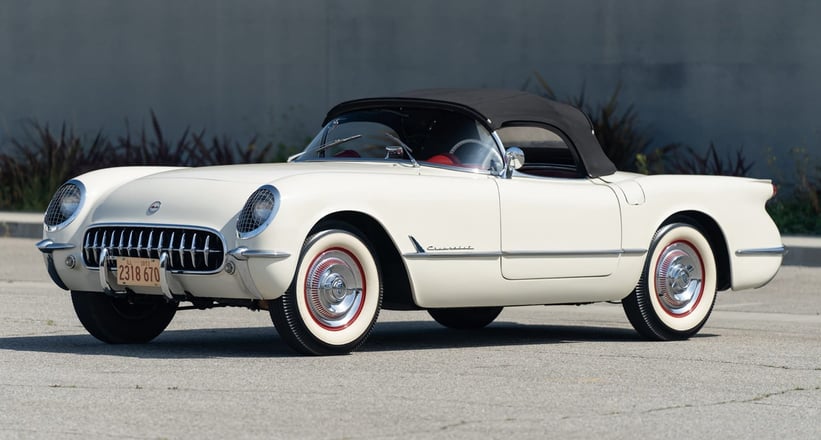 Summary
Location
Description
From its introduction, Chevrolet's Corvette was unique in concept, design, and execution. Conceived by famed General Motors design chief Harley Earl's team as an American alternative to the sports cars arriving from Europe, the low and sleek new design first took shape as the EX-122 Motorama show car of 1952. Soon named after the light and fast naval vessels of WWII fame, the Corvette remains one of few Motorama show cars to reach production with their basic design elements left intact.
Representing a major leap of faith on the part of GM brass, the Corvette made its highly anticipated debut at New York's glamorous Waldorf Astoria Hotel in January 1953. Any pre-show fears were silenced by the end of that first weekend in New York, where more than 300,000 people had seen the Corvette and nearly a million dollars' worth of GM products were sold. Corvette production began just five months later, with the first cars built at a temporary facility in Flint, Michigan, and the earliest cars soon in the hands of some of America's most prominent families.
Although the Corvette utilized existing production-based mechanical components, it was the first American-built automobile with entirely fiberglass bodywork. All 1953 Corvettes were finished off with Polo White paint, red vinyl upholstery, and a black folding top. While a bold design statement at launch, the Corvette would soon be carefully and relentlessly groomed by legendary GM engineers including Ed Cole and Zora Arkus-Duntov into America's only true sports car – an eventual Le Mans class winner and enduring legend.
The 1953 Corvette presented here is car number 32 of the first 300 built for the inaugural model year. The history of this early-production Corvette can be traced back to 1960, when it was owned by James Oneto, a resident of Hoboken, New Jersey. In 1965, Mr. Oneto sold his car to David Manolakos of Riverdale, New Jersey, who paid $525 for the Corvette and treasured it for the next 23 years.
The car's next private owner, Michael McWherter of Sarasota, Florida, undertook a complete, body-off restoration in the early 1990s. Photos of the restoration progress show that the Corvette was in largely original and complete condition prior to restoration, with the car number (32) stenciled on body panels and various components stamped with June-July 1953 date codes. Upon completing the restoration, Mr. McWherter had his Corvette judged at the 1992 NCRS Regional Meet in Cypress Gardens, Florida, where it scored 96.8 points and earned a Top Flight Award.
With a limited roster of knowledgeable owners since the 1990s, and offered today from a significant private collection of American and European classics, this rare first-year Corvette has been carefully maintained and presents beautifully in all respects. Not only has the award-winning restoration aged remarkably well, but the car is also properly outfitted with a correct Wonder Bar radio, jack, spare, and side curtains. Furthermore, this '53 Corvette is unusually well documented, possessing an impressive history file that records ownership back to the early 1960s, numerous photos of the restoration process, and assorted articles and road tests on the model.
An undisputed landmark in American automotive history, and a brilliant illustration of Harley Earl's genius, the original 1953 Corvette is among the most iconic and collectible cars of its generation. Very rarely does an example of this quality appear for public auction, making this an exciting opportunity for any serious Corvette or sports car enthusiast looking to add this significant model to their collection.