This listing is no longer available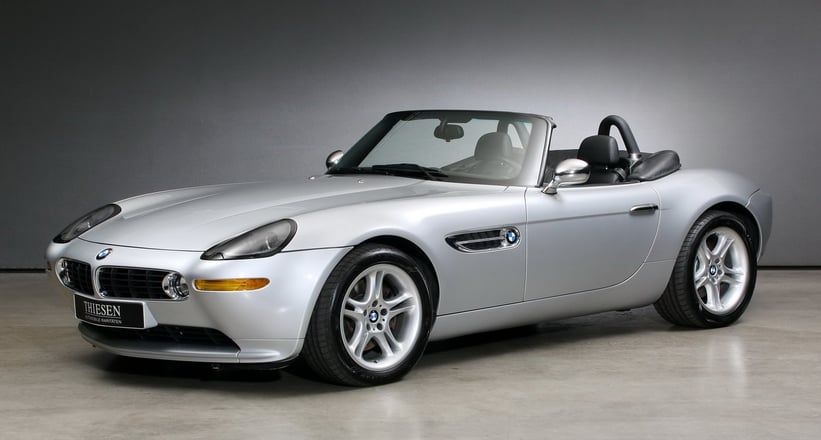 Location
Description
- 2. Hand
- Nur 35 000 km
- Sammlerzustand
Beschreibung:
Der BMW Z8 erbte sein zeitloses, klassisches Design mit den Roadster-urtypischen Proportionen vom legendären BMW 507, den BMW Mitte der 1950er Jahre auf die Straße rollen ließ. Die "Wiederbelebung der Legende", titelte BMW zur Präsentation des Z8 auf der IAA 1999, der von den Lesern der Zeitschrift "Motor Klassik" im Jahr 2003 als "Klassiker der Zukunft" in der Rubrik "Offene Fahrzeuge" gewählt wurde. Dieser Roadster schlägt als moderne Interpretation seines berühmten Vorgängers eine Brücke von der Vergangenheit über die Gegenwart in die Zukunft.
Bei dem Fahrzeug handelt es sich um eine deutsche Ausführung. Der erste Besitzer war ein BMW General-Importeur im europäischen Ausland, der den Z8 für sich persönlich nutzte. Anschließend gelangte der Wagen bis heute in zweite deutsche Hand. Der Roadster mit einer Laufleistung von nur 35.000 km verfügt über das Performance Package und das originale Sportfahrwerk, ist nachlackierungsfrei und makellos. Alle Werkstattaufenthalte von Tage 1 sind durch Rechnungen dokumentiert. Sämtliche Bordpapiere sind vorhanden. Ein sehr schönes und seltenes Exemplar mit großem Klassiker-Potential, in dem nicht nur James Bond in "Die Welt ist nicht genug" im Jahr 1999 eine gute Figur macht! Ein sehr schönes und makelloses Sammlerfahrzeug!
Ausstattung:
Der BMW Z8 war grundsätzlich nur mit Vollausstattung erhältlich, die u.a. umfasst: 6-Gang-Schaltgetriebe, Fahrer- und Beifahrerairbags, Alarmanlage, ABS, Tempomat, Klimaanlage, elektr. Lenksäulenverstellung, Radio, CD-Wechsler, Navigationssystem, Freisprecheinrichtung, Leichtmetallräder, Xenonlicht, Hardtop in Wagenfarbe mit beheizbarer Heckscheibe, etc.
Produktion:
Von März 2000 bis Juli 2003 wurden 5.703 Exemplare in Handarbeit in der Z8-Manufaktur im Stammwerk München gefertigt.
---
- 2 previous owners
- Just 35 000 km
- Collector's item
Description:
The BMW Z8 inherited its timeless, classic design with roadster-atypical proportions from the legendary BMW 507, which BMW rolled out on the road in the mid-1950s. The "Revival of the Legend", was BMW's headline for the presentation of the Z8 at the IAA 1999, which was voted "Classic of the Future" in the "Open Cars" category by the readers of "Motor Klassik" magazine in 2003. As a modern interpretation of its famous predecessor, this roadster builds a bridge from the past via the present into the future.
The vehicle is a German version. The first owner was a BMW general importer in another European country who personally used the Z8. Subsequently, the car passed into second German hands until today. The roadster with a mileage of only 35,000 km has the Performance Package and the original sports suspension, is repaint-free and immaculate. The service history from day 1 is documented by invoices. All papers are available.
A very beautiful and rare example with great classic potential, in which not only James Bond made a good figure in "The world is not enough" in 1999! A very beautiful, perfect collector's car!
Equipment:
The BMW Z8 was only available with full equipment, including: 6-speed manual gearbox, driver and passenger airbags, alarm system, ABS, cruise control, air conditioning, electric steering column adjustment, radio, CD changer, navigation system, hands-free system, alloy wheels, xenon lights, body-coloured hardtop with heated rear window, etc.
Production:
From March 2000 to July 2003, 5,703 units were hand-built in the Z8 manufactory at the manufacture in Munich.