This listing is no longer available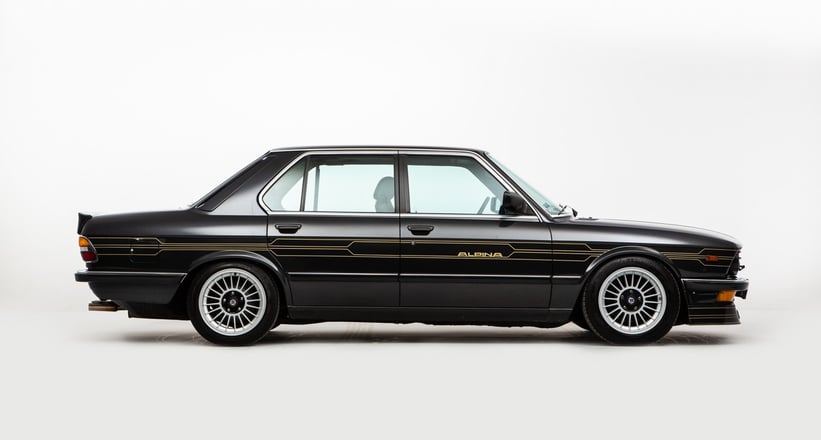 1986 BMW Alpina
B7 TURBO/1 // 1 OF 42 HIGH POWER CATALYST CARS
Summary
Location

Performance

320 BHP / 325 PS / 239 kW
Description
FOR SALE; ALPINA B7 TURBO/1 // 1 OF 42 HIGH POWER CATALYST CARS // 5-SPEED MANUAL // LHD
EQUIPMENT
Car 196/236, Manual Gearbox, Catalytic Converter (1 Of 42 Produced), KK K27 Turbocharger, Lightweight Mahle Pistons, A Modified Cylinder Head, Bespoke Exhaust Manifold, Girling Discs Brakes, Bilstein Suspension, (181) Diamantschwarz Paint, Deco Stripe Kit, 16″ Alpina Softline Alloys, (0002) Alpina Grey Cloth Bucket Seats, (160) Alpina Cloth Headrests, (164) UK Headlights, (300) Central Locking, (311) Electric Wing Mirrors, (350) Green-Tint Windscreen, (401) Electric Sunroof, (411A) Electric Front & Rear Windows, (510) Adjustable Headlight Range, (979) Velour Floor Mats
EXTERIOR
The angular silhouette of the sharknose E28 has always been a thing of beauty, however this particular example is instantly recognisable as something a little bit more special. Adorned with a contrasting golden deco set, deep front spoiler, side skits and of course, the timeless alloys, the package a trademark of the period Alpina flare.
The metallic Diamond Black paintwork perfectly captures the B7's defined form, with a deep flake it glistens in the light. The car has had plenty of paintwork in the past with some imperfections on close inspection but not detracting from its superb condition or unexpected for a car pushing 34 years on the road. Much of the same is to be said for the trim, with the kidney grilles up front free from any cracks or fading.
INTERIOR
The BMW and Alpina partnership has been built to last and this B7 Turbo is no exception. The cabin appears to be almost completely original, with its combination of heavy cloth, leather and dark wood wearing exceptionally well over the years, no doubt helped by its Japanese origin, the climate and care. The deeply bolstered sports seats sit free from any stains or tears, still embellished proudly with the iconic green and blue Alpina centre stripes. At almost perfect arms reach, the leather Alpina Steering wheel and wooden gear stick still feel tactile and responsive, carrying with them a certain charm that only an early BMW can replicate.
Despite being 34 years old, the interior is surprisingly well equipped. With fully functional factory equipped electric front & rear windows, electric adjustable wing mirrors, automatic sunroof, A/C and the pièce de résistance, a variable boost switch!
ENGINE & TRANSMISSION
Fitted with BMW's M30B34 6-cyl engine, Alpina managed to nearly double the units initial power output with some serious engineering. Upgrades included a KK K27 Turbocharger, Lightweight Mahle Pistons, Modified Cylinder Head and a Bespoke Exhaust Manifold which was further develop in later more powerful cars, like this example, which is 1 of just 42 B7's fitted with a catalytic converter to meet new emissions regulations in its destined market at the time. Surplus to requirements now in Europe given its year the original centre exhaust remains but the catalyst removed to help the engine breath and at cooler temperatures, the rear box replaced with a stainless alternative.
With 320 bhp, 0-60 in sub 6 seconds and a top speed of 162 mph the B7 Turbo still feels fast on the road today. The performance paired with its slick 5 speed manual gearbox, hydraulic power steering and good dose of period Turbo-lag makes driving the Alpina a visceral experience that only gets better as the miles go by.
WHEELS, TYRES & BRAKES
Alpina's wheels have become a cult icon of their own. The simple bladed design set back exposing a good size dish is elegant but purposeful, in fact it has been so effective that little has changed in their design over the past 40 years.
The 16″ set on this example present in immaculate condition, free from any unsightly scuffs,they are shod in nearly new rubber, with ample tread at each corner.
The factory upgraded Girling Discs Brakes and Bilstein Suspension make all the difference to the B7, providing excellent damping and stopping power to help reign in the Alpina's 320 bhp once up to speed.
HISTORY FILE
An official Alpina delivery confirmation certificate and copy of the original bill of sale shows this B7 Turbo/1 was imported new by Nicole Racing Japan to its first owner in Tokyo in February 1986. The car resided in Japan until 2017, when it was imported to Switzerland by a collector who held onto the B7 for a couple of years before it was imported to the United Kingdom by the current owner.
Upon arriving in the UK the car was taken to a BMW specialist who gave the car a thorough re-commissioning. Invoices totalling over £4.5k are present with the car and outline all of the maintenance it has been subject to over the past 12 months which includes a service, new fuel tank, new wishbones and much more in order to get the car up to a good usable standard.
The car has a current MOT with no advisories as well as an Alpina delivery confirmation certificate, copy of the original bill of sale, Alpina technical data sheet and one of the original Japanese books.
1 of just 236 B7 Turbo/1's ever produced, this car sits as an extremely rare but usable classic from what many regards as the golden era of BMW & Alpina's collaborative efforts.
Please visit our website for a full write up and additional photographs.
The car is supplied having had an extensive intake inspection. Warranty, Finance, Part Exchange and Worldwide shipping are all available on request.
Buy with confidence: we operate from a 10,000sq ft indoor showroom with the support of a fully functioning 4000sq ft preparation and service centre that includes a professional photo studio that is used by Top Gear, McLaren and Alpine Stars. We have a passionate team that work incredibly hard to ensure all our motor cars go through our rigorous and unique sales process so they are presented in the best possible condition and light, then found homes all over the world.
Keep up to date: Follow us on Facebook, Twitter and Instagram. Register on our webpage for the latest stock updates.
** SIMILAR VEHICLES ALWAYS REQUIRED**
Selling? Our commission sale or SOR (Sale or Return) program is a great way to utilise and access our services and facilities while still maximising the return from your vehicle with minimal hassle, If you'd like to take advantage of this then please get in touch for further information. Alternatively If you'd like to move your vehicle on quickly and efficiently with minimal delay then we can make an offer on an outright purchase basis with payment and collection arranged soon after.