This listing is no longer available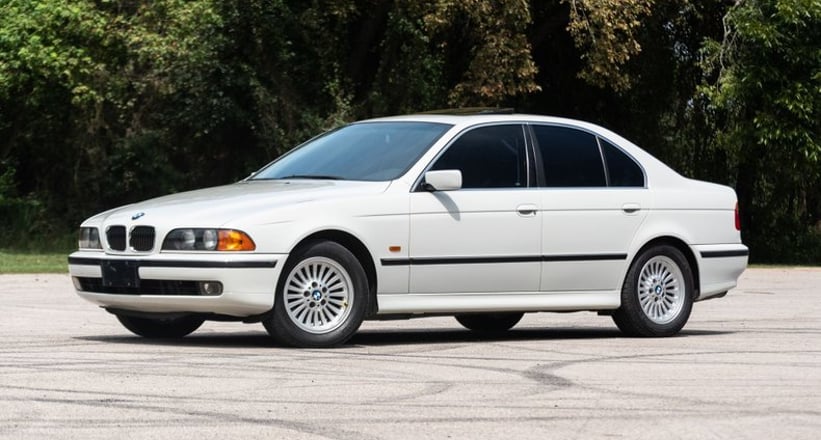 Summary
Location
Description
1997 BMW (E39) 540iA
VIN: WBADE6323VBW53269
Alpine White / Black Leather
1-Owner from New
Original Window Sticker, Original Bill of Sale and Purchase Paperwork
Annual Mileage Account Log from 1997-2020
Detailed Service and Repair Summary: November 1996 - July 2019
- Service Records 1996-2020
Lifelong Texas Car with Meticulous Mature Ownership and Care
Original Paint: 4 – 4.5mils across entire vehicle
Original Supple Leather Upholstery, All BMW Etched Glass
- Windows Tinted for Added Protection
Original Identification Decals and Plaques Throughout the Vehicle.
Exceptionally Preserved in Stock Configuration
Just over 38,000 Documented Miles
Both Keys, Complete with Emergency Light in Glovebox, All Tools and Accessories in Tray, Jack, Wheel Chock, and Spare Tire
All Original Owners Books, Manuals, Cards, and Pamphlets in Folio
BMW Alpine White Touch-Up Kit
New (2020) 225/55R16 Michelin Premier Tires – Mounted on Original Date Stamped E39 Wheels
- Accompanied by a set of 16" BMW Contour Wheels w/ Mounted Tires
Summer 2020 Inspection and Scheduled Service
- New Front Control Arms (aged bushings on originals), New Premium Tires
Clean Carfax and Auto Check Reports
In addition to numerous standard features, this 540i was optioned new with:
Comfort Seat $1,200
Premium Hi-Fi $1,500
Total Retail Price $53,170.00
Comfort Features:
Leather Interior Trim
Automatic Climate Control – Left and Right
Activated Charcoal Microfilter Ventilation
Multi-function Steering Wheel
Anti-Theft Electronic Stereo, Cassette, CD, Amplifier
Power Moonroof
Remote Keyless Entry
1-Touch Power Windows
Auto Dimming Side Mirror
Dual Cupholders – F/R
Premium Onboard Computer with Multi-Function Information Display
Completed in September 1996 as a new 1997 model, WBADE6323VBW53269 was sold new to its first and only lifelong owner on October 18, 1996 through Momentum BMW of Houston, Texas. The original purchase paperwork, window sticker, subsequent servicing records, and meticulously documented history from 1996-2020 accompanies the vehicle as a testament to its pampered and thoughtfully preserved life thus far. In addition to all the aforementioned accompanying original accessories, the car retains original paint, all BMW etched glass, original upholstery, trim and auxiliary equipment – for what appears to be an exceptionally tidy, complete and coddled example for continued enjoyment. A Summer 2020 service included new Michelin Premier tires, along with new front control arms.
The above vehicle information is accurate to the best of our knowledge at the time it is posted to this website. It is provided 'as-is', without warranties as to its accuracy, whether expressed or implied, and is intended for informational purposes only. Corrections or additional information is always appreciated.
All advertised prices exclude government fees and taxes, any finance charges, any dealer document preparation charge, and shipping expenses. Vehicles are subject to prior sale. DriverSource is not liable for any errors, omissions, or mistakes.