This listing is no longer available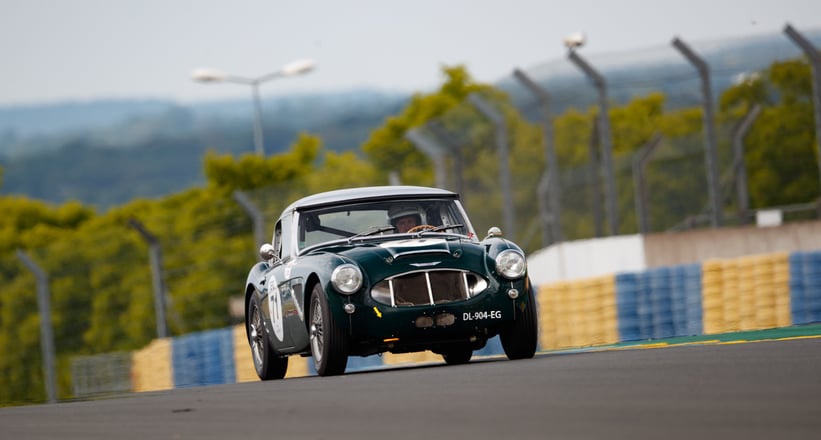 1960 Austin-Healey 3000
MK1 HARDTOP FIA
Summary
Location
Description
Donald Healey, a renowned engineer and driver, made his debut as a manufacturer in 1948 with a coupé (Elliot) and a roadster (Westland) equipped with a 2.4-litre Riley engine. This was followed the Ambassador (of which only 253 cars were built). But Donald Healey dreamed of building a high-performance roadster at an affordable price, which would ensure its wider distribution.
The great adventure began in 1952 at the London Motor Show, of which the Healey Hundred was one of the stars. Designed by Gerry Coker and built by Ticford, this prototype borrowed its engine from the Austin A 90. Donald Healey quickly signed an agreement with British Motor Corporation, and the car became Austin Healey. Series production of the Austin Healey 100 starts in May 1953, equipped with a four-cylinder, 2663 cc, 90 hp four cylinder engine, the model (BN1 series) was primarily designed for export.. In August 1954, a sporty version with four disc brakes, the 100-S, with 132 bhp, was launched, with a cylinder head prepared by Weslake. The Austin Healey 100 underwent its first evolution in 1955 (BN2 series) with the adoption of the Morris Minor rear suspension and a four-speed gearbox. A more powerful variant, the 100 M, saw its engine increased to 110 bhp.
The following year marks a turning point in the evolution of the Austin Healey with the appearance of the first six-cylinder model: the 100 Six (BN4 series), with a 2639 cc (102 bhp) engine. Its elongated bodywork makes the car a 2 + 2. A variant of its predecessor, the 100 Six series BN6 returned to two-seater bodywork in 1958. At the same time, the engine was given extra vitamins (117 bhp) thanks to a new cylinder head and SU HD6 carburettors.
In July 1959, the Austin Healey 3000 was born, the first model of a new generation whose six-cylinder engine was increased to three litres (124 bhp). Equipped as standard with disc brakes at the front, the car is available as a two-seater roadster (BN7 series) and 2 + 2 (BT7 series). In 1961, the 3000 Mk II was fitted with three SU HS4 carburettors, which increased power to 132 bhp.
Designed by Gerry Coker, the "Big Healey" appears to be one of the most beautiful achievements of British design. Racy and a touch aggressive in a very homogenous whole, it is a masterpiece of balance and elegance.
On the road, the car expresses the generosity of its mechanics, which, although devoid of any sophistication, nevertheless demonstrates remarkable qualities. Powerful and always ready to take off, this round engine is a paragon of flexibility and availability.
It didn't take long for BMC's competition department to get their hands on the 3000. It was an instant success: Pat Moss finished second in the 1959 German Rally, vice-champion of the Alps in 1960 and winner of the grueling Rome-Liège-Rome the same year. This was followed by numerous rally successes: Don and Erle Morley's domination of the Tulip Rally from 1962 to 1965, followed by Alpine triumphs in 1961 and 62. Rauno Aaltonen's victory at Spa-Sofia-Liège in 1964.
On the track, the 3000 was homologated as a real GT in 1960, with a hardtop, 25-gallon tank and disc brakes. Often intended for endurance racing, several Healey 3000s have distinguished themselves in international races such as Sebring or the Le Mans 24 hours.
Our AH 3000 MK1 has been developed as a racing car and has been around the circuits for many years... since then it has evolved a lot having been followed and prepared by a very good workshop in France. All the parts come from the famous Welch company. Its high performance engine,... make it an ideal weapon for the 60's by Peter Auto, the 6 hours of Spa or the GTSCC and of course Le Mans Classic Having very recently benefited from a complete maintenance; it has just a few laps of the circuit for testing... accompanied by its PTH and its safety features up to date... you're all that's missing to drive it in the Hunaudière's straight!
Specification:
Works style lightweight hard-top with side screens
Full Roll cage with door bars
Full harness belts for driver
High ratio steering-box
Engine
Full Race specification
denis welch Motorsport specification still billet crankshaft
Steel Race specification con rods
Race specification camshaft and rocker set
Forged race specification pistons
Gas flowed aluminium cylinder head with race specification inlet manifold
Super damper
Aluminium Sump
Alternator
High torque pre engaged starter motor
Triple Weber 45 DCOE Carburetors
Engine Oil cooler
Oil catch tank
Gearbox and Drivetrain
Full race gearbox with straight cut Sebring gear set and race clutch just rebuilt both
Up rated competition overdrive
Uprated competition drive shafts
dual circuit brake system
Fuel Tanks and Petrol Pumps
Higher capacity aluminium ATL petrol tank FIA specification
Twin facet red top fuel pumps in boot
Safety Systems
Plumbed in certified fire extinguisher system
Safety cut out switch as required by FIA specification
HTP papers valid till 2026