This listing is no longer available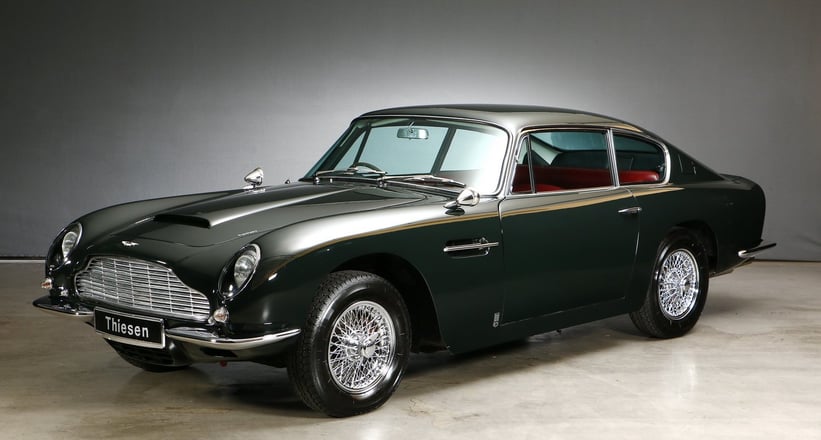 1968 Aston Martin DB6
MK I Coupé
Location
Description
- Umfangreich überarbeitet durch deutschen Fachbetrieb
- Herausragende Fahreigenschaften
- Attraktive Farbgebung
Beschreibung:
Als Nachfolger des DB 5, der durch die legendären James Bond-Filme berühmt wurde, verfügt der DB 6 über einen längeren Radstand und ein deutlich vergrößertes Platzangebot. Der DB 6 wurde durch einen Testbericht in der Zeitschrift "Autosport" Ausgabe 11/1966 bekannt, die dem Sportwagen eine Höchstgeschwindigkeit von seinerzeit sagenhaften 152 mp/h (etwa 245 km/h) attestierte.
Von 1965 bis 1970 wurden 1.327 Exemplare gefertigt.
Das hier vorgestellte Fahrzeug erfuhr im Jahr 2017 eine umfangreiche Überarbeitung, die durch einen Hamburger Restaurationsfachbetrieb mit sehr viel Liebe zum Detail durchgeführt wurde. Hierbei wurde die Karosserie umfassend instandgesetzt und neu lackiert. Ferner wurde der Motor vollständig überholt und leistungsoptimiert. Das ZF 5-Gang Schaltgetriebe und die Bremsanlage wurden ebenfalls überarbeitet.
Dieser DB 6 ist ein sehr schönes Exemplar aus der Ära der klassischen David Brown Aston Martin und überzeugt durch herausragende Fahreigenschaften und die attraktive Farbgebung!
Reihensechszylinder mit zwei obenliegenden Nockenwellen, Leistungsoptimiert, 4.2ltr, 3 Vergaser, ca. 300 PS
RHD, 5-Gang ZF-Getriebe, Edelstahlauspuff, Chrom-Speichenräder mit Zentralverschluss, Holzlenkrad, elektrische Fensterheber, Colorverglasung etc.
---
- Extensively revised by German specialist company
- Outstanding driving characteristics
- Attractive colouring
Description:
Between 1965 and 1970 1,327 examples were made.
The vehicle presented here underwent an extensive revision in 2017 which was carried out by a Hamburg restoration specialist with great attention to detail. The body was extensively repaired and repainted. The engine was also completely overhauled to high performance specification. The ZF 5-speed gearbox and the brake system were also revised.
This DB 6 is a very beautiful example from the era of the classic David Brown Aston Martins and impresses with its outstanding driving characteristics and the very attractive colour scheme.