This listing is no longer available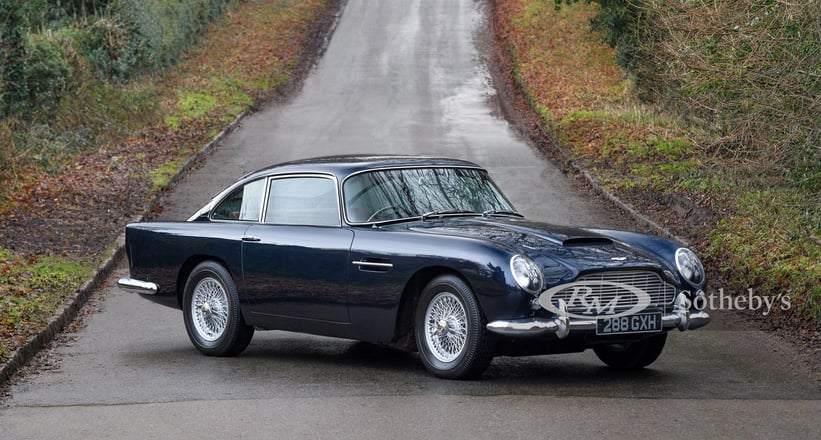 Summary
Location
Description
To Be OFFERED AT AUCTION WITHOUT RESERVE at RM Sothebys' Paris event, 13 February 2021.

Owned since the mid 1960's by a certain Mr. Bond, with a recorded mileage of just 81,579 from new.
Rare early series example, with original David Brown four-speed overdrive gearbox still fitted.
Retains original engine, uprated to lead-free, electronic ignition specification.
Comprehensive history file, including original build sheet and factory documentation.
Subject to an exacting restoration in 2002 by marque experts Aston Engineering.
Finished in original colour scheme of Midnight Blue with red Connolly leather interior.
Please note, owing to the UK having now left the European Customs Union, buyers should be aware of any and all implications of purchasing a UK based lot, including but not limited to this lot being subject to VAT on the full purchase price if importing into the EU.
Perhaps unsurprisingly, those cars which have historically left an indelible impact on both popular culture and the public consciousness have tended to be of the relatively mundane, mass produced variety: the Mini, the Volkswagen Beetle and the Fiat 500 all being a case in point. However, occasionally there may be a car whose legacy is entirely disproportionate to absolute production numbers. The Aston Martin DB5 is one such example. Only 1,021 were ever constructed, yet it remains one of the most instantly recognisable cars of all time - thanks in no small part to its near six-decade long association with a certain MI6 agent.
Few, if any, DB5s can surely match the provenance of this remarkably original and correct example. Delivered new on 1 December 1963, via Aston Martin agent - and itinerant 1950s Grand Prix team - H.W.M to first owner Walter Lewis of Denmark Hill, South London according to its accompanying build sheet, the car was finished in the attractive colour scheme of Midnight Blue with red Connolly leather interior. As an early chassis, it was fitted with a David Brown four-speed overdrive gearbox - which it still retains - rather than the more common five-speed ZF unit, as fitted to later cars. Indeed, evidently 1330/R was one of the final ten DB5 chassis ever to be fitted with an internally sourced DB gearbox.
It is believed that Mr. Lewis kept the car for only a matter of months, selling it to the vendor - then aged just 21, and appropriately named Mr. Bond. According to him, he acquired the car a year or so later, and it has remained in his sympathetic and enthusiastic hands ever since. Wishing to avoid any latent family disapproval, Mr. Bond kept the news of his acquisition a secret for some years, opting to keep the car at a friend's garage nearby rather than at his Hampshire home. A keen cyclist, Mr. Bond's customary alibi was to profess that he was leaving the house to embark upon a lengthy ride, whereas he would in fact take only a short ride to Too Goods Garage in Sutton Scotney, followed by an extended and altogether more agreeable drive in the DB5!
Interestingly, through an introduction by family friend Piers Courage and a mutual love of skiing, Mr. Bond struck up a close friendship with the late Jochen Rindt; the DB5 accompanying him on a memorable trip to Kitzbuhel where he holidayed with the future World Champion. Poignantly, Rindt gave Mr. Bond a Moto-Lita steering wheel as a memento of the trip, and this was subsequently fitted to 1330/R for many years. Understandably, the vendor wishes to retain the item for sentimental reasons, and a correct-type steering wheel has been recently refitted in its place. Tragically, both Courage and Rindt would perish in racing accidents within three months of each other in 1970, although Piers' widow Lady Sarah - herself a daughter of pre-war Grand Prix luminary Earl Howe - remained a close friend of the Bonds, occasionally appearing alongside the car in photographs.
Throughout the 1960s, the car was frequently used for Continental tours and holidays, and by the time it returned to Newport Pagnell for a major overhaul in November 1969 it had covered an impressive 56,451 miles. A typically comprehensive Aston Martin Lagonda invoice is retained on file, detailing that the work carried out included a complete cylinder head overhaul (including new valves and valve springs), rebuilding and setting up of the carburettors, overhauling the front and rear suspension and brakes, as well as the fitment of a new clutch, clutch master cylinder and propshaft. Predictably, such a comprehensive refurbishment did not come cheaply, with the total expenditure amounting to some £567 - only slightly less than the outright purchase price for a new Mini at the time.
Not unusually, the mileage covered by 1330/R over the ensuing decades gradually reduced as the pressures of a young family and other pursuits increased. This said, the car continued to be cherished and carefully stored by Mr. Bond, meaning that it was spared most - if not all - of the rigours to which most ageing cars are normally subjected.
By the turn of the millennium, mileage had crept up to 75,000 and the vendor considered it prudent to treat the car to a well-deserved second overhaul, this time courtesy of marque specialists Aston Engineering of Derby. The work carried out at this juncture included a full engine rebuild which included upgrading the car to lead-free fuel conversion, electronic ignition conversion and a full dyno test and set up. Other major mechanical work carried out simultaneously consisted of remedial work to any corroded body and chassis areas, a comprehensive overhaul of the front suspension, rear suspension, steering and braking systems and a complete rebuild of both the gearbox and overdrive unit.
Unsurprisingly, the car's cosmetic condition was not overlooked, with it being subjected to a bare metal re-spray to the original colour of Midnight Blue, and a complete re-trim in the correct original shade of Connolly leather with matching Wilton carpets. The car has been maintained and serviced regularly by Aston Engineering ever since, with the most recent expenditure taking place in May 2019 when the car was given a comprehensive road, system and pressure test and MOT.
After much deliberation, and fifty-seven years of exhilarating and fulfilling ownership, the vendor has made the brave decision that it is time for 1330/R to enter a new and much-delayed chapter in its life. Displaying a remarkably low, fully documented mileage of just 81,579, and retaining its original engine and rare early-type David Brown gearbox - not to mention its original colour scheme and original UK registration number - it is truly a car for the most discerning of collectors.
Upon having the opportunity to inspect the car recently, marque authority Stephen Archer remarked the following:
"Astons from the mid-century all have their stories and those stories define the car's quality. History cannot be changed and this DB5 is blessed with a sublime story.
When you meet an Aston, it speaks to you of its past and the best cars are usually not the cars that have had a recent full restoration where the character of the car has been removed and the soul of Aston Martin with it. This DB5 was restored recently enough to mean that there should be no concerns about future use and yet long ago enough to enable the car's real character to shine through.
The early DB5s with the David Brown gearbox and DB4GT headlamp covers have a purity of purpose and charm. That charm is wrapped in a classic colour and you are embraced by the feel and odour or Connolly's finest. You know you are in a very good car, a DB5 that is how Aston would have made it. I would have this DB5 in my garage. Everything about it looks right and feels right. And so it is – RIGHT"
Doubtless there are more lustrous DB5s available; certainly faster ones - but there are assuredly none better.To view this car and others currently consigned to this auction, please visit the RM website at rmsothebys.com/en/auctions/pa21.