This listing is no longer available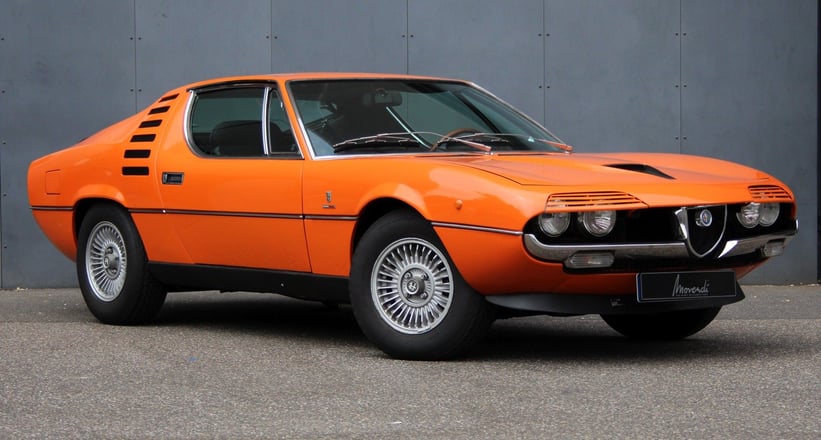 Location

Performance

200 PS / 148 kW / 198 BHP
Description
- Schweizer Erstzulassung
- Schiebedach und Klimaanlage
- Sorgsam überarbeitet und gewartet
- Deutsche, historische Zulassung
Fahrzeughistorie:
Dieser Alfa Romeo Montreal wurde 1972 in die Schweiz verkauft. 2007 wurde er in die Niederlande verkauft und optisch überarbeitet. 2014 kaufte ihn ein Hamburger Auto Liebhaber und ließ für ca. 14.000 € große Teile der Technik, u.a. das gesamte Fahrwerk, überholen. Ein Jahr später kam der Montreal nach München. Abermals wurde investiert: Kühlerschläuche, neue Kupplung, neue Reifen, Simmerringe und Dichtungen, Elektrik Arbeiten, neue ANSA Schalldämpfer, Motor- und Getriebeaufhängungen etc. wurden angegangen.
Als Designstudie von Marcello Gandini (Chefdesigner bei Bertone) wurde das Auto 1967 auf der Weltausstellung Expo 67 in Montréal erstmals vorgestellt. Aus dem Ausstellungsort resultierte auch der Name des Fahrzeugs. Auffallend sind die von lamellenförmigen Blenden teilweise verdeckten Scheinwerfer. Die Abdeckungen klappen beim Einschalten der Beleuchtung nach unten.
Der erstmals bei Alfa Romeo in einem Serienfahrzeug verwendete Achtzylindermotor mit vier obenliegenden Nockenwellen und mechanischer Spica-Saugrohreinspritzung stammte von dem im Rennsport eingesetzten Alfa Romeo Tipo 33 ab, wurde allerdings für die geforderte Alltagstauglichkeit abgeändert und auf 2,6 Liter Hubraum vergrößert.
Die seltenen Ausstattungsoptionen wie die Klimaanlage und das elektrische Schiebedach machen diesen Montreal besonders interessant.
- First registration in Switzerland
- Sunroof and air conditioning
- Carefully revised and maintained
- German, historical registration
Vehicle history:
This Alfa Romeo Montreal was sold to Switzerland in 1972. In 2007 it was sold to the Netherlands. A Hamburg car enthusiast bought the car in 2014 and had large parts of the technology, including the entire chassis, overhauled for around € 14,000. A year later, the Montreal came to Munich. Other investments were made: radiator hoses, new clutches, new tires, electrical work, new ANSA silencers, engine and gearbox suspensions etc.
As a design study by Marcello Gandini (chief designer at Bertone), the car was presented for the first time in 1967 at the world exhibition Expo 67 in Montréal. The name of the vehicle also resulted from the exhibition location. The headlights, which are partially covered by lamellar bezels, are striking. The covers fold down when the lighting is switched on.
The eight-cylinder engine with four overhead camshafts and mechanical Spica intake manifold injection, used for the first time by Alfa Romeo in a production vehicle, was derived from the Alfa Romeo Tipo 33 used in racing, but was modified for everyday practicality and increased to 2.6 liters displacement.
The rare equipment options such as the air conditioning and the electric sunroof make this Montreal particularly interesting.