This listing is no longer available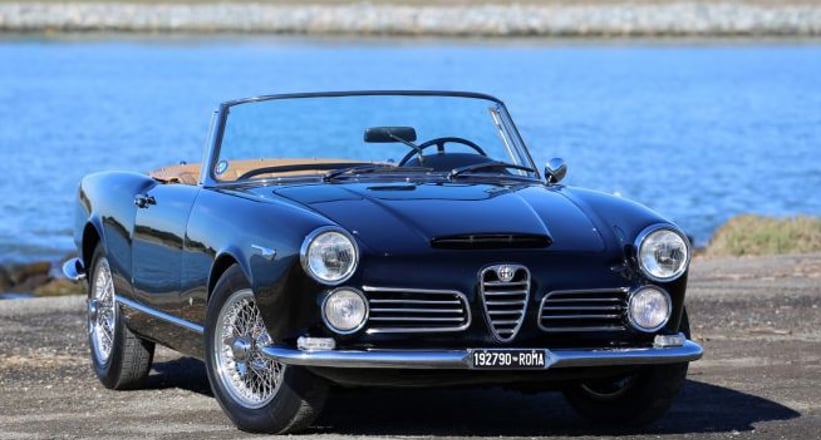 Summary
Location
Description
Beautiful Restored Example of the Touring Bodied Alfa 2600 Spider. Equipped with Borrani Wire Wheels.
1964 Alfa Romeo 2600 Spider by Touring
s/n AR*192790, engine no. AR*00601 *06686*
Touring Body No. 15580
Black with Tan Leather Interior
Alfa Romeo earned a dominant place in racing and design with their exceptional engineering and beautiful road cars. During the 1950s and into the mid 1960s, the motorsports mantle was carried in large part by the lovely dual overhead cam four cylinder engine, which powered a variety of illustrious racers ranging from the Giulietta Sprint Lightweight to the TZ2. The six-cylinder version of this engine saw use in the flagship 2600 model, drawing on the tradition established by Alfa's prewar and early postwar coachbuilt sports and touring cars, the 6C (1750 and later 2500). Offered with bodies by Touring of Milan, Bertone, or Zagato, the 2600 was among the last coachbuilt cars available (despite its unitary construction). The engine, fed by by triple Solex twin-choke carburetors, employed exotic alloy construction and was both durable and reliable, famously serving the Italian Carbinieri's "Squadra Volante" as high-speed police pursuit vehicles. European and South American racers took note, and the Sprints were raced enthusiastically with notable success. Alessandro Ragazzi won the European TT 3 Liter Championship in 1967 in a 2600 Sprint.
The 2600s were expensive and never sold in large numbers, ensuring that they have always been rare. The open variant of the car, bodied by Touring of Milan, was hand-built and revealed itself to be a capable and refined touring. Although more suited for long distance events, given the larger displacement, wider torque band, standard 5 speed transmission, and spacious storage, the 2600 Spider became popular among driving enthusiasts who appreciated both comfort and performance. These criteria still ring true today as collectors have increasingly realized how capable these cars are for events, showing, and long-distance driving.
This particular example is an original export model, completed March 17th, 1964 and delivered two weeks later to Alfa Romeo Inc. of Newark, New Jersey. Its early history is not known, but in 2000, Alfredo Brener restored the car to a high standard, subsequently selling it in 2006 to his neighbor, Mr. John Kotts. In 2015, with 96,431 kilometers showing, the current owner commissioned approximately $8,000.00 worth of service and maintenance from RPM Restorations in Vermont. An itemized invoice accompanying the car includes services including rebuilding the brake booster and servo, overhauling the generator, a new battery, new voltage regulator, new distributor cap, new thermostat including removal of the intake manifold and resealing, new exhaust, the installation of matching seat belts, and a complete tune up including oil, plugs, carburetor tuning, and topping off transmission fluid and axle oil. Additional cosmetic details were also tended to at this time including the installation of a rear view mirror.
Today the car presents very nicely, with glossy black paint done to high standards and smooth finish throughout. There are a few minor touched up paint chips, but otherwise the paint is quite nice with a deep luster, a particularly noteworthy feat on a black car. The body panels and gaps are very nice with all surfaces easily opened and closed including the doors, which have exceptionally nice, crisp closures. The chrome is excellent, with a fresh and recently finished appearance. The remaining trim is visually well done including window trim, lenses, and lighting. Notably, the large recessed Carello accessory lamps are correct, as are the properly stamped headlight trim rings. The beautifully finished Borrani wire wheels and eared knock-offs, rarely seen on this series car, are properly restored and are shod with period correct Michelin X radial tires. The trim and badges are delightful touches of jewelry, beautifully but subtly identifying the coachwork, manufacturer, and engine designation.
The tan leather interior is nicely done and appropriately contrasted against the black exterior. The seats are showing light use, but the leather remains supple and consistent in finish, while the rest of the interior is nicely presented with cohesive original finishes. The seatbelts were properly considered with color coordinated belt material and nice buckles. The carpeting is very well done in a warm color with correct edge beading and a set of rubber mats (with Touring and Alfa Romeo logos) protecting the carpet. The dashboard overall is very nicely restored, housing clear and contrasting instruments, with the exception of the speedometer, which shows some aging. The steering wheel and horn emblem are beautiful accents to the interior as are the various accessories, switches, and control knobs.
The engine compartment is consistent with the restoration presenting as a very handsome, well-detailed example, being attractive and tidy. The car is equipped with correct intake system, itself a work of art, which includes triple Solex carburetors, cast airbox, proper intake hoses, and air filter housing. The finishes are quite nice including the elegant polished cam cover, correct hardware, yellow fuel lines also shared with period Ferraris, and proper fasteners. The engine compartment and assorted components are all very well presented, making the mechanical presentation of this Alfa Romeo a further delight beyond the stunning exterior details. The trunk is nicely finished with a correct rubber mat, housing a full sized spare tire and standard rim.
The car is a pleasure to use. The engine starts easily, settling into a smooth, effortless idle, which is refined but ready to voice Alfa Romeo's racing heritage when slipped into first gear. The 5-speed synchromesh gearbox shifts easily as the car moves down the road with distinction and composure. The front disc brakes and independent coil spring front suspension work very nicely with the chassis and weight of the car. The brakes have impressively good initial bite and are confidence-inspiring. Handling is very satisfying with excellent road manners at all speeds. In all, the driving experience is impressively civilized and refined. It is an easy car to drive with no foibles. The engine is well-tuned, tractable, and linear in its response, the gearbox is straightforward to use with effective synchromesh, and the steering and suspension are compliant while still providing good body control. Overall, it is a car that makes the driver feel instantly comfortable and it can be easily used in urban environments or on the open road.
The underside of the car has been properly tended to though not detailed to show standard. The floor and overall structure appear sound and tight with correct fasteners, hardware, and components having been used during the restoration.
This is an excellent opportunity to acquire a beautifully restored 2600 Spider with hand-built coachwork by Touring of Italy. Finished in stunning colors, unusually equipped with the stunning Borrani wire wheels, and properly maintained, Spider is ready for enjoyable driving or rewarding shows as the new owner sees fit. Long overlooked by collectors, the 2600 is a superb open Italian coachbuilt car with a remarkably similar aesthetic and to a Ferrari 250 PF Cabriolet or Maserati 3500 Vignale spider at a fraction of the price. Recent proper examples have achieved significant results at auction, including a 2017 Pebble Beach sale in excess of $300,000.00. The 2600 is rapidly being recognized as the elegant, timeless touring cars they were originally conceived to be when first hand-crafted by Italian masters.