A premiere in Monaco: the new high-performance sportscar Porsche Carrera GT appeared for the first time on the road before a huge audience. Michael Hölscher, as the overall project leader, was set to drive the mid-engined roadster once around the Grand Prix track immediately before the Supercup race last Sunday. The Carrera GT was then set to lead the field on the formation lap around the traditional street circuit.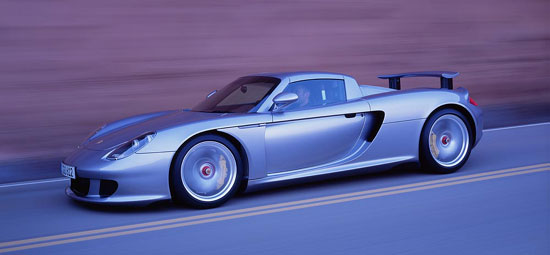 Porsche succeeded in combining superior performance and driving dynamics with a high safety standard and a weight of just 1,380 kilograms by applying a new technical solution for the first time in a production vehicle: The monocoque chassis and engine mounts are made of carbon-fibre-reinforced plastic. Avant-garde materials and methods are also utilized in the transmission: The Carrera GT is the first car in the world to feature the PCCC Porsche Ceramic Composite Clutch. Clutch disc diameter is a 169 millimetres, allowing for a very low centre of gravitiy for engine and gearbox. Another advantage of the ceramic clutch plate is a much longer service life compared with alternative materials.
With the spring/damper elements fastened to the inside of the chassis structure and operated by stainless-steel pushrods and pivot levers, the Roadster features a pure racing suspension, ensuring superior driving stability and agile handling. At high speeds the fully clad carbon underfloor provides an additional ground effect together with the rear diffuser and air flow-ducts.
The 19-inch front and 20-inch rear wheels are made in a magnesium forging process used for the first time in a production car. They are more than 25 percent lighter than cast aluminium wheels. With the Porsche Ceramic Composite Brake (PCCB) the Carrera GT reaches a race car-like deceleration performance.
The interior of the Carrera GT is characterised by smooth and supple leather, magnesium and carbon-fibre structures, with the newly designed seats not only signalising an elegant, sporting style. These are the first-ever seats in a production car made of composite carbon and aramide fibres, and at only 10.7 kg, weigh roughly half that of conventional seats.
Text & Photos - Porsche