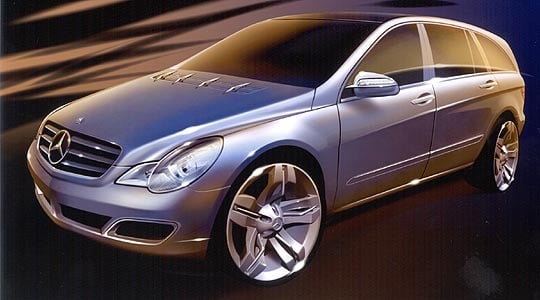 Ten years after the location was decided on, the DaimlerChrysler site in Tuscaloosa (in the US state of Alabama) is going to be greatly extended and prepared for production of the new Grand Sports Tourer (GST). The future Mercedes model combines the features of existing vehicle concepts like the Saloon, the Estate and the "Sports Utility Vehicle" (SUV) into a new individual profile. The Grand Sports Tourer, which will go into production at the start of 2005, will, alongside the successful M-Class, be the second model which Mercedes-Benz produces in Tuscaloosa.
The designation Grand Sports Tourer describes the key characteristics of the future Mercedes model: "Grand" stands for size, roominess and functionality; "Sports" for dynamism and performance, and "Tourer" indicates that the qualities of this car are those of a comfortable vehicle for long-distance travel.
"This versatile automobile is the result of an intensive dialogue with our clients, whom we have been nurturing for years, in order to identify the wishes of our drivers, analyse them and turn them into new vehicle concepts", said Professor Jürgen Hubbert, a member of the DaimlerChrysler AG Board of Management and head of the Mercedes Car Group. "The leading technology and exciting design so typical of Mercedes will now also be making their mark in this new vehicle category."
Exemplary roominess for up to six passengers -
The Grand Sports Tourer is being designed as a long-distance car. This is why the engineers are being generous in their planning right from the start, ensuring plenty of room on all seats. In this innovative motor car, up to six people will be able to make themselves comfortable on individual seats which offer all the extras you can think of to adjust them to their individual needs. Thanks to exemplary interior variability, the future Mercedes model also caters for the desires of sports enthusiasts who wish to take bicycles, skis or other equipment with them on their journey.
Under the bonnet of the Grand Sports Tourer quiet six or eight cylinder engines and the 7G-TRONIC seven-speed automatic transmission will provide powerful acceleration.
An appealing synthesis of Intelligent engineering and aesthetic styling design -
Offering high-tech systems such as electronically-controlled 4-wheel drive, the AIRMATIC DC pneumatic suspension and a whole range of other innovations, the GST is to feature highly intelligent engineering which will be able to actively contribute towards preventing accidents. In the words of Professor Jürgen Hubbert: "We have also set ourselves the goal of developing a vehicle which is not only technically perfect, but which also enthrals from an emotional point of view. For example through aesthetic styling design, high-quality materials, a highly up-to-date choice of colours and innovative details. The Grand Sports Tourer will be a trendsetter and in doing so will offer, in a nutshell, top levels of technical and emotional intelligence".
Text/Photos: DaimlerChrysler