European Shell Ferrari Historic Challenge - Germany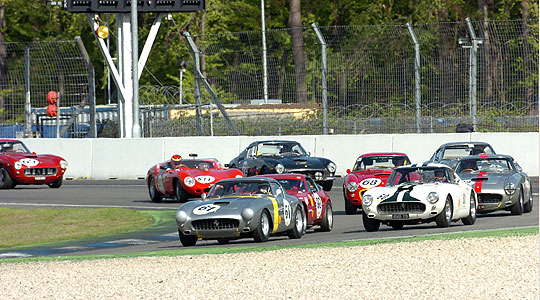 The opening round of one of the world's most prestigious historic racing series was held at Hockenheim last weekend, 29 - 30 April 2006.

New for 2006 was a slight re-classification of cars, but the principles were the same i.e. three groups (A + B + C) of classes (1 - 11) having a race in each over a two-day weekend. The series has been running since 1996 and is for cars that have been approved by the factory's Classiche department as original chassis and engines, and being in period specification. This year the Gp IV 308GTBs have been accepted into class 11 to compete with the likes of P3s and BB512LMs.

Saturday's Group B race was won by the German driver Max Werner in a Maserati 300S, having been harried non-stop by Britain's David Franklin in a similar car, while Maserati was to the fore again in Group A (Classes 1 and 2 for older cars) with a 1, 2, 3.

The Group C event was an easy drive for Dutchman John Bosch in his 512 BBLM after Paul Knpafield in another BBLM had engine problems in the opening laps. Hard-charging Peter Hardman (412P) finished second, some 11 seconds behind Bosch.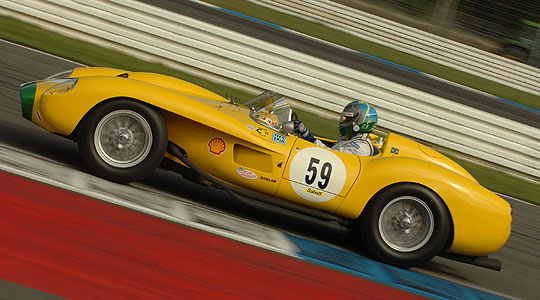 On Sunday, as part of the circuit's Jim Clark Revival meeting, it was action stations again as after Stefan Schollwöck repeated his Saturday victory in Group A (driving a drum-braked Maserati 6CM), and then the Group B race (drum-braked sports cars) saw a battle between Franklin and Werner again before the latter retired leaving second place to Gary Pearson in Carlos Monteverde's yellow Ferrari 250TR. Swiss car dealer 'par excellence' Lukas Hüni taking third place in his Maserati A6GCS.

With ex-Le Mans and F3000 driver Michel Ferté driving the ex-Filipinetti Ferrari 512M prototype, it was a straightforward win for him in Group B, but not without a challenge from the two BB512LMs of Bosch and Knapfield.

The Frenchman had some problems with the 512M's gearbox, but Bosch was adamant he could have done little about the winning car's pace. "It was impossible to stick with him: there is not much a 512 BBLM can do against a prototype unless you are always on the limit but then making an error is that much more likely".

Shell Ferrari Historic Challenge - Europe

2006 CALENDAR
04/06 Valencia (Spain)
25/06 Spa (Belgium)
30/07 Paul Ricard (France)
29/10 World Finals (Italy)

For further information please visit www.ferraricorseclienti.com

Text: Classic Driver
Photos: Ferrari
---
ClassicInside - The Classic Driver Newsletter
Free Subscription!