Autosport Designs Aston Martin DBRS9s at Mid-Ohio 2006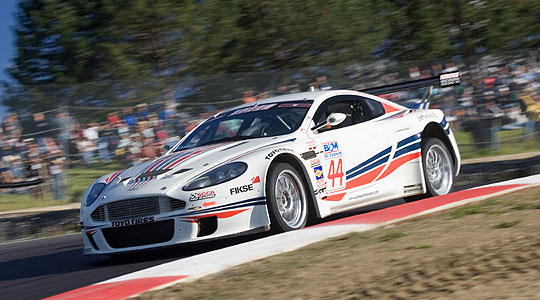 Lexington, Mid-Ohio and the Autosport Designs Aston Martin DBRS9 team, having taken time out from the championship, are back in the hunt with an improved performance package. The meteorological build-up to the race was not good - eight days of rain and the team are considering adding outboard motors to the cars rather than installing the brand new Aston Martin Racing V12s...

Joking aside, the engines were replaced in the paddock with the help of Aston Martin Racing who were also at Mid-Ohio with the GT1 DBR9s for their round in the ALMS schedule. The teething problems that had plagued the Autosport Designs Racing team at the beginning of the championship were still there - but much reduced.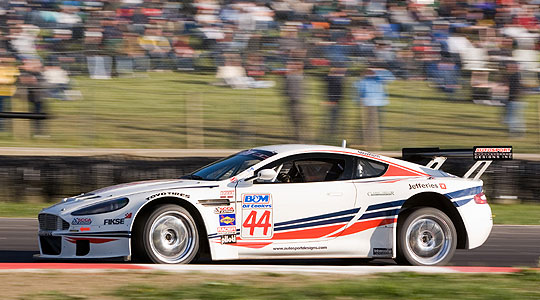 Johnny Mowlem in the #44 car was fresh from two days testing at the Houston Motorsport Ranch, Tom Papadopoulos being unable to attend, and Johnny felt the team had made excellent progress with regard to chassis development. In Friday evening's wet practice this theory was vindicated when he made 3rd overall fastest time. Tom Papadopoulos in #43 was unfortunate in only being able to manage half a lap before an electrical problem caused his car to be returned to the garage.

Saturday morning's qualifying saw the two Autosport Designs Racing Aston Martin DBRS9s qualify 18th and 27th with Johnny Mowlem taking the leading spot. This event saw the closest grid in the history of World Challenge GT with the top twenty qualifying within two seconds of the pole-sitter. Johnny Mowlem was extremely pleased and stated "The ongoing testing programme seems to be a step in the right direction". Tom Papadopoulos, having never been at Mid-Ohio and only having a total of fifteen practice and qualifying laps, was not as pleased as Johnny, but indeed looked forward to the upcoming race and what consistency and attrition to the rest of the field could bring.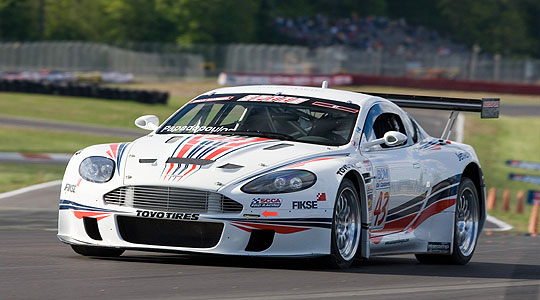 The race. Johnny and Tom both got extremely good starts overtaking several other cars in the process. Tom moved up through the pack, soon settling into a nice rhythm, catching and passing several others until hit from behind resulting in a flat left rear tyre. This forced immediate retirement due to not being able to return to the pits for a wheel/tyre change. Johnny moved up from his 18th starting position to 12th, however a yellow flag just two laps from the end of the race resulted in a restart in which he was passed, resulting in an eventual 15th position overall.

Both drivers and team crew chief Barry Wagner agree progress has been made and the entire team look forward to further development and upcoming races.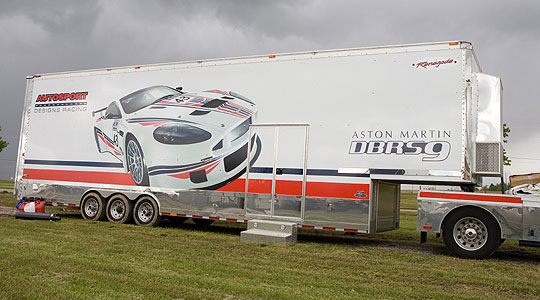 2006 Speed GT World Challenge Calendar -

Jun. 23-25 - Dodge Save Mart 350
Jul. 13-15 - Utah Grand Prix
Aug. 11-13 - CENTRIX Financial Grand Prix of Denver
Aug. 18-20 - Generac 500 at Road America
Sep. 1-3 - The Labour Day Weekend Grand Prix of Mosport
Sept. 27-31 - Petit Le Mans
Oct. 19-22 - Monterey Sports Car Championship

For the latest news please visit www.world-challenge.com and of course Autosport Designs homepage: www.autosportdesigns.com where you can also view Tom and Barry's extensive inventory of automobiles.

Story: Classic Driver
Photos: Autosport Designs/Richard Prince - Strictly Copyright
---
ClassicInside - The Classic Driver Newsletter
Free Subscription!