11th July 2003 Bonhams at Goodwood Festival of Speed - Review
The Tec-Mec Maserati did not sell, but Bonhams were able to give the 1964 ex-Alan Mann Lotus Cortina a new home, rumoured to be someone closely linked with the original team. Mediterranean temperatures in the Bonhams marquee saw bidding for many of the lots on offer, a highlight of which was the 1971 ex-London Motor Show Ferrari 365GTB/4 Daytona Berlinetta for £102,700.
Sadly the 1955 HWM-Jaguar did not go but the 1955 Aston Martin DB2/4 Two-Door Drophead Coupe did – for £62,000 including premium, a good price for what looked a nice car.
The Cortina reached £62,000, including premium, and could well have looked at home on the hill-climb course as sister cars from the Alan Mann stable, including Escort, Falcon and P68 Prototype, were busy treating the crowds outside. Compared with the stratospheric price achieved a week ago at the TWR auction perhaps it was a little low for another very famous car but a £50,000 premium over a contemporary concours road version is still pretty good.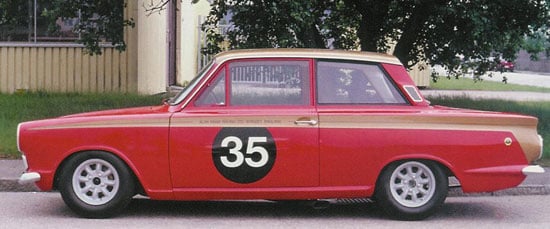 The 1937 Lagonda LG45 Drophead Coupé went for £73,000, £32,200 for the ex Tony Scott 1987 Ferrari Testarossa shows that even Hollywood provenance cannot pick these cars' prices up from the floor, conversely the 1973 Jaguar E-Type V12 Series III Roadster going for £43,300 perhaps indicates a resurgence in Jaguar sports car interest.
A 1986 Ford RS200 Evolution Two-Seat Rally Coupé, at £80,700, believed to be an ex-works car, was a lot of money but perhaps someone is banking on its future classic status; like the much mentioned racing Cortinas.
Bonhams next UK Sale is in London, at Lords Cricket Ground on 23 July.
For a full listing, see the Provisional Auction Results
Text - Steve Wakefield